Sports
Satisfaction eludes Izturis
Sun., Feb. 27, 2005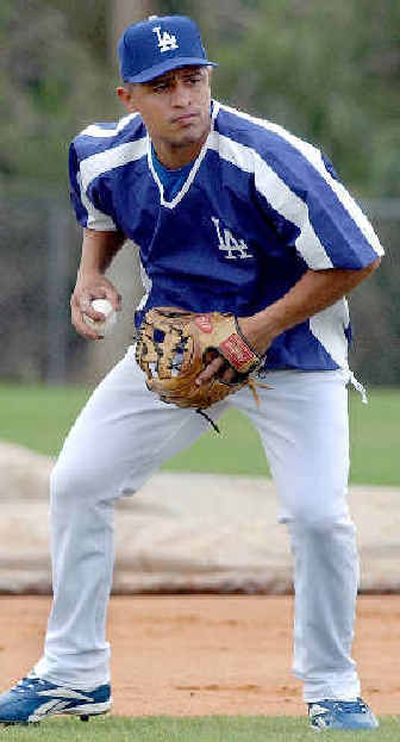 VERO BEACH, Fla. — Los Angeles Dodgers shortstop Cesar Izturis left his feet to try and catch A.J. Pierzynski's liner, but mistimed his jump a bit. The ball hit the top of his glove and bounced into the outfield.
E-6, the official scorer in San Francisco said.
Izturis still doesn't agree with the ruling.
His manager understands why.
"What I remember is it was a tough play to begin with," Jim Tracy said Friday. "It was one of those line drives that knuckles. I'd say quite possibly it could have been ruled a hit."
The error in the eighth inning April 17 was one of only 10 charged to Izturis last season, with the other nine on bad throws. Tracy believes several of those came after Izturis got to balls that would have eluded other shortstops.
No wonder Izturis won an N.L. Gold Glove.
"Wow! I was almost crying," Izturis said of his reaction to winning his first Gold Glove award. "I was very excited. It was like a dream come true."
The 25-year-old switch hitter from Venezuela didn't just become known as one of baseball's top-fielding shortstops last year. He emerged as an offensive force as well.
After hitting .232 with 102 hits in 2002 and .251 with 140 hits in 2003, Izturis batted .288 with 193 hits in his third full big-league season. He also reached career highs with 90 runs scored, 32 doubles, nine triples, four homers, 62 RBIs, 25 stolen bases, 43 walks and 12 sacrifice bunts.
But it's on defense where he's really appreciated, especially by the Dodgers' pitching staff.
"Man, that kid can play — he can play!" left-hander Odalis Perez said. "When you are pitching and that guy is behind you, just close your eyes and try to get ground balls. For his age, the range he has, the arm he has, he might be the No. 1 shortstop in the major leagues."
Right-hander Jeff Weaver agreed, saying: "He's definitely special — at the top of anyone's list as far as I'm concerned. It's hard to get an understanding from just watching the highlights on TV. And he's only going to get better."
Izturis appeared to be a throw-in when the Dodgers acquired him from the Toronto Blue Jays in December 2001 with reliever Paul Quantrill for two minor league pitchers.
It turned out to be one of the best trades the Dodgers have made.
"It's very safe to say that from what we've seen to this point, he's one of the very best in either league," Tracy said. "We're starting to get the whole package. And he's going to keep getting better because he's never satisfied."
Izturis said fielding has always come naturally for him, but there are improvements to be made.
"You can get better right there," he said of his nine throwing errors last season. "I know I can do better — make less than nine."
He also said he'd like to get 200 hits this year, and acknowledged he'd love to be chosen for the All-Star team.
"That would be special," he said.
But, he quickly added, winning was the most important thing.
The Dodgers won the N.L. West championship last season and made the playoffs for the first time since 1996. Then came a winter of wheeling and dealing, with slick-fielding second baseman Alex Cora among those who weren't retained.
"I'm going to miss Alex, of course," Izturis said of his keystone partner. "We've got Jeff Kent playing second. He's a future Hall of Famer. He knows how to turn double plays. I'll be proud to play with him."
Kent said much the same thing of playing alongside Izturis.
"This kid is great," Kent said. "I've played with some great shortstops. I'm looking forward to playing next to him."
Local journalism is essential.
Give directly to The Spokesman-Review's Northwest Passages community forums series -- which helps to offset the costs of several reporter and editor positions at the newspaper -- by using the easy options below. Gifts processed in this system are not tax deductible, but are predominately used to help meet the local financial requirements needed to receive national matching-grant funds.
Subscribe to the sports newsletter
Get the day's top sports headlines and breaking news delivered to your inbox by subscribing here.
---