Sports
Used needles for sale
Sun., Feb. 27, 2005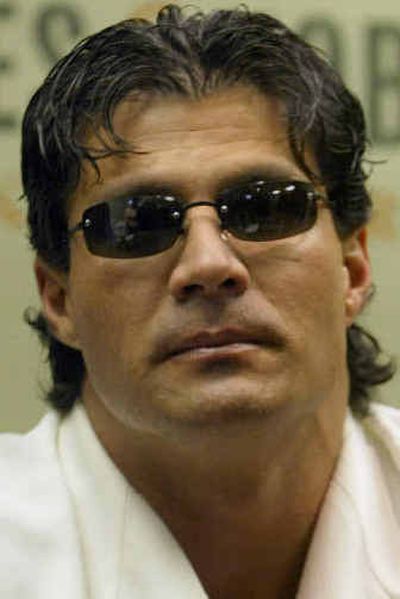 Cash-strapped Jose Canseco is selling more than a collection of stories about whom he injected with steroids.
Canseco's 2000 World Series ring can be purchased for $40,000 on his Web site.
"Other items listed include a game-worn jersey for $750 and autographed copies of his book for $58," Barry LeBrock said on the "Southern California Sports Report."
"At this point, Canseco's soul is not listed as for sale, but you can always check back tomorrow."
Speaking of Canseco's book, he claims in it that President George W. Bush had to have known that some of the Texas Ranger players were using steroids when Bush owned the team in the early 1990s.
"On the contrary," wrote Dwight Perry of the Seattle Times, "Ranger intelligence sources never mentioned any injections of mass construction."
It's a sweat shirt
David Witthoft, 8, of Ridgefield, Conn., has become attached to his Brett Favre jersey.
The Green Bay (Wis.) Press Gazette reported he has worn it every day since getting it as a Christmas gift in 2003.
"David has a lot of stick-to-itiveness," his father told the newspaper.
Wrote Dwight Perry of the Seattle Times: "And after 400-plus days, we assume the same can be said for the jersey."
Either way, it's gas
Drag racer Eric Medlen used to ride bucking broncos in rodeos. Of the similarities between his current ride and his former one, he told the Los Angeles Times, "It's all horsepower. It's just a different exhaust system."
Sidekicking him while he's down
New England native Jay Leno to sidekick and Philadelphia native Kevin Eubanks: "Boston just had its third victory parade in 12 months. Do you know the secret to a good victory parade? I didn't think you would."
Say Pepsi, please
A naming rights marketing and sponsorship research firm estimates that Pepsi received $680,000 of media value during the NBA All-Star Game broadcast based on the soft drink's receiving 1 minute, 42 seconds of prime exposure on TNT.
According to the firm, the breakdown included 40 seconds of in-stadium signage from the Pepsi Center in Denver, 12 seconds of on-screen graphics and five verbal mentions by the broadcast crew.
Truth in advertising
Jay Mariotti of the Chicago Sun-Times is tiring of the notion that Cleveland Cavaliers standout LeBron James is the second coming of Michael Jordan.
"I mean, before the world anoints him as the Greatest Player Ever and discards this other No. 23 like a glob of trans fat," Mariotti wrote, "shouldn't he win a playoff game first?
"Know this right now: LeBron is not the Greatest Player Ever, never will be the Greatest Player Ever and is being discussed as the Greatest Player Ever only because the NBA and Madison Avenue are using their image machines to manufacture the buzz."
Local journalism is essential.
Give directly to The Spokesman-Review's Northwest Passages community forums series -- which helps to offset the costs of several reporter and editor positions at the newspaper -- by using the easy options below. Gifts processed in this system are not tax deductible, but are predominately used to help meet the local financial requirements needed to receive national matching-grant funds.
Subscribe to the sports newsletter
Get the day's top sports headlines and breaking news delivered to your inbox by subscribing here.
---