News > Features
Kevin & Bobby
Sun., Jan. 2, 2005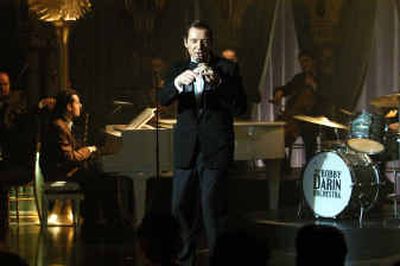 Kevin Spacey wasn't Dodd Darin's first choice to play his father, the late singer Bobby Darin, in the new movie biography "Beyond the Sea."
Spacey also wasn't the first choice of actress Sandra Dee, Darin's first wife.
And Spacey certainly wasn't the first choice of Darin's best friend and business manger, Steve Blauner.
In fact, Spacey wasn't the first choice of anyone remotely associated with the movie industry.
Except for maybe Kevin Spacey.
The 45-year-old two-time Oscar winner spent the better part of a decade trying to convince people that he was the right actor to play Darin, who died in 1973 at the age of 37.
Nobody in Hollywood was interested.
Eventually, Spacey took matters in his own hands and bought the rights to Darin's story. Then, once he was able to convince someone in Germany to back him financially on the venture, he had the more daunting task of persuading Darin's family that it should be his voice, not Darin's, that is heard in the movie.
"Over my dead body," was Blauner's response.
Darin's son was a little more diplomatic: "I hope he comes around and realizes that he is wrong."
Sandra Dee wouldn't even discuss the matter.
"The decision to sing the songs myself had nothing to do with ego," Spacey said in a recent interview. "This was no vanity project.
"But I understood their concerns. They were concerned about Bobby's legacy. And so was I. My mother loved Bobby Darin's music. I love Bobby Darin's music. I wouldn't want to do anything to hurt his legacy. For the sake of honestly telling his story, I thought it was important that I sing.
"And I received a lot of criticism from people who said, 'How dare you try to be something you're not.' I find that fascinating. As an actor, that's my job description."
The younger Darin, a real estate developer and keeper of the Bobby Darin flame, said he thought he could outlast Spacey on the singing issue. But he gave in when he realized that Spacey was determined to make the movie his way.
"It became obvious that the movie was going to be made, and I thought it was time I got on board and helped to make it the best possible movie about my dad," Darin said. "At that point, I was willing to cooperate and turn over my dad's musical arrangements because I finally understood how deeply committed Kevin was to seeing this through. He said he loved my dad, and I believed him."
Spacey has been itching to do a musical his entire professional life. Born in New Jersey but raised in California's San Fernando Valley, he appeared in dozens of musicals in high school and college, but not one after he turned professional.
"I grew up loving musicals," he said. "I grew up loving the musical bio. I loved listening to Fred Astaire sing. I loved listening to Judy Garland sing. I loved listening to James Cagney sing. They all sang themselves in those movies.
"That's not to say that you can't have a great performance lip-synching. I hear Jamie Foxx is great in 'Ray.' But my personal preference is the thrill of watching someone do it all. That's why I wanted to sing. Nobody knows I'm a singer, but I've been singing my whole life."
In "Beyond the Sea," named for one of Darin's hit songs, Spacey not only acts and sings, but he is the director, the producer and co-writer. (He may have even served lunch to the crew, but there is no confirmation of that.)
With that much involvement, Spacey said he was able to put his personal stamp on the movie, which translates to a biographical film unlike most others.
Spacey's movie has an unusual structure, with his adult character occasionally sharing scenes with himself as a youngster. There also are full-blown musical numbers similar to the kind one might see in a 1940s or 1950s musical.
"I knew I was working on the edge with that structure and the dance sequences," Spacey said. "I knew there was a chance that it wouldn't work, but I had to take that chance. I didn't want to do a straight concert film. I wanted to do a real musical where the music advances the story."
Darin suffered from rheumatic fever when he was a boy, and was not expected to live past 15. He managed to squeeze a lifetime of professional accomplishments into his remaining years, including recording four gold records (the most famous of which was "Mack the Knife"), acting in 13 movies (he was nominated for a Best Supporting Actor Oscar for "Captain Newman, M.D.") and becoming one of the top nightclub draws in the world.
"He was one of the last great all-around entertainers," Spacey said. "He wrote songs, he sang, he did impressions, he danced, he acted and he played the piano, vibe, guitar and harmonica. Other than Elvis Presley and Ray Charles, Bobby had more hits in more genres than any other performer, including rock `n' roll, pop, country, folk and gospel.
"It's an incredible story, and yet, nobody in Hollywood thought it was a story worth putting on film. I had studio executives say to me, 'Yeah, it's a good script and a terrific story, but how many people have ever heard of Bobby Darin?'
"That blew me away. Why does that matter? Do people only go to movies about famous people they know? They never make that argument about fictional characters. People didn't stay away from the movies because they had never heard of Forrest Gump.
"This story is perfect for drama, and that's why I approached it as I would for a fictional character. That's why there is so much fantasy, instead of having a straight-ahead biopic. I want people to see Bobby Darin for the larger-than-life character he was."
Movie critics have come down on both sides on the issue of whether Spacey succeeded, but he already received the best notices he could ever hope for.
Dodd Darin confirmed that his mother, played in the film by Kate Bosworth, saw a private screening of the movie and immediately sent her congratulations to Spacey.
"She loved the movie," Darin said. "She told Kevin that she was speechless after the screening, and that he shouldn't change a single frame."
Darin, who was 12 when his father died, had a similar reaction.
"I'm proud of the film," he said. "I think Kevin did justice to my dad. I think his film will help my dad get the respect he didn't get while he was alive."
Darin said that because his father died so young of heart problems, he was "largely forgotten after his death."
"Frank Sinatra, Sammy Davis Jr. and Dean Martin all lived long enough that nobody could forget them," he said. "I think my father's early death contributed to people forgetting about him. This movie will help a lot.
"No movie can get every facet of a person's life in two hours, but I think Kevin has shown enough of who my dad was, and what he was, so that people will finally know Bobby Darin."
Local journalism is essential.
Give directly to The Spokesman-Review's Northwest Passages community forums series -- which helps to offset the costs of several reporter and editor positions at the newspaper -- by using the easy options below. Gifts processed in this system are not tax deductible, but are predominately used to help meet the local financial requirements needed to receive national matching-grant funds.
Subscribe now to get breaking news alerts in your email inbox
Get breaking news delivered to your inbox as it happens.
---