News > Business
Spokane software firm sees big year ahead
Tue., Jan. 4, 2005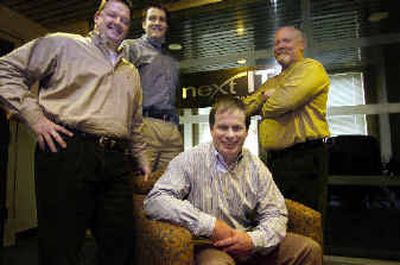 Fred Brown keeps his cards close to the vest. The Spokane software company he runs, Next IT Corp., is developing products for both government and commercial users. But to hear Brown tell it, he's just a cowboy entrepreneur, looking for a little luck.
"We're a typical startup company that's growing fast and getting real customers," said Brown, Next IT's CEO.
Started two years ago, Next IT has not tried too hard to gather publicity. Brown, an occasional professional rodeo rider, likes it that way.
But Brown and others running the company predict 2005 will bring a significant increase in Next IT's sales and higher visibility in the software-development industry. Brown is not ready yet to say whether the privately held firm is profitable or not.
The big step forward, Brown said, is the planned launch of a second product — a network security software tool that will be marketed to banks and health care operations. Both of those industries face compliance with government regulations requiring stricter standards to protect the private information of patients and customers, Brown said.
"We expect to launch the network security product by July 1, but we're actually shooting (for) much sooner," Brown said.
Next IT grew from 26 workers to 36 by the end of 2004, largely relying on sales to government and a few commercial customers. Brown said he expects to add more people, primarily at Next IT's downtown Spokane office.
Next IT's first commercial product has been an interactive software interface. Brown likes to call it a self-help Web tool, and one early customer has been Hawaiian Hotels and Resorts, whose travel Web site includes a voice-guided tool to help someone select a vacation itinerary.
That product won't be abandoned. Brown said the company will continue marketing it to companies wanting to simplify do-it-yourself Web orders and purchases.
But data security is a $40-billion industry, and Next IT's product for that industry has major advantages over others already in use, Brown believes.
Network security products usually involve firewalls, monitors and alarms for when unusual computer activity is directed at a business from outside its network.
Next IT's system is less centralized and is installed right on the individual desktop computer, he said. Without giving away much, he added: "I'd say our product is more comprehensive. It's something we think is very good at dealing with insider threats and issues."
Still, he tries not to oversell the network security product and its potential.
"I'm cautious. I don't want to get too far out in front of our skis," he said.
The cautious Brown won't make any predictions about the sales he's hoping for from the product. At the same time, he said the prospects for Next IT are "several orders" larger than he realized as CEO of LineSoft, the technology company he launched in Spokane in 1989 and later sold for $42 million to Spokane-based Itron.
A key part of the product's development, he added, was selecting Shantu Roy as Next IT's chief technology officer. Roy has worked on network security with companies including Exodus Communications and Washington Mutual, Brown said.
So far Brown and his family and partners have provided Next IT's funding. "Our plan is to bootstrap; we're not expecting significant funding in the next year," he said. "But we've seen lots of lots of interest in what we're doing among the venture investment community."
Local journalism is essential.
Give directly to The Spokesman-Review's Northwest Passages community forums series -- which helps to offset the costs of several reporter and editor positions at the newspaper -- by using the easy options below. Gifts processed in this system are not tax deductible, but are predominately used to help meet the local financial requirements needed to receive national matching-grant funds.
Subscribe now to get breaking news alerts in your email inbox
Get breaking news delivered to your inbox as it happens.
---