Sports
Sandberg led quietly
Wed., Jan. 5, 2005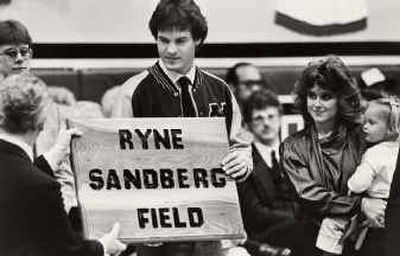 Long before he became Ryno, long before he became the darling of Chicago and WGN, long before he earned a spot in baseball's Hall of Fame, he was just Ryne Sandberg. You know the type. A North Side kid who worked hard, fit in with his teammates, could run pretty fast, played baseball in the summer, football in the fall and basketball in the winter.
A standout who didn't stand out.
"He was a good player, yeah, but he just was one of the guys and that's the way he wanted it," said Marty Hare, Sandberg's teammate in three sports at North Central High, where they both graduated in 1978.
One of the guys, maybe, but if there were one place Sandberg couldn't avoid standing out it was on the field.
The football field.
"He was one of the best players who ever played for me," said NC's coach at the time, Art Bauer, who spent 36 years coaching high school football players.
He was good enough that Bauer, who is retired and lives on the Columbia River near Seven Bays, made a long-distance call to the one of the best football schools in America.
"I even tried to get Nebraska to watch him," Bauer said. "I called them, but they weren't interested."
No matter. Sandberg's future was ordained in the best way a Spokane kid could dream: He was headed to Washington State University to play quarterback.
But that all changed on June 6, 1978, when the Philadelphia Phillies drafted Sandberg in the 20th round of the baseball draft. Instead of Pullman, Sandberg was headed to Helena, Mont.
And to Cooperstown, N.Y.
But just how good was Ryne Sandberg as a youth? And where did he fit in the Spokane sports scene?
"I still say this, of all the years I've coached, he's still probably, the finest all-around athlete I think I've ever seen," said Pat Clark, who has spent 35 years as an assistant basketball coach in Spokane-area high schools.
Clark's path crossed Sandberg's in 1977, when the current Mead assistant was filling the same role at NC, and Sandberg was a junior forward. The memories are still crystal clear.
"He could just pick things up," Clark said. "He had a good jump shot and had great jump. I mean he had really good springs. In those days it was unusual for kids to dunk and he could run down there and dunk left-handed.
"He was a very gifted kid."
Sandberg used those gifts to earn second-team, All-City basketball honors as a junior and first-team as a senior. He averaged 13.3 points a game his senior season and, despite being listed at 6-foot-3, was among the league leaders in rebounding.
But it wasn't the physical abilities Sandberg displayed that really caught Clark's eye.
It was his attitude.
"He was very quiet, he let his actions talk for him," Clark said. "I never heard him say a cross word to anybody about anything, ever. He got beat up on the basketball floor a lot. They knew he was the best player."
There was another character trait Sandberg displayed that Clark would run into again the next year, when he moved over to Gonzaga Prep to assist Terry Irwin with coaching the Bullpups.
On that 1978 G-Prep team was a less-than-physically-imposing sophomore point guard who would go on to be named one of the National Basketball Association's 50 all-time greatest players.
John Stockton.
"They were both fiercely competitive in every drill," Clark said. "If you were running lines, if you were playing one-on-one, it didn't matter. They just didn't want to lose."
Remember, these memories are coming from a coach who helped school Sandberg in his third-best sport. Or maybe his fourth.
"I don't know if anyone has told you this, but he was a great ping-pong player, jeez," Clark said. "Terrific hand-eye coordination."
So how about his best prep sport, football?
Sandberg led the Indians to an undefeated record and the Greater Spokane League title his senior season. Though NC was first, Sandberg was second in most league statistics.
He was the league's second-leading passer, hitting 77 of 142 tosses for 1,180 yards, 12 touchdowns and just two interceptions. He finished second in total offense (1,240 yards), interceptions (two) and punting (36.3 yard average).
"His biggest strengths were his speed and his accuracy in passing," said Bauer, who then echoed Clark's comments about Sandberg's personality.
"He was a quiet leader," Bauer said. "He did it by example. But he would, a couple of times, speak out and say 'Hey, you guys.' He could get them going, too."
Where Sandberg led the Indians was into the State AAA football quarterfinals, where they had to face Prep for a second time. After winning the league meeting 26-20, NC fell 28-13 in the playoff rematch, played on the icy Joe Albi turf.
"We weren't very big, but we had a lot of speed," said Hare, who still lives in Spokane. "Prep was huge and the first game we just ran around them. But on the ice we really struggled with our footing and they were able to push us around."
For the second consecutive year Sandberg was named the All-City quarterback, but this time he also earned Player of the Year honors.
But baseball was Sandberg's love, and his future.
"He really liked baseball, probably, a little better," Bauer said, adding, "he was smart enough to go into baseball."
Smart enough, yes. Good enough to make the Hall? In high school, there were doubts.
"It's awful hard to tell (about high school kids)," said NC's coach at the time, Ken Eilmes, who still lives in Spokane. "There's only been one guy who ever knew how good Ryne really was, the scout who signed him, Bill Harper.
"Bill said, 'I'll tell you something Kenny, this is the best player I've ever scouted.'
"And I said, 'What?' It just shocked me, because – and even Ryne will tell you this – on our team our catcher, Chris Henry, many people said he was better than Ryne."
Henry, who was a 10th-round draft pick of the Seattle Mariners in 1979, was the team's No. 4 hitter and defensive standout.
But Sandberg had one physical attribute that stood out.
Harper could see it sitting in the stands. It brought him to NC that spring, stopwatch in hand.
He wanted to time Sandberg in the 60-yard dash, the preferred baseball distance at the time.
On the tall NC outfield grass, Sandberg blazed over the distance in 6.3 seconds, a world-class time.
The Philadelphia scout didn't believe his watch, according to Eilmes, and asked Sandberg to run again. This time it was 6.5, still fast.
It was that speed that teammate Hare remembers.
"It was his speed, more than anything else, that you saw could take him (places)," Hare said. "Defensively, he got to balls, yes, and he had great hands. And, as far as hitting, well, he wasn't the best hitter on the team."
It was Sandberg's speed that helped the Indians to the 1978 state baseball championship game as well.
In the regional finals against Davis, which had knocked NC out of the playoffs the year before, Sandberg led off the fourth with an infield single, stole second, went to third on Henry's bunt single and scored on a wild pitch.
When the rain came, the Indians won 1-0 in five innings.
The state semifinals and finals were played a week later in Kent, on a field with an all-dirt infield. The Indians won the semifinal 5-2 over Highline with Sandberg, who hit third, collecting a single and an RBI.
But the championship game later that day was a different story as Newport (Bellevue's) John Gilchrist, a hard-throwing right-hander, one-hit NC under the lights. The future Hall of Famer was 0 for 3.
Still, the Indians finished 25-3 with Sandberg hitting .417 with four home runs. He was also one of six NC players named All-City, the second time he was honored.
"His biggest attribute was his leadership by example," Eilmes said, pulling at a common thread from Sandberg's coaches. "He was not a rah-rah guy. He just hustled and did everything the way it was supposed to be done. He didn't say very much; he was a very quiet kid."
As a peer, Hare saw a little different side, a little louder side.
He remembers Sandberg as a practical joker who ragged the younger Indians players in a playful manner and handed out nicknames like assists, all leading to team unity. He also saw a Hall of Fame athlete who wanted to blend into a team entity.
"He was a team-first guy," Hare said. "He wasn't loud; he didn't yell. He just did it on the field."
Local journalism is essential.
Give directly to The Spokesman-Review's Northwest Passages community forums series -- which helps to offset the costs of several reporter and editor positions at the newspaper -- by using the easy options below. Gifts processed in this system are not tax deductible, but are predominately used to help meet the local financial requirements needed to receive national matching-grant funds.
Subscribe to the sports newsletter
Get the day's top sports headlines and breaking news delivered to your inbox by subscribing here.
---