Sports
Trojans trounce Sooners
Wed., Jan. 5, 2005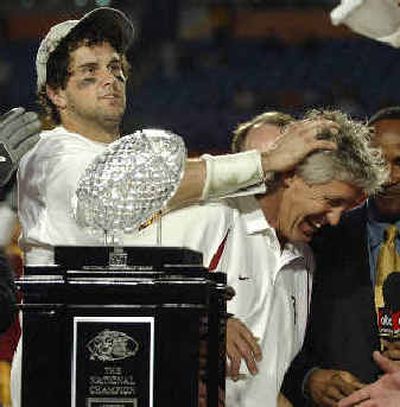 MIAMI – Southern California stands alone.
No. 1 at the beginning. No. 1 at the end. A non-stop blitz from August to January, with everyone gunning for the Trojans, but no one stopping them.
And no one touching them, on a stunning Tuesday night in the Orange Bowl, at the moment of truth between two famed powerhouses.
55-19. Who could see it coming? Or how completely and mercilessly the stars from the freeways of Los Angeles would outshine the stars from the plains of Oklahoma?
By the time Matt Leinart had thrown an Orange Bowl-record five touchdown passes, and Steve Smith had caught three of them, and Dwayne Jarrett had 115 yards of receiving, and LenDale White and Reggie Bush had combined to rush for 193 yards, and Oklahoma had self-destructed on five turnovers, the message was clear.
This could well be the dawn of a Trojans' dynasty.
Pete Carroll's creation has put a unanimous national championship with last year's Associated Press title. The Trojans have won 22 straight games. They join Florida State (1999) as the only team to go wire to wire as No. 1 in the AP poll.
"Our players thought last night that we could make this happen," Carroll said. "We brought great heart. We wanted to leave no doubt."
USC scored the most points and won by the largest margin in an Orange Bowl in 52 years, back to Alabama's 61-6 smashing of Syracuse in 1953. They did it starting 16 players who have eligibility remaining, including all the incendiary devices: Smith, Bush, Jarrett, and White, who rushed for 118 yards and two touchdowns with a bad ankle that healed just in time.
And game Most Valuable Player Leinart, if he does not choose early entry into the NFL. Leinart, who succeeded a Heisman winner last season, has promptly gone 25-1. He passed for 332 yards.
"I don't see why we can't do this next year," Leinart said. "That's enough motivation to come back. It's obviously going to be a tough decision. To do a three-peat, I don't think that's ever been done."
"We ain't stopping and we're not going to stop," Bush said.
History had been anticipated, but this kind?
Oklahoma had never given up so many points in any of its 37 previous bowls.
Nor had the Sooners allowed so many during the six golden years of Bob Stoops.
All that against an Oklahoma defense that allowed six points its last 12 quarters. But a defense with a suspect secondary, which USC gleefully exploited.
"You just can't turn the football over," Stoops said. "We turned it over four times in the first half. In a game like this, you're not gonna win. We really took ourselves out of it."
A showdown awaited all season, megahyped for a month, incessantly analyzed all week, was over by halftime.
USC led then by 38-10, the biggest first half in the Orange Bowl.
All the individual matchups, each one supposedly as even as the next, tilted toward the Trojans
The Heisman quarterback confrontation? Leinart had five touchdown passes; Jason White two, and three interceptions.
The tailback battle? White and Bush averaged 9.2 yards per carry; freshman and Heisman runner-up Adrian Peterson, surrounded everywhere he went by the Trojans, finished with 82 yards.
In the first half, 11 of his 15 carries were two yards or less.
The models of efficient offenses? The Trojans had no turnovers. The Sooners had four of their five by halftime, leading to 24 USC points.
Of the gaggle of perfect teams this season, the Trojans are the fairest of them all. Behind them in the final rankings will be 13-0 Auburn. And 12-0 Utah. And 12-1 Oklahoma, their partner in a massive build-up for this Orange Bowl.
But in the end, USC had no peers. It is the school's 11th title.
Local journalism is essential.
Give directly to The Spokesman-Review's Northwest Passages community forums series -- which helps to offset the costs of several reporter and editor positions at the newspaper -- by using the easy options below. Gifts processed in this system are not tax deductible, but are predominately used to help meet the local financial requirements needed to receive national matching-grant funds.
Subscribe to the sports newsletter
Get the day's top sports headlines and breaking news delivered to your inbox by subscribing here.
---