News > Business
Ex-WorldCom directors dig deep
Sat., Jan. 8, 2005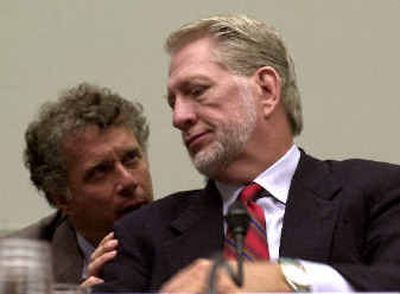 NEW YORK — Former WorldCom directors have agreed to pay investors $18 million from their own pocket as part of a settlement of charges against them related to the historic accounting fraud that nearly sank the telephone company, New York Comptroller Alan Hevesi announced Friday.
Ten former WorldCom board members have agreed to pay the money as part of a $54 million settlement with investors who lost billions as fraud was uncovered, said Hevesi, who as trustee for state employee retirement funds in New York was the lead plaintiff in the case.
The direct payments by the board members — equaling about one-fifth of each one's personal net worth — are a highly unusual concession in a securities case.
And yet the deal also marks the third such arrangement in resolving the most egregious corporate scandals of recent years: directors at Enron Corp., Global Crossing Ltd. and now WorldCom have agreed to personally chip in to restore a small fraction of the gigantic losses suffered by investors and employees.
That trend fits in with recent efforts by government regulators and prosecutors to force executives to bear more personal financial responsibility for negligence or wrongdoing.
"This is the best form of deterrence," Bruce Carton, executive director for securities class actions services at Institutional Shareholder Services, a top advisory firm for major investment funds, said Thursday before the deal was announced. "If you can get the individuals who are involved to realize there is a prospect of losing personal wealth if they don't do their jobs, then you will possibly influence behavior."
Typically, all financial penalties relating to a director's alleged negligence or wrongdoing are paid by the company and insurance policies which all corporations take out on behalf of their executives.
The deal, which does not resolve all legal claims in the scandal, comes two weeks before the start of a federal trial against WorldCom chief executive Bernard Ebbers on criminal charges he orchestrated the $11 billion fraud which pushed the company into bankruptcy in mid-2002. WorldCom emerged from bankruptcy last year and now operates under the name MCI in Ashburn, Va.
Legal experts said Thursday the settlement might draw strong objections from several corners. These include the big Wall Street firms still facing WorldCom investor suits, other plaintiffs who haven't resolved their claims against the directors, and the two WorldCom board members who declined to take part in the 10-director deal.
It was not immediately clear how much of the $18 million each of the 10 directors would pay individually. But since each is to pay a set percentage of his or her personal net worth, the agreement does not assign varying proportions of blame for the scandal, according to a source who spoke on condition of anonymity before Friday's announcement .
That approach was likely a major reason why former chairman Bert Roberts and former director Francesco Galesi declined to join the settlement, arguing that other board members were more culpable and should bear greater liability, the source said.
The 10 settling former board members are James Allen, Judith Areen, Carl Aycock, Max Bobbitt, Clifford Alexander, Stiles Kellett Jr., Gordon Macklin, John Porter, Lawrence Tucker and the estate of John Sidgmore, who died in 2003, the source said.
Local journalism is essential.
Give directly to The Spokesman-Review's Northwest Passages community forums series -- which helps to offset the costs of several reporter and editor positions at the newspaper -- by using the easy options below. Gifts processed in this system are not tax deductible, but are predominately used to help meet the local financial requirements needed to receive national matching-grant funds.
Subscribe now to get breaking news alerts in your email inbox
Get breaking news delivered to your inbox as it happens.
---