News > Spokane
First impressions
Sat., Jan. 8, 2005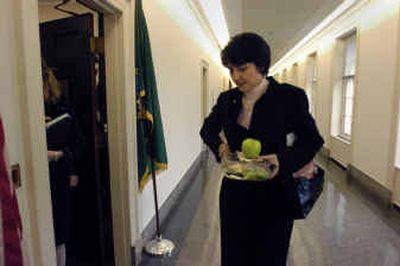 Hard work paid off for Cathy McMorris this week as the freshman congresswoman won her top two choices of committee assignments and then some.
The 5th District Republican was named to the House Armed Services Committee, placing her in a key position to defend Fairchild Air Force Base in the next round of base closures.
She also was appointed to the Resources Committee, where she will be able to influence both the inland Northwest's extraction industry economy and environmental law.
And McMorris was given a third committee, which was not on her list: Education and Workforce. It is not typical for freshman lawmakers to have more than two assignments.
"I said I was willing because I need the experience," McMorris said.
Her work ethic, cultivated on her parents' orchard in Kettle Falls, Wash., has apparently caught the attention of House leaders.
When she was sworn in Tuesday on the floor of the House, McMorris was a bright young figure in a chic leather jacket amid a sea of dark suits. While most newly elected representatives enjoyed the pomp and circumstance in the days leading up to their taking the oath of office, McMorris was busy on the Republican steering committee, helping her party fill chairmanships and assign committees to other freshmen.
On Wednesday, the steering committee chose Rep. Jerry Lewis, R-Calif., for the most prestigious and powerful chairmanship, that of the Appropriations Committee. On Thursday, Rep. Christopher Smith, R-N.J., was replaced as chairman of the Veterans Affairs Committee by Rep. Steve Buyer, R-Ind. Those two appointments and others kept McMorris working well past midnight every night this week.
Appropriations was very competitive, McMorris said. All three contenders were qualified and the Republican leadership did not try to influence the vote of individual steering committee members. House Speaker Dennis Hastert has five of the 33 votes on the panel, and Majority Leader Tom DeLay has two. Everyone else has one vote each.
"One of the biggest decisions was not to reappoint the Veterans Affairs Committee chairman," McMorris said. "You can imagine the drama."
Smith, while well-liked among veteran service organizations, did not see eye to eye with the leadership on budget issues, she said.
That she was the lone freshman chosen by her peers for the steering committee says a lot about her classmates' faith in her. But the fact that McMorris has already distinguished herself in the week-old 109th Congress comes as no surprise to those who know the 35-year-old politician, who rose to House minority leader during her 11 years in the Washington state Legislature.
"For her to be elected by her peers to the steering committee speaks to her ability," said 4th District Rep. "Doc" Hastings, who has mentored McMorris since her arrival in Washington. "Senior members are greatly impressed with this."
While McMorris toiled at the Capitol, her staff set up her office in the Longworth Building across Independence Avenue. Computers had not arrived as of Thursday, and the fax apparently was buried in the office storeroom.
On Tuesday, during her open house, three government employees stopped by to ask McMorris' executive assistant, Julie Blackorby of Spokane, how she liked the layout of the office. Was the furniture where it should be? How about the phone and electrical outlets? Two asked the questions, while the other took notes.
Confronted with the lack of a door between the waiting room and the legislative assistants' offices, one of the three government workers said an architect would have to be brought in to look at the problem.
Blackorby, who worked for former Rep. George Nethercutt, knows the drill – who to call for technical problems related to the office and how to find the best cafeteria in the three House office buildings. She has been indispensable since McMorris got the keys to her office Monday.
Also from Nethercutt's office comes Jack Silzel. The Oaksdale farmer is McMorris' legislative director and has "a passion for rural America." He is well-known around the Capitol and many mistake him for a congressman.
"No, ma'am, just a farmer," he is likely to respond.
McMorris will rely on his experience and judgment, as well as his example to the other staff members. In this regard he has already had an effect, reminding them that everything they do will reflect on McMorris.
"It is critical, especially in the first two years, that we provide excellent constituent service," Silzel told staff members during their first formal meeting with McMorris on Thursday.
Just before the meeting, Sen. Patty Murray called to offer McMorris two tickets to President Bush's inauguration. McMorris had her staff members draw lots to see which would get the spare ticket. It went to Jaime Herrera, a University of Washington graduate who interned at the White House.
Other legislative aides are Chrissy Poe of Colville, who worked for McMorris in Olympia and George Poulios of Cleveland, who worked in Washington state on Republican House campaigns.
On Friday, McMorris was to present her fellow freshmen their committee assignments.
"I think they will be happy," she said. "Almost everyone will get their first or second choice."
Afterward, McMorris was to take a train to Williamsburg, Va., to attend a freshman seminar. It will be an opportunity to meet Democrats as well as Republicans "and build relationships that will be important for years to come," she said.
After the meeting with her staff, McMorris went back to the Capitol to vote on authorizing the electoral vote that gave President Bush his second term. The Democratic protest would keep her there most of the afternoon.
She was accompanied to the Capitol by her chief of staff, Connie Partoyan, who worked for former Sen. Slade Gorton and former 1st District Rep. Rick White.
Partoyan and McMorris' district director back in Spokane, David Condon, will share responsibility for Fairchild matters. Congress will vote on the base closure commission as early as March.
McMorris said her goal was to not only "save Fairchild, but to grow Fairchild."
Condon, an Army Reserve officer, also will have a role to play in McMorris' other Armed Services Committee work. McMorris said she is increasingly uneasy about the strain the Iraq war is placing on the National Guard and Reserve.
"That's something we need to get to the bottom of," she said.
On Wednesday, the Washington Post revealed that Lt. Gen. James R. Helmly, head of the Army Reserve, said in a December memo that Guard and Reserve forces are "in grave danger of not being able to meet" operational requirements due to overuse.
"The question is, 'What are we going to do about it?' " McMorris said in an interview Thursday.
McMorris said her seat on the Resources Committee will give her the opportunity to work on forestry and water issues important to Eastern Washington. She campaigned partly on the issue of saving the Snake River dams.
While Resources can provide her the opportunity to grow the 5th District's economy, it will also give her opportunity to address one her pet peeves, the Endangered Species Act.
"We have listed all these species, but we have not recovered them," she said. "Everyone agrees we need to protect species," but the government's role has been too adversarial, she said.
While McMorris shares the conservative fiscal ideology of her House leadership on most causes, it would be rash to expect her to toe the party line on every issue.
She did not agree with leadership's attempt to weaken House ethics rules, and while she supports reform of Social Security to make it more viable, she has consistently opposed "privatization."
"It's important that (reform) be bipartisan," she said. "Otherwise, it won't pass."
Local journalism is essential.
Give directly to The Spokesman-Review's Northwest Passages community forums series -- which helps to offset the costs of several reporter and editor positions at the newspaper -- by using the easy options below. Gifts processed in this system are not tax deductible, but are predominately used to help meet the local financial requirements needed to receive national matching-grant funds.
Subscribe now to get breaking news alerts in your email inbox
Get breaking news delivered to your inbox as it happens.
---