Sports
LC comes out of its shell
Sat., Jan. 8, 2005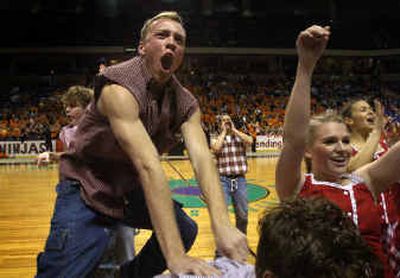 On a night when they played basketball in front of the largest and loudest crowd of the season, Splinter and his Teenage Mutant Ninja Turtles took care of business.
The stage was the annual Rubber Chicken spirit game in front of 6,185 screaming fans in the Spokane Arena. The Ninja-themed Lewis and Clark Tigers dispatched Ferris, whose fans and coaches donned western attire, 60-40.
But not before LC (9-0, 2-0) weathered a second-quarter lull that enabled the Saxons (3-6, 1-1) to cut an 11-point, first-quarter deficit to six points.
"Our second quarter, we've been struggling all year," said LC coach Jim Redmon, dressed as the mutant rat Splinter, the Turtles' mentor and benefactor in the cartoon and movies. "We've got to do a better job and figure out what's going on. But our third quarters have been huge."
Such was the case in this one, putting LC on top 44-29 and the game out of reach for Ferris. The Saxons scored early in the fourth quarter, but not again until 1:48 remained. By then LC had increased its lead to 27 points.
The Tigers had scored the final 11 points of the 20-point first quarter in which Heather Bowman and sub Brittany Kennedy each scored three baskets and Morgan Parker had five more points.
But Parker was the only Tiger to score in the second period when Ferris, led by Lexi Lallas, got back in the game.
Neither Parker nor Redmon expressed concern, other than being baffled by why the team has struggled in that quarter all year.
"I think we looked nervous early," said Redmon. "To their credit, (Ferris coach) Art (Rojas) runs a good matchup zone. But once we got our composure and started to calm down, we ran some offense, started (full-court) pressing and did some nice things."
Parker scored two more baskets in the third quarter and finished with 13, equaling her season high.
"It's really loud, but it's the 'funnest' game of the season so we were all up for it," said Parker of the Arena experience. "I really just worked on getting down the court, having the point guards get me the ball and putting it in."
Redmon said that was the kind of ability she showed all season long, but is just now getting in back into the flow.
Bowman finished with a team-high 16 points. True to her word, injured point guard Briann January was in the starting lineup.
"(January) took two hard hits and everything's fine, so I think we made the right decision," said Redmon.
Lallas scored 14 points, nine in the first half, and Stacey Cox had 12, five in the game's final 29 seconds.
Ferris won Chuck, the Rubber Chicken.
Central Valley 56, Cheney 41
The Bears (7-2, 2-0) made 1 of 7 free throws in the first half, but were 17 for 18 in the second half in rallying from a 25-21 deficit against the visitors. Three CV players – Heidi Heintz, Sarah Gehring and Salena Leavitt – scored in double figures, Heintz with 23 to go with the 31 she scored on Tuesday. Rebecca DeCoria scored 13 for Cheney (2-7, 0-2).
Mead 63, Rogers 45
The host Pirates (0-9, 0-2) played their best game of the year, trailing by three points at halftime. But Mead (5-3, 2-0) pulled away in the second half. Kelli Valentine was 10 for 14 from the free-throw line and finished with 22 points.
Rogers' D'Erica Jones had a season-high 18 points and Lisa Fisher added 10.
Mt. Spokane 61, Clarkston 40
Emily Wittkopf had a double-double with 14 points and 12 rebounds as the improving Wildcats (8-1, 2-0) dominated the visiting Bantams. Defense in a 12-2 second quarter did the trick, Mt. Spokane holding down Clarkston's high scorers game-long. Guard Leah Pomante had 11 points and four assists. Charlee Jackson had eight rebounds.
North Central 60, West Valley 48
The Indians (8-1, 1-1) built a 20-point lead at home by halftime and cruised to victory over the Eagles (0-9, 0-2). Season-long catalyst Shantel Haugen led NC with 16 points, Alie Hansen added 12, giving her 26 for the week. Jackie Rouse scored 13 and Krystal McCarthy 12 for WV.
East Valley 42, Shadle Park 35
The Knights (5-4, 1-1) led wire to wire at Shadle by building a 12-3 first-quarter advantage and nursing it until the end. Nine different EV players scored, led by Eleaya Schuerch's 10. No players scored in double figures for the Highlanders (1-8, 0-2).
Local journalism is essential.
Give directly to The Spokesman-Review's Northwest Passages community forums series -- which helps to offset the costs of several reporter and editor positions at the newspaper -- by using the easy options below. Gifts processed in this system are not tax deductible, but are predominately used to help meet the local financial requirements needed to receive national matching-grant funds.
Subscribe to the sports newsletter
Get the day's top sports headlines and breaking news delivered to your inbox by subscribing here.
---