News > Idaho
Outdoor enjoyment
Sat., Jan. 8, 2005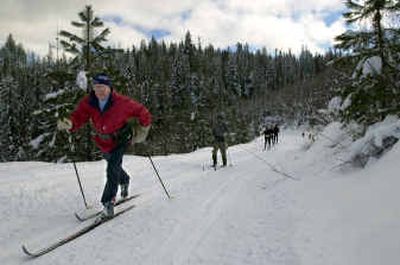 The Panhandle Nordic Club wants you to ski for free. Club members will be greeting guests today on Fourth of July Pass as part of a statewide free-ski day at state parks. The nonprofit cross country ski club, boasting about 100 members, meets at the Fernan Ranger Station the first Tuesday during winter months to discuss sport-related topics and to hold a light workout. During spring and summer months, they continue trekking the hills with hiking trips. The group also arranges Centennial Trail rides, and overnight camping trips while skiing or hiking.
"It's a low-key, inexpensive way to have fun," said Jim McMillen, club president. McMillen has been president for three years and joined the club about six years ago, following a friend from work and his own passion for cross country skiing.
McMillen said the group is about enjoying the outdoors at every opportunity. It's geared toward people new to the area who know how to ski or want to learn and are looking for an outdoor activity.
"It's the best cross country skiing in the region," he said.
While many of the club's members have several years of experience, McMillen hopes to draw new members and expand the club's education programs.
The club works with the state to maintain the Fourth of July Pass park-and-ski area and provide cross country ski education to newcomers. A new bathroom was added this year as part of the club's improvement efforts. Its next project will be to purchase a grooming attachment for a snowmobile to fluff the snow.
The group raises money through park-and-ski passes, which cost about $20. About $17 in fees returns to the group. The money pays for groomers, gasoline and most of the improvements.
"It's a benefit for us because we can provide better facilities," McMillen said.
The group also raises money through a $10-per-family member fee and a best-hand fun ski in February, where skiers round up a hand of playing cards by stopping at different spots along one of the trails.
McMillen said the event is a big draw, and about 100 people participated last year. The club gave out about 80 prizes from ski packages, ski gear or other donations.
"Our emphasis is on skiing and having fun," said Geoffrey Harvey, club treasurer.
Harvey skis every chance he gets and often attends weekend trips with the group as it travels the Northwest for ski opportunities. Each trip depends on the weather conditions, which have yet to flurry in their favor this season.
But club members still get out on their own time, and familiar faces are easy to come by.
A cross country skier most of his life, Harvey was looking to support the park-and-ski area by doing more than buying a pass. Since joining the club, he's been involved in grooming, maintenance, and touts sawing innumerable logs to help open the trails for other users.
"It fosters the sport in every way," he said. "Everything from leading trips to taking care of the area."
Harvey travels the Northwest with the group but calls Fourth of July his home ski area. He'll hit the hills more than a dozen times a season and said the mountain is a springboard into country where the groomed area intersects with the ungroomed backcountry.
"It's a refuge for people who want to get away from machines, so they can cross country ski with some solitude," he said.
He plans to be at the free-ski day through rain or, hopefully, snow.
Local journalism is essential.
Give directly to The Spokesman-Review's Northwest Passages community forums series -- which helps to offset the costs of several reporter and editor positions at the newspaper -- by using the easy options below. Gifts processed in this system are not tax deductible, but are predominately used to help meet the local financial requirements needed to receive national matching-grant funds.
Subscribe now to get breaking news alerts in your email inbox
Get breaking news delivered to your inbox as it happens.
---