News > Features
How they do it
Mon., Jan. 10, 2005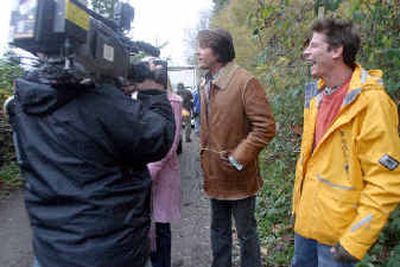 Until last summer, 6-year-old Hannah Grinnan could only watch as her brothers and sisters swam in the pool at her family's home in Redlands, Calif. Medication she takes for a heart condition causes her skin to be sensitive and easily irritated by chlorine.
Nowadays, however, Hannah's medication load is lower and her pool time is only diminished by the weather, thanks to a high-tech alteration of her home by the folks of ABC's "Extreme Makeover."
The redo came complete with a high-tech air filtration system, counters and other surfaces that don't hold dust mites or germs, and a pool Hannah could use safely. Her 11-year-old brother, Gabriel, got his own room for the first time, plasma televisions abound and sisters Sara and Clare no longer need bunk beds in the room they share.
Meanwhile, her parents, Cathy and Bill, are still trying to get used to the idea that the roomier, more tech-savvy house really belongs to them.
"Just driving up you kind of shock yourself," Cathy Grinnan says. "Every time you pull up in front of the house you say, 'Oh, yeah, that's my house.'
Beginning tonight, fantastic turnarounds like those experienced by the Grinnans will be put into context with a new weekly spinoff show that tries to answer a question on the lips of viewers: How'd they do that?
"I think we just realized how much great stuff we weren't getting to air," says "Home Edition" executive producer Tom Forman. "We were just squeezing out the middle of the show, which was the process and the things our designers built, and we felt that was worthy of a show of its own."
Network executives also hope that "Extreme Makeover: Home Edition: How'd They Do That?" (Mondays at 8 p.m. on ABC) will bring in ratings similar to the solid numbers being turned in by "Extreme Makeover: Home Edition" (Sundays at 8 p.m.)
The spinoff is not likely to do as well as the original, but both feed into the public's appetite for home makeovers infused with "Mission: Impossible"-esque suspense factors, says Robert Thompson, director of the Center for the Study of Popular Television at Syracuse University.
"Most of the people watching it in fact don't have any intention of actually making over a room or doing anything other than maybe changing a light fixture or calling a contractor," Thompson says.
"Makeovers become a type of compelling drama in and of themselves, and they can go beyond simply the actual event of making over a room. There's all this interest in the people and the lives that it affected and how they feel about it afterward and how exactly did they get it done and all these other details."
"How'd They Do That?" will include how-to hints for viewers and peeks at the challenges faced by volunteer-heavy makeover teams.
"I think viewers see a ton of people running around in blue shirts, so they know we get a ton of help, but they're not sure who they are and what they are doing," Forman says. "This is a chance to say, 'The plumbing team really wrestled with a sewer pipe problem.' Now we can tell about the guy who stayed up three nights in a row to fix it."
One of "Extreme Makeover: Home Edition's" perks is a maintenance program that includes warranties on appliances and house calls from contractors.
"The house is a whole lot more high-tech then we were used to," Bill Grinnan says. "The heating and the air conditioning and the air filtration system will be serviced for the next 12 years by the company that installed it, and the air conditioning tech came back and taught us everything about filters and filtration and just how to program everything.
"It's been great, they've just been so good to us."
Local journalism is essential.
Give directly to The Spokesman-Review's Northwest Passages community forums series -- which helps to offset the costs of several reporter and editor positions at the newspaper -- by using the easy options below. Gifts processed in this system are not tax deductible, but are predominately used to help meet the local financial requirements needed to receive national matching-grant funds.
Subscribe now to get breaking news alerts in your email inbox
Get breaking news delivered to your inbox as it happens.
---