Sports
Vikings turn tables on Pack
Mon., Jan. 10, 2005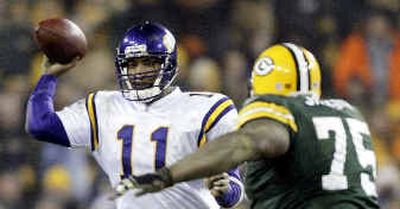 GREEN BAY, Wis. – The Minnesota Vikings, whose late-season fades have become a source of embarrassment in the Twin Cities and ridicule around the NFL, Sunday made an abrupt U-turn on the road toward further misfortune.
By beating the Green Bay Packers, 31-17, in the wild-card game at Lambeau Field, the Vikings earned a trip to Lincoln Financial Field to meet the Eagles in Sunday's NFC semifinal.
The Eagles defeated the Vikings, 27-16, at the Linc in a Monday night game in the second week of the regular season.
"I'm glad we have another chance at Philadelphia," coach Mike Tice said. "Now we're going to get that chance this week."
On Sunday, the Vikings got a boost from an unlikely source – Packers quarterback Brett Favre.
In leading the Packers to a pair of 34-31 regular-season wins over the Vikings, Favre threw seven touchdown passes and just one interception. But even in a career that will land him in the Hall of Fame, he has shown a streaky side, and it surfaced yesterday when he threw four interceptions.
Conversely, his Vikings counterpart, Daunte Culpepper, was more than effective. Culpepper completed 19 of 29 passes for 284 yards and four touchdowns while avoiding interceptions. For good measure, the 264-pound freight train rushed for 54 yards on six carries.
"I would have to say that this was my biggest game, especially considering what was as stake," he said.
Wide receiver Randy Moss totaled four receptions, 70 yards, two touchdowns, and one questionable end-zone celebration. After scoring his second TD, Moss, appeared to fake mooning the Green Bay crowd before rubbing his rear end against the goal post. Afterward, he shrugged it off.
"The celebration was more of a fun thing and not more of a hatred thing," he said. "I just tried to enjoy myself, and as you see, after the play, my teammates came and smacked my helmet. I was just playing to have fun, caught a touchdown in a big game, and I was very enthused."
The Vikings scored touchdowns on their first two possessions. Each drive took less than two minutes.
The first TD came when Culpepper was scrambling and found running back Moe Williams for what looked like it would be a short gain. That was before Green Bay's Darren Sharper missed a seemingly sure tackle. After going 68 yards, Williams found himself in the end zone.
On the next touchdown play, Culpepper underthrew Moss, but the all-pro made the adjustment and got inside Al Harris for the 20-yard catch.
Morten Andersen, who is almost older than Lambeau Field, then made the score 17-0 with a 35-yard field goal that probably wouldn't have been good from 36 yards. The kick was set up by one of the Vikings' interceptions.
Then Favre momentarily settled down, getting the Packers to within 17-10 before making an overthrow for another interception that set up another Vikings TD.
Local journalism is essential.
Give directly to The Spokesman-Review's Northwest Passages community forums series -- which helps to offset the costs of several reporter and editor positions at the newspaper -- by using the easy options below. Gifts processed in this system are not tax deductible, but are predominately used to help meet the local financial requirements needed to receive national matching-grant funds.
Subscribe to the sports newsletter
Get the day's top sports headlines and breaking news delivered to your inbox by subscribing here.
---