Sports
Blazers top Sixers
Tue., Jan. 11, 2005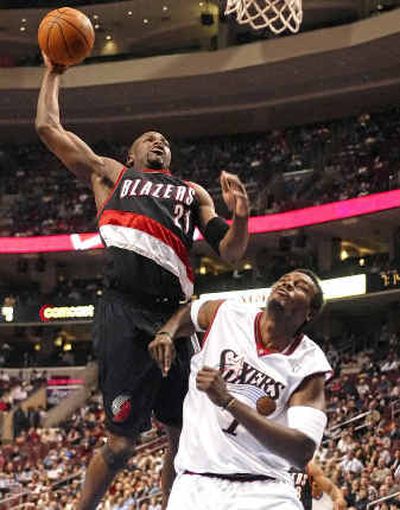 Nick Van Exel made a team-record eight 3-pointers and scored a season-high 28 points, and Damon Stoudamire added 22 to help the Portland Trail Blazers snap a four-game losing streak with a 109-100 win over the Philadelphia 76ers on Monday night in Philadelphia.
Zach Randolph scored 18 points and Ruben Patterson had 13 for the Trail Blazers, who won for only the second time in their last eight games. Portland made a season-high 14 3-pointers on 26 attempts, with Stoudamire adding five. Sebastian Telfair sank the other.
Van Exel scored 15 points on five 3-pointers during the third quarter when Portland took a 26-point lead. Van Exel had scored in double digits in only two of the last five games, but shot 10 for 19 from the floor against the Sixers.
Allen Iverson shook off a sprained right ankle to score 21 points with nine assists and nine rebounds for Philadelphia. Iverson crashed hard while driving to the basket early in the fourth and came up rubbing his left thigh. He left and watched the rest of the game from the bench.
Jazz 97, Spurs 96: At Salt Lake City, Mehmet Okur's putback at the buzzer gave Utah a win over San Antonio. Okur finished with 23 points and 11 rebounds. It was Utah's first win against San Antonio since Feb. 6, 2000 – 93-90 in Salt Lake City.
Lakers 105, Timberwolves 96: At Minneapolis, Kobe Bryant scored 31 points, and Los Angeles went on a 24-7 run in the fourth quarter while he rested to rally past Minnesota. Kevin Garnett had 23 points, 13 rebounds and seven assists for the Timberwolves, who led by as many as 16 points late in the second quarter.
Celtics 119, Magic 101: At Boston, Tony Allen led Boston's backups on a 14-point run early in the second quarter as Boston beat Orlando. Paul Pierce led all Celtics with 18 points. Steve Francis had 18 for Orlando.
Bulls 94, Warriors 85: At Chicago, Othella Harrington scored a season-high 20 points and Kirk Hinrich had 14 points and nine assists to lead Chicago over slumping Golden State. Tyson Chandler scored 13 points and had eight rebounds for the Bulls.
Christie, Mobley traded
The Orlando Magic acquired Doug Christie from Sacramento for Cuttino Mobley in a trade of guards intended to improve their defense and passing.
The Kings also received forward Michael Bradley, who is on the injured list with a strained right hamstring.
The deal was announced at halftime of Orlando's game with the Boston Celtics. Mobley, who had started 21 of his 23 games this season for the Magic, did not play Monday and was replaced in the starting lineup by Stacey Augmon.
Off the court
The Minnesota Timberwolves put forward Mark Madsen on the injured list with a broken left thumb and signed John Thomas to a 10-day contract. … Cavaliers guard Dajuan Wagner is in the hospital after missing the last two games with intestinal flu. Wagner was treated at the Cleveland Clinic for dehydration and gastroenteritis. Cleveland could lose rookie guard Luke Jackson for the season if he needs surgery for a back problem diagnosed as a herniated disc. Jackson has been on the injured list with back spasms. … The Atlanta Hawks placed 42-year-old center Kevin Willis on the injured list with a strained lower back. The team signed forward-center Obinna Ekezie to a 10-day contract.
Local journalism is essential.
Give directly to The Spokesman-Review's Northwest Passages community forums series -- which helps to offset the costs of several reporter and editor positions at the newspaper -- by using the easy options below. Gifts processed in this system are not tax deductible, but are predominately used to help meet the local financial requirements needed to receive national matching-grant funds.
Subscribe to the sports newsletter
Get the day's top sports headlines and breaking news delivered to your inbox by subscribing here.
---