Sports
Home improvement
Tue., Jan. 11, 2005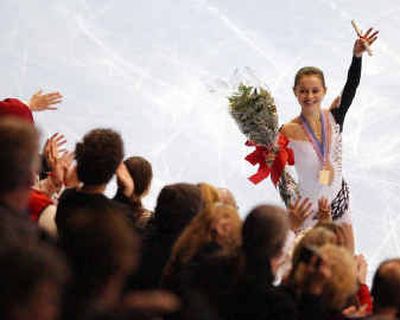 PORTLAND, Ore. — Bad doesn't begin to describe Sasha Cohen's last few months.
She had trouble with her boots. Trouble with her blades. She got sick, and the medication that was supposed to make her better only made her feel worse. She aggravated an old back injury and had to withdraw from a couple of competitions.
No matter what she tried, it seemed to go badly. Then she went home.
"I really tried when I was out there working on the East Coast, but nothing really seemed to keep getting better. I realized I was pretty homesick," said Cohen, who spent her entire life in Laguna Niguel, Calif., before moving to the East Coast two years ago to train.
"When I got home, everything started to feel better. My skating was better, and I've been feeling back on track."
Funny, but what should have caused the biggest upheaval in her life has actually settled her.
After splitting with coach Robin Wagner and going back to California last month, she reunited with John Nicks, who had trained her from 1996-02. Though it had been a year and a half since they'd worked together, Cohen walked into the old rink and immediately felt like all was right in her world.
"It was very comfortable," she said. "It felt exactly the same — except everyone at the rink has grown up so much. They're all bigger than me now. But the rink was the same. It felt really nice to be back home."
She can use all the positive vibes she can get. Though she's the reigning American and world champion silver medalist, she heads to this week's U.S. Figure Skating Championships as a big question mark. She didn't compete in the Grand Prix series, had to curtail her training because of that back injury, and was less than impressive at her two invitationals, finishing third at both.
And for the second season in a row, she'll be at nationals less than a month after switching coaches.
A skater's relationship with a coach is a delicate thing, part teacher-student, part psychologist-patient. It takes time to get in sync, which is why these kinds of changes are usually done in the summer — not a few weeks before the biggest competition of the year.
Granted, Cohen trained with Nicks for six years, and he was the one who developed her into a world-class skater, so it's not as if they're starting from scratch.
"It's coming together again quite naturally," Nicks said.
But it's still an adjustment, especially when Cohen's already had a rough season. The women's competition begins Thursday night.
"Once I start practicing well, I'll be able to start competing well and I'm actually on that track right now," Cohen said. "I hate to just give up on a year, and I'm not going to. I'm going to fight hard at nationals and try and win my first title."
Cohen has all the makings of a champion, with impressive athleticism, flexibility, and the exquisite grace of a ballerina. But she's yet to win a major — nationals, world or Olympic — title, and it's largely been her own inability to handle pressure that gets in her way.
Working with Wagner, who coached Sarah Hughes to gold in Salt Lake City, seemed to boost Cohen's confidence and give her added resolve, and she won her first medal at worlds. But this year started badly and quickly got worse. Cohen surprised Wagner by deciding to train on her own in Connecticut for a month at the end of the summer, and they lost more time when she had an adverse reaction to her medication. Then that back injury flared up.
By December, she was ready for a change.
"Robin and I are really good friends and our personalities — we got along really well," Cohen said. "I think that's why I was there for so long, even though my skating was so terrible. Being home, I just realized I needed to get my skating in order. This is the right place."
After Cohen and her family returned to California, her mother called Nicks.
Though the battles of will between Nicks and the notoriously headstrong Cohen used to be a running joke, Nicks didn't hesitate to take his former student on again.
"I've been in the business of coaching for many years and my door is always open," he said. "To get a chance to teach someone like Sasha; most coaches would jump at it, and I certainly did."
And just like that, Cohen's problems began to fade away.
"This has been pretty much the roughest eight months, nine months for me that I've ever had in my life," she said. "I think I'm finally kind of seeing the light at the end of the tunnel."
Local journalism is essential.
Give directly to The Spokesman-Review's Northwest Passages community forums series -- which helps to offset the costs of several reporter and editor positions at the newspaper -- by using the easy options below. Gifts processed in this system are not tax deductible, but are predominately used to help meet the local financial requirements needed to receive national matching-grant funds.
Subscribe to the sports newsletter
Get the day's top sports headlines and breaking news delivered to your inbox by subscribing here.
---