News > Business
Hybrids: 'Wow' factor is over
Tue., Jan. 11, 2005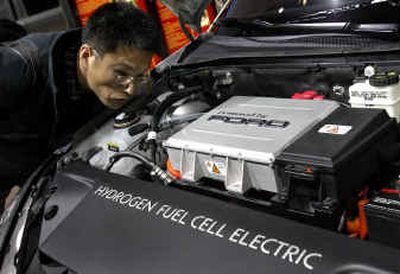 DETROIT — For hybrid vehicles at this year's North American International Auto Show, the "wow" factor is over.
Nine years after Toyota Motor Co. introduced the first gas-electric hybrid, automakers expect to sell 200,000 hybrid vehicles this year in the United States, according to Anthony Pratt, an analyst with J.D. Power and Associates.
Since 2000, hybrid sales in the United States have grown at an average annual rate of 88.6 percent, according to Michigan-based R.L. Polk & Co. But to keep posting those kinds of gains, automakers will to keep improving hybrid engines and keep hybrid prices down. Hybrids currently cost around $3,000 to $4,000 more than regular gas versions.
Automakers also have to educate consumers who are still skeptical about the benefits and mechanics of hybrids. Throughout this year's auto show, prominent signs tell consumers that hybrids don't need to be plugged in, which automakers say is one of the biggest misconceptions about the technology. Hybrids draw power from two energy sources, typically a gas or diesel engine combined with an electric motor, and surplus engine power is used to continually recharge the vehicle's battery.
Automakers also are trying to convince consumers that hybrids can be just as powerful as traditional vehicles. It's no accident that at the Detroit show, Toyota is prominently displaying a Prius hybrid that achieved 130.7 miles per hour at the Bonneville National Speed Week in Utah last August.
"It was amazing to see the hot-rodders come to accept it as just another variance," said Bill Reinert, the U.S. manager for Toyota's advanced technology group.
At the same time, automakers are wary of spending too much on a technology that may never capture much of the market. Pratt says he thinks demand for hybrids will peak around 2011, at 3 percent of the market, because there's a limit to the number of customers willing to pay more for a vehicle that will save them a few hundred dollars a year on gas.
"The average consumers aren't willing to pay that premium for a car they won't drive more than six years," Pratt said.
Toyota is far more optimistic about consumer demand for hybrids. Reinert believes hybrids will be about half the market by 2025.
As a result, Toyota has an aggressive plan to introduce hybrid versions in all vehicle segments. A hybrid Lexus RX400 sport utility vehicle goes on sale in April and already has 11,000 orders.
Ford Motor Co., which uses Toyota's hybrid technology, also is introducing hybrids at a rapid rate. The company announced Sunday that it's adding four hybrid sedans and SUVs to its lineup over the next three years.
Some automakers remain skeptical.
Nissan Motor Co. CEO Carlos Ghosn said this week that Nissan is still planning to sell a hybrid version of the Altima sedan in 2006, but will be watching the market before promising more hybrids. Nissan also uses hybrid technology from Toyota.
"We want to make sure we are not concentrating on one technology," Ghosn said. "But we are ready. We will not be surprised by any acceleration or deceleration in the hybrid market."
Like other automakers, Ghosn said Nissan will continue to work on diesel and fuel cell technologies as well as hybrids.
Porsche AG CEO Wendelin Wiedekingis said Monday that Porsche is considering a hybrid Cayenne SUV but won't make a decision until later this year. Volkswagen AG said last week it will push clean-burning diesel fuel over gas-electric hybrids.
Among the companies in the middle is General Motors Corp. The world's biggest auto maker already sells hybrid pickups but with a less advanced system that saves less fuel.
GM introduced two hybrid concept vehicles this week and is developing a hybrid system similar to Toyota's. Eventually, GM envisions allowing customers to choose a hybrid system based on how much they want to pay and how much gas they want to save.
Tom Stephens, GM's vice president for powertrains, said he expects hybrids will never command more than 15 percent of the market.
Local journalism is essential.
Give directly to The Spokesman-Review's Northwest Passages community forums series -- which helps to offset the costs of several reporter and editor positions at the newspaper -- by using the easy options below. Gifts processed in this system are not tax deductible, but are predominately used to help meet the local financial requirements needed to receive national matching-grant funds.
Subscribe now to get breaking news alerts in your email inbox
Get breaking news delivered to your inbox as it happens.
---