Sports
Loaded with talent
Tue., Jan. 11, 2005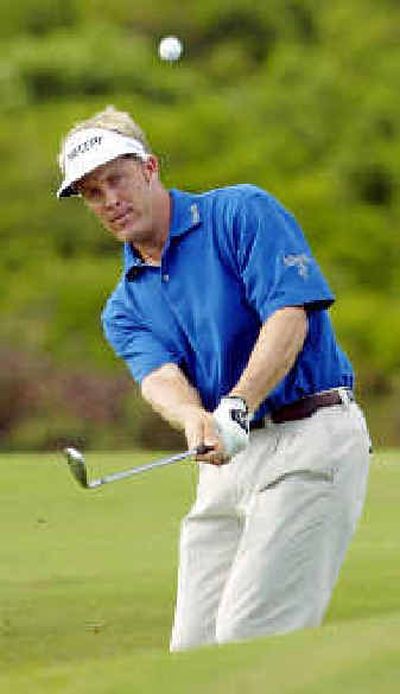 KAPALUA, Hawaii — There's more to the PGA Tour than the Big Three.
Vijay Singh, Tiger Woods and Ernie Els all appear to be on top of their game, which put some spice into the start of the new season. All had ample opportunity to win the Mercedes Championships against a winners-only field at Kapalua.
That the winner turned out to be Stuart Appleby was hardly a surprise. Despite opening with a 74, the 33-year-old Aussie played the final 55 holes without a bogey, closed with a 6-under 67 and became the first repeat champion since the season opener moved from California to Maui in 1999.
"I'm not surprised that somebody other than the Big Three came up and made a statement," Stewart Cink said. "Because everybody can play so well out here."
The focus is at the top of the world ranking going into the 2005, and for good reason.
Singh is coming off a nine-win season during which he rose to No. 1 in the world, and he worked harder than ever during his short break. Woods (No. 2) found his swing late in the year and was the only player to post all four rounds in the 60s at Kapalua. Els (No. 3) is determined to overcome his four close calls in the majors.
But Woods gave an intriguing forecast on the eve of the Mercedes Championships.
He said his swing was as good as ever, and that he was capable of being even better than his astounding run five years ago when he captured four straight majors and won nearly half of his tournaments in 2000.
But getting the same results?
"It depends on how well I play," Woods said. "And how well the rest of the guys play."
Indeed, the tour has never been this loaded with talented players. And it might be tougher than ever to collect nine trophies in a single season, as Singh did last year and Woods did in 2000.
Jonathan Kaye hit the trifecta at Kapalua. He played the first day with Singh, the second day with Woods and the third day with Els. Then, he found himself sandwiched between Singh and Els in the final group Sunday, virtually ignored until he took the lead with a birdie at No. 10 and was the last guy to take a crack at Appleby.
"I never felt like I didn't belong here," Kaye said. "Someone has got to be No. 1, 2 and 3. And I'm whatever I am. Hopefully I'll move up, and you'll be talking about me."
There was almost reason to do that Sunday until Kaye couldn't make up his mind how to play a chip shot. Needing to get up-and-down for birdie from the front of the par-5 18th, he left his shot some 30 feet short and made par.
Cink, too, was among five players who had a share of the lead in the final round until he missed the green on the 16th and made bogey, then went for broke on the 18th and dropped another shot.
Mistakes happen — even to the best.
Singh had won the last 11 times he had at least a share of the 54-hole lead, and he was trying to become the first wire-to-wire winner at Kapalua. He went 57 holes before making his first bogey of the tournament, and an old flaw showed up at the worst time.
Tied for the lead, Singh hooked his tee shot at No. 13 into the weeds and never had a chance to find it. He wound up with a triple bogey and finished three shots behind.
"I lost the tournament right there," Singh said.
Even more stunning was the tee shot Els hit on the final hole. He could have reached the par-5 18th with an iron, provided his tee shot was in the fairway. The Big Easy lost his drive to the right, and it bounced high off a cart path and out of play, costing him a chance to force a playoff.
Woods never did figure out the greens, missing a dozen putts inside 10 feet over four rounds. Right when it looked like he might make a move, he missed putts of 5 feet and 10 feet down the stretch, and wound up two shots behind.
"I just made nothing," he said. "I don't feel like I got anything out of my rounds."
It all paved the way for Appleby to win for the sixth time on the PGA Tour, then head home to Australia as his wife prepares to deliver their first child on Wednesday.
A year ago, Appleby had a five-shot lead with five holes to play and had to survive four straight birdies by Singh to win by a shot. He won this time by staging a rally, although he needed plenty of help.
"There was some pretty serious talent around me, and I had to keep my nose to the grindstone," Appleby said.
Even so, he realizes the Big Three are there for a reason.
"The question is, when everyone else plays their best, what's happening? Who are those players? It's obvious the world ranking shows a pretty good gist of what's going on, when Ernie plays his best and what Vijay is like when he plays his best," Appleby said. "Tiger will play his best again. And so will many other players."
Local journalism is essential.
Give directly to The Spokesman-Review's Northwest Passages community forums series -- which helps to offset the costs of several reporter and editor positions at the newspaper -- by using the easy options below. Gifts processed in this system are not tax deductible, but are predominately used to help meet the local financial requirements needed to receive national matching-grant funds.
Subscribe to the sports newsletter
Get the day's top sports headlines and breaking news delivered to your inbox by subscribing here.
---