Sports
Simmons academically ineligible
Wed., Jan. 12, 2005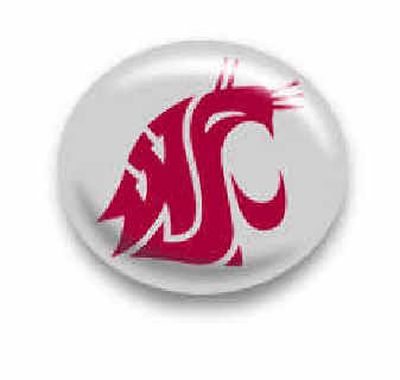 PULLMAN – Senior guard Isaiah Simmons has been declared academically ineligible by Washington State University and will no longer play for the Cougars, the school announced Tuesday.
Simmons walked on to the team last season as a junior and has played mostly as a reserve. There remains a chance that he will be able to appeal the school's decision, but barring success there Simmons has played his final game for WSU.
"He's still trying to get it taken care of," said teammate Thomas Kelati. "He's still part of this family. He's been with us for the last year-and-a-half. Everyone's got his back; he's a good guy. A great guy. It's just too bad that it happened and we're all pulling for him."
Simmons, a Tacoma native, averaged just more than two points and nine minutes a game as a junior, starting one game against Arizona. This season, Simmons has played in 10 of the team's 13 games, averaging 11.3 minutes and 2.5 rebounds per outing.
Gill still sidelined
Senior forward Shami Gill did not travel to Southern California last week to play UCLA and USC because of recurring lower back problems and the problem is severe enough that he will miss both games against the Oregon schools this week as well.
Gill had a doctor's appointment scheduled for Tuesday afternoon to get an updated outlook, but team trainer Mike Coco said he is questionable for the Cougars' game on Jan. 23 at Washington.
"We're still dealing with his lower back problem and it hasn't improved the way we'd want it to," Coco said. "We've only had minimal improvement right now. … It's a challenging situation."
The Cougars don't have any formal timeline in place for Gill's return to the lineup, but they still expect he will improve enough to play as the Pac-10 season progresses. Gill is taking prescription medications and has had one epidural injection already. Coco said it is possible that Gill will have a second injection in the future.
Notes
The Cougars have added a little extra help in practice in the form of a team manager. Mark Vershaw, a key player in the paint on head coach Dick Bennett's 2000 Final Four team at Wisconsin, is taking graduate classes at WSU and is pitching in for his former coach. … Associate head coach Tony Bennett is finally back in Pullman after being on the road for most of the last month on various recruiting trips. Bennett had not been in Pullman since traveling to Salt Lake City for the BYU game on Dec. 11, but he managed to meet the team for every game since then. … The Cougars thought they were back home on Friel Court for the week after more than a month on the road but – not so fast – their practice today has been bumped to another facility because Yolanda King, eldest daughter of Martin Luther King Jr., is speaking in Beasley Coliseum. … Thomas Kelati said he has fully recovered from the past weekend's grueling pair of games. The team's leading scorer on the year played all 50 minutes of Thursday's double-overtime loss at UCLA and then 38 minutes Saturday at USC. "When you're playing, when you're so intense, you don't really have time to think about how tired you are," he said.
Local journalism is essential.
Give directly to The Spokesman-Review's Northwest Passages community forums series -- which helps to offset the costs of several reporter and editor positions at the newspaper -- by using the easy options below. Gifts processed in this system are not tax deductible, but are predominately used to help meet the local financial requirements needed to receive national matching-grant funds.
Subscribe to the sports newsletter
Get the day's top sports headlines and breaking news delivered to your inbox by subscribing here.
---