News > Nation/World
Defense rests in prison abuse case
Fri., Jan. 14, 2005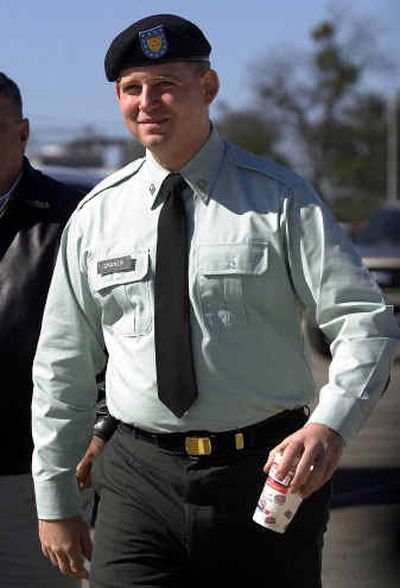 Fort Hood, Texas The defense for Spc. Charles Graner Jr. rested its case Thursday without the accused ringleader of abuses at the Abu Ghraib prison taking the stand.
The jury of four Army officers and six senior enlisted men was expected to begin deliberating after closing arguments Friday.
Graner's lawyers had indicated earlier that Graner would probably be the final witness, and that he would offer his version of what occurred in a scandal that stirred outrage against the United States around the world.
But defense lawyer Guy Womack said the other witnesses provided all of the evidence necessary to make the case that military and civilian intelligence agents controlled Abu Ghraib and ordered Graner to soften up detainees for questioning.
"We came in with a checklist of things we wanted to present to the jury," Womack said. "Once we accomplished that, there was no reason to continue."
Graner, a 36-year-old reservist from Uniontown, Pa., is the first soldier to be tried on charges arising from the Abu Ghraib scandal. He had appeared glum in recent days, but outside court he said: "I feel fantastic. I'm still smiling."
He is charged with offenses including conspiracy, assault and committing indecent acts and could get 17 1/2 years in a military prison.
Among other things, Graner is accused of stacking naked detainees in a human pyramid and later ordering them to masturbate while other soldiers took photographs. He also allegedly punched one man in the head hard enough to knock him out, and struck an injured prisoner with a collapsible metal stick.
Many might take cholesterol drug
Bethesda, Md. Vast numbers of people would take a cholesterol drug if it were offered over the counter even though they don't meet the medical criteria, federal health advisers were told Thursday.
The cholesterol drug Mevacor has long been available by prescription. Drug companies are now asking the Food and Drug Administration for permission to sell a low-dose version directly to consumers for the first time.
The advisory committee that is meeting through today will make a recommendation to the FDA, which usually follows its panels' advice.
Allowing over-the-counter sales for Mevacor would put a new sort of medication on drugstore shelves. Unlike treatments for coughs, colds and allergies, Mevacor is meant to prevent future heart disease, rather than treat existing symptoms.
Panel backs position on gay marriage
Chicago Trying to walk a line that will preserve unity, a panel recommended Thursday that the Evangelical Lutheran Church in America officially maintain its positions against same-sex blessing ceremonies and gay and lesbian ministers in relationships but tolerate dissenters.
Both conservatives and gay and lesbian groups were disappointed. Conservatives say the recommendations – to be considered by church leaders at their August meeting – condone defiance of church doctrine; gay supporters say they reinforce discrimination.
Many fear the issue will divide the church, one of the nation's largest Protestant bodies with 5 million members.
Large purchases of fertilizer legitimate
Washington Recent purchases of large amounts of a potentially explosive fertilizer that prompted a government alert were legitimate, federal officials said Thursday.
The Bureau of Alcohol, Tobacco, Firearms and Explosives sent the alert to the fertilizer industry Jan. 4 after several reports of suspicious attempts to purchase between 500 and 1,000 metric tons of ammonium nitrate. Timothy McVeigh used that substance to blow up the Oklahoma City federal building in April 1995.
Further investigation revealed that the person and company attempting to purchase the fertilizer were legitimate, the ATF said in a statement.
ATF officials are urging the fertilizer industry to remain vigilant and report any instances of suspicious purchases.
'Crazy for You Bear' draws protests
Montpelier, Vt.
A company that sells cuddly Teddy bears through the mail has angered mental health advocates with a special item for Valentine's Day.
The Vermont Teddy Bear Co. is featuring a 15-inch bear in a straitjacket. The $69.95 stuffed animal is called the "Crazy for You Bear" and comes with its own commitment papers.
"This bear was created in the spirit of Valentine's Day and as with all of our bears it was designed to be a lighthearted depiction of the sentiment of love," the company said in a statement.
Mental health advocates believe the bear is "a tasteless use of marketing that stigmatizes persons with mental illness," said Jerry Goessel, executive director of the Vermont chapter of the National Alliance for the Mentally Ill.
The company said it would discontinue the bear, but not before Feb. 14.
"We recognize that this is a sensitive, human issue and sincerely apologize if we have offended anyone," the firm said. "This bear was developed just for Valentine's Day and is not a permanent addition to our product line."
Man catches dog falling from fifth-floor
Florence, Ala. Gary Gallien is a house painter. But earlier this week he became a dog catcher – literally.
Working with a crew at an apartment complex in Florence, Gallien caught a small dog as it fell from a fifth-floor balcony.
Gallien said he had stepped outside the building Tuesday when he heard a woman scream and saw a white, furry object falling toward him.
"Somebody hollered and I looked up and just stuck out my arms and caught it," he said. "I caught it like a football. I was fixing to run for a touchdown with it."
Gallien said he did not know where the dog came from, but he took it back to the fifth floor and turned it loose in the hall.
"That's like the 'Funniest Home Videos' on TV," Gallien said. "I wish we had been filming it, so I could have sent it in. It would have won first place."
Man signals rescuers by waving underwear
Rogers, Ark. There's another reason Mom is right when she says you should always have a fresh pair of underwear. A city attorney learned last week that they can attract rescue helicopters.
Ben Lipscomb found himself lost in the flooded backwoods this week while duck hunting with his Labrador retriever.
He only managed to make it out by tying his white briefs to the end of his gun barrel and waving them at an Arkansas State Police helicopter.
Decked out in full camouflage hunting gear, Lipscomb was practically invisible as the helicopter made several passes at dusk.
"They had passed over me a couple of times," he said after he was safe and sound back at his City Hall desk. "I knew I had to do something to get their attention."
Lipscomb had been in the flooded timberland near Hollowell Reservoir for about 12 hours when he was rescued. To survive, he drank dirty bayou water and ate a raw duck breast.
Local journalism is essential.
Give directly to The Spokesman-Review's Northwest Passages community forums series -- which helps to offset the costs of several reporter and editor positions at the newspaper -- by using the easy options below. Gifts processed in this system are not tax deductible, but are predominately used to help meet the local financial requirements needed to receive national matching-grant funds.
Subscribe now to get breaking news alerts in your email inbox
Get breaking news delivered to your inbox as it happens.
---