A&E > Entertainment
'Elektra's' plot, romance are less than shocking
Fri., Jan. 14, 2005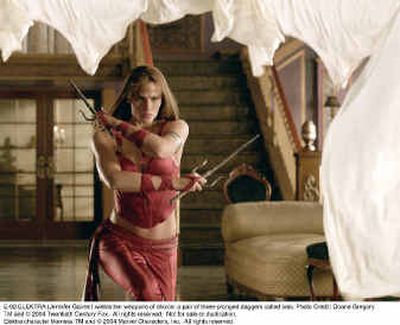 Some people might feel that the debut of "Elektra," a Jennifer Garner movie in which she plays a dashing assassin, coming in the same month as the return of "Alias," a Jennifer Garner TV show in which she plays a dashing double agent, is overkill.
But overkill is what Elektra – and "Elektra" – are all about.
Directed in workmanlike fashion by "X-Files" veteran Rob Bowman, the new fantasy-action picture revels in its comic book roots. Costumes tend toward spandex. Dialogue operates at the "You speak in riddles, old man" level. And nothing simply disappears when it could explode.
The story revolves around our titular heroine, a Greek orphan and martial arts expert who was left for dead halfway through "Daredevil," right alongside Ben Affleck's career. Elektra has been revived, though, and has resumed her job as a gorgeous but haunted assassin-for-hire. (We can tell she's haunted because she frowns a lot.)
But then Elektra has a change of heart (along with several changes of costume, mostly of the midriff-baring kind). Instead of killing her next two targets, she decides to become their protector. And suddenly finds herself fleeing a gang of supernatural ninjas.
Kirigi – a member of a mysterious group of Asian villains known as The Hand – is the killer in charge, but he comes with backup. His occult minions include Tattoo, whose body art goes on search-and-destroy missions; Stone, who has muscles of rock; Typhoid, who can kill with a kiss; and Kinkou, who can make really fast, cheap photocopies.
Actually, it's unclear exactly what the underused Kinkou has going for him, though according to the production notes, "his sense of balance is superhuman," which is a nice trick. If only "Elektra" were so sure on its feet. Half of it feels like pure Saturday morning cartoon show. Half feels like an attempt at an actual relationship drama.
Go to "Elektra" if you're 13 and just have to. Go to see Jennifer Garner, who already has outgrown this sort of thing, flash her belly button and kick some stunt people. Go if you're a genuine Marvel maniac. But leave your grown-up mind at home.
The filmmakers certainly did.
Local journalism is essential.
Give directly to The Spokesman-Review's Northwest Passages community forums series -- which helps to offset the costs of several reporter and editor positions at the newspaper -- by using the easy options below. Gifts processed in this system are not tax deductible, but are predominately used to help meet the local financial requirements needed to receive national matching-grant funds.
Subscribe to the Spokane7 email newsletter
Get the day's top entertainment headlines delivered to your inbox every morning.
---