Sports
GU big guys come up large
Fri., Jan. 14, 2005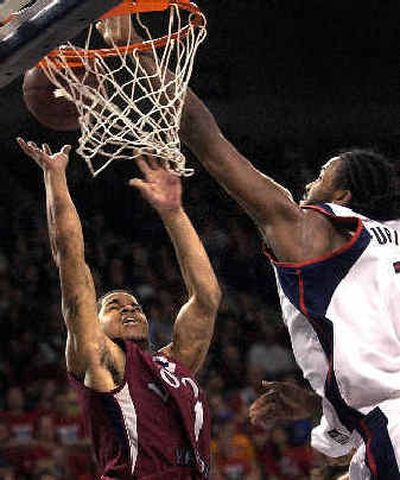 It was a night of celebration for a couple of Gonzaga University's big men on Thursday, and they both really lived it up.
With J.P. Batista celebrating his first Division-I basketball start and Ronny Turiaf his 22nd birthday, the 16th-ranked Bulldogs survived a big second-half charge by West Coast Conference rival Loyola Marymount and turned back the Lions 76-65 in front of a sellout crowd of 6,000 at the McCarthey Athletic Center.
The Zags (12-3 overall, 2-1 in the WCC) used the inside muscle of Batista and Turiaf and some splendid free-throw shooting down the stretch to offset an inspired effort by LMU (9-7, 1-2).
Batista, a 6-foot-9, 269-pound first-year junior transfer, replaced sophomore Sean Mallon in GU's starting lineup and responded with 17 points, 15 of which came in the first half as the Bulldogs built a seemingly comfortable 40-27 lead.
Turiaf, a 6-10 senior forward who has been fighting a tender ankle and a deep scoring slump the past couple of weeks, slipped out his funk with a 16-point, seven-rebound effort that proved pivotal in holding off the Lions.
"We just couldn't contain Ronny Turiaf in the middle," said LMU guard Damian Martin. "When we went to doubling him, he became a facilitator and found open players and got them layups."
Batista was one of the main benefactors of Turiaf's unselfishness, scoring early and often on a variety of moves on the low blocks. He responded appropriately after the game.
"It seems like we had a good chemistry out there," Batista said, "and that's great for the team. It makes it hard for other teams to double us inside, and now we have not just a double, but a triple option when Sean comes off the bench."
Mallon showed no signs of disappointment over losing his starting job and was on the floor instead of Batista when the Bulldogs pulled away in the final minutes. The 6-9 sophomore finished with 13 points and five rebounds.
Almost overshadowed by the play of GU's big men was another outstanding performance by sophomore point guard Derek Raivio, who scored 13 points, pulled down a team-high eight rebounds and handed out eight assists.
Still, there were plenty of anxious moments as LMU, behind Matthew Knight's game-high 20 points, sliced Gonzaga's 13-point halftime lead to 61-59 on a pair of John Haywood free throws with 4:51 left in the game. The Bulldogs answered, however, with a 15-6 closing run that included a huge 3-pointer by Raivio and 10 free throws.
The Lions came in well-prepared and executed their offense to near perfection against the Zags, who played primarily man-to-man after getting lit up for 16 3-pointers in last Saturday's 89-81 loss to Saint Mary's.
They took advantage of GU's aggressiveness by scoring repeatedly on over-the-top post passes and back-door cuts. The only problem was their shooting, which was dreadful in the first half when they missed their first 11 3-point tries and made just 12 of 37 field-goal attempts.
"Our game plan was solid and we executed really well," LMU coach Steve Aggers said. "We got a lot of high-low looks and some nice shots in the paint. It we'd have just shot the ball a little better from 3, it's a different game."
The Lions warmed up a bit in the second half, but still managed to make only three of 19 shots from beyond the 3-point line.
Bulldogs coach Mark Few said he wasn't surprised by the closeness of the game, even though his team never trailed.
"We haven't shown we can really put anybody away this year," he said. "And knowing Loyola and who they were coached by and knowing the kids on their team, I knew we were in for a hard battle."
Few said he started Batista over Mallon as a reward for his good play of late, but noted Mallon responded well and was on the floor late when the Zags put the game away.
"He's just more effective when things get crazy out there," Few said of Mallon, who scored seven of GU's last 15 points.
Batista said he had no problem with watching the last few minutes from the bench, despite his early effectiveness.
"He came off the bench and played well," he said of Mallon, "so why change? I didn't get mad about it. I'm a team guy, and Sean was helping the team."
The Bulldogs must now gear up for Pepperdine, which invades the McCarthey Athletic Center on Saturday for a 5 p.m. WCC showdown.
Local journalism is essential.
Give directly to The Spokesman-Review's Northwest Passages community forums series -- which helps to offset the costs of several reporter and editor positions at the newspaper -- by using the easy options below. Gifts processed in this system are not tax deductible, but are predominately used to help meet the local financial requirements needed to receive national matching-grant funds.
Subscribe to the sports newsletter
Get the day's top sports headlines and breaking news delivered to your inbox by subscribing here.
---