News > Nation/World
Investigation ordered into deal with commentator
Fri., Jan. 14, 2005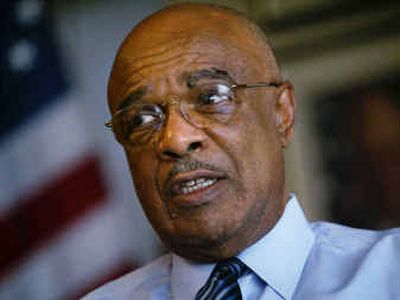 WASHINGTON – Education Secretary Rod Paige directed his agency Thursday to begin a speedy investigation into its public relations contract with a media commentator after leaders of a Senate committee asked for records of the department's publicity deals.
At the same time, a Federal Communications Commission member asked that his agency investigate whether the commentator, Armstrong Williams, broke the law by failing to disclose that the Bush administration paid him $240,000 to plug its education policies to minority audiences.
Williams has apologized for a mistake in judgment but says he has broken no law.
Paige, commenting about the flap for the first time, said he has ordered an inspector general investigation to "clear up any remaining aspects of this issue as soon as possible, so that it does not burden my successor or sully the fine people and good name of this department."
Paige is leaving his post shortly, likely to be replaced by Margaret Spellings.
The department, in a contract with the public relations firm Ketchum, hired Williams to produce ads that featured Paige and promoted Bush's No Child Left Behind law. The contract called for Williams to provide media access for Paige and to persuade other black journalists to talk about the law.
Federal law bans the use of public money on propaganda.
"Given our jurisdiction over the funds involved, we would appreciate your careful review of the contract with Ketchum and the payment made to Mr. Williams," said Sens. Arlen Specter, R-Pa., and Tom Harkin, D-Iowa, in a letter to Paige.
The lawmakers are the chairman and the ranking member of the panel that oversees education spending.
They asked Paige for a list of any grant, contract or arrangement of public money being used "for public relations or anything similar to the purpose of the Ketchum contract" from the 2002, 2003 and 2004 budget years.
As part of a more than $1 million contract with Ketchum, the Education Department paid for a video that appeared as a news story without making clear the reporter was hired to promote No Child Left Behind. The agency also paid for ratings of news reporters, with points for stories that make the law, the Bush administration and the Republican Party look good.
Paige said the public money went solely for ads in which he described the law.
"All of this has been reviewed and is legal," Paige said. "However, I am sorry that there are perceptions and allegations of ethical lapses."
Local journalism is essential.
Give directly to The Spokesman-Review's Northwest Passages community forums series -- which helps to offset the costs of several reporter and editor positions at the newspaper -- by using the easy options below. Gifts processed in this system are not tax deductible, but are predominately used to help meet the local financial requirements needed to receive national matching-grant funds.
Subscribe now to get breaking news alerts in your email inbox
Get breaking news delivered to your inbox as it happens.
---