News > Features
GRAND parenting
Mon., Jan. 17, 2005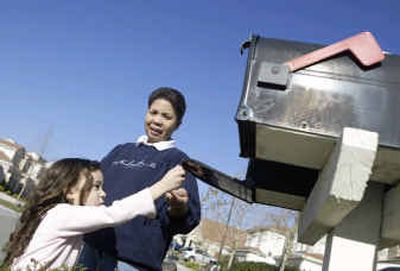 SAN JOSE, Calif. – Sheila Herger's search for child care didn't take her very far. In her efforts to find the perfect person to read to her children, shuttle them to appointments and kiss their scraped knees, she ultimately decided there was no one better than her own mother.
"Having a family member taking care of your kids – I think it's a dream of all working moms," said Herger, a 34-year-old business architect for Adobe Systems in San Jose. Herger and her husband persuaded her mother, Tessie Fernandez, to watch their two youngest children during the day.
It's the best situation Herger could think of, having relied on a day-care center when her oldest two children were young. Now, with her mother on the job, she says, "When I leave for work every day, I don't have to worry or wonder."
It's an arrangement that more and more U.S. families are turning to, reasoning that grandparents are experienced, flexible and loving – and often inexpensive – day-care providers.
Grandparents, in fact, have emerged as the leading source of child care for preschoolers who are in any type of child care arrangement, according to the U.S. Census Bureau. In 1997, 21 percent of preschoolers were cared for by their grandparents while their parents worked or went to school. The U.S. Department of Education also has found a steady increase in the percentage of 3- to 5-year-olds being cared for by relatives: 16.9 percent in 1991, 19.4 percent in 1995 and 22.8 percent in 2001.
An October 2002 survey of Spokane County parents showed that 22.3 percent use relatives for child care.
"The next-best thing to you is your mom, right?" said Linda Murray, executive editor of BabyCenter, a San Francisco-based Web site for new and expectant parents.
With the average annual cost for child care for an infant on the rise (in Santa Clara County, Calif., it's now approaching $13,000 a year), it shouldn't be too surprising, experts say, that the concept of the "granny nanny" or "granddaddy day care" is experiencing such a surge in popularity.
Many families simply cannot afford for one parent to stay at home with their children. But some can't afford commercial child care either.
With family members providing the care, costs are usually minimal – if there are any. Just 15 percent of grandparents who watched their grandchildren in 1997 were paid, the Census Bureau found. For those who did receive money, the payments averaged $40 a week.
According to the survey of Spokane County parents, a collaborative effort by the Spokane Regional Health District, Success by 6 and the United Way, three-fourths of the parents who use relatives to care for their children paid $200 a month or less. The same survey found that those using licensed care centers paid $500 or less a month.
While many working families tend to view a relative as the best person to care for their children, there's no mistaking that their decision is often economic, said Yasmine Daniel, director of early childhood development for the Children's Defense Fund in Washington, D.C.
Spokane's Kim Floyd feels "very blessed" to have her mother and her husband's parents willing and able to watch their two children. The grandparents help out one day a week each. Since Floyd works four days each week, the grandparents provide half of the child care the couple needs. The kids, ages 5 and almost 4, go to a private in-home provider the other two days.
Floyd said having the grandparents' help saves her and her husband significant money. In fact, she said, if they had to pay for full-time child care for two kids, their finances likely wouldn't add up. "I'd probably have to reduce my hours because it just wouldn't be worth it."
In major metropolitan centers, parents are often charged extra by commercial day care centers if they are stuck at work late and unable to pick up their children by an agreed-upon hour. For families who put in 50- or 60-hour workweeks, those costs can add up.
"But it's rare," Daniel said, that "if you don't get there at 6 o'clock Grandma is going to say, 'You didn't make it here in time. We're going to charge you $5 a minute.' "
Grandparents also come to rescue when children are sick, Floyd said.
"When my kids are sick I would 10 times rather have them with the grandparents than at day care," she said. Her sentiment is echoed in the Spokane County survey, which found that parents who used a relative for child care scored their "caregiver skill" significantly higher than did those who used licensed center care.
But the best part of the arrangement, Floyd said, is the one-on-one time the kids and grandparents have.
"Both grandparents have said it's priceless the time they get to spend together with the kids," Floyd said. "They can spoil them… without me around nagging them.
"I never take my kids to McDonald's because my mom does. That's her thing."
And so it is that long after their own children have left the nest, many baby boomers are finding themselves partially responsible for raising a new generation of children.
Hayward, Calif., resident Marie Roberts said she wouldn't have it any other way. When she learned that her daughter Carla Marino was pregnant, Roberts volunteered to provide free day care once Marino went back to work.
Roberts, 57, said she didn't "want to trust anybody else but family to watch the baby." So she retired from her part-time job with a local school district and took on the full-time responsibility of watching the blue-eyed baby girl who loves Winnie the Pooh and colorful pacifiers.
"I don't consider that work," Roberts said. "That's fun."
So from 7 a.m. until 5 p.m. Mondays through Thursdays, Roberts regales 6-month-old Lauren with songs, stories and stroller rides until her parents come by to pick her up.
While the system is working for Roberts and her family, the same can't be said for everyone who has turned to relative care.
The situation can be stressful for all involved if there are disagreements over how to rear or discipline a child, experts say. And many couples find it hard to tell a parent they would like their child bathed or fed in a different manner.
Grandparents, for their part, may feel taken advantage of if they aren't told "thank you" or that they're appreciated often enough. And running around after a little one can be tiring to some in their golden years.
Parents and grandparents alike may feel that they don't have as much privacy as they used to now that they're in such close and constant contact with their family members.
"It can be real tricky," said BabyCenter's Murray. "It's sort of an employee/employer relationship, which is a tricky thing to enter into with a family member."
Jerry and Lee Anna Jensen know that. They've taken turns caring for two of their grandchildren in the past few years.
But Jerry Jensen, whose own grandfather watched him when he was growing up, thinks it is the job of families to "rise to the occasion," providing day care if they can swing it.
Which is why the Jensens are daring to do what many others might not: watch three infant grandchildren at their Salt Lake City home.
Twins Greta and Leah were born in September, and granddaughter Delaney followed them just three weeks later.
The Jensens have been busy stocking their home with cribs and diapers and laughing off any suggestion that they may be crazy.
"We expect to be challenged," said Jerry Jensen, a former Army commander who has established explicit ground rules with his son – the father of the twins – and daughter, Delaney's mother. On weekends, the elder Jensens get time to themselves, without tiny little feet running around. Weeknight dinners? Find another baby sitter. And payment? Don't be ridiculous, the Jensens said. Their services are a labor of love.
"I get payback," said Jensen, and it comes in the form of hugs and sheer pride. That, he said, "is one of the most satisfying experiences that a person can have."
Correspondent Laura Crooks contributed to this story
Local journalism is essential.
Give directly to The Spokesman-Review's Northwest Passages community forums series -- which helps to offset the costs of several reporter and editor positions at the newspaper -- by using the easy options below. Gifts processed in this system are not tax deductible, but are predominately used to help meet the local financial requirements needed to receive national matching-grant funds.
Subscribe now to get breaking news alerts in your email inbox
Get breaking news delivered to your inbox as it happens.
---