News > Business
Rated 'E' for elusive
Mon., Jan. 17, 2005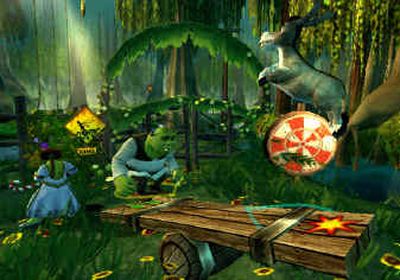 As president of Activision Publishing, Kathy Vrabeck helps promote and develop games like "Doom 3," "Tony Hawk's Underground 2" and "Call of Duty."
But she might think twice before buying those top-sellers for her 7-year-old son.
In a gaming world where violence reigns, parents like Vrabeck are searching for family-friendly titles bearing a rating of "E" — for everyone.
"As a parent myself, trying to figure out what your kids want is always troublesome," Vrabeck said.
With kid-friendly movie tie-ins like "Shrek 2," "Shark Tale," and "Lemony Snicket's A Series of Unfortunate Events," Vrabeck and her Activision team have created several titles for children young and old.
Though most games target an older audience, companies like Activision Inc., Electronic Arts Inc. and Nintendo Co. have alternatives that are universally accepted as family-friendly. And LeapFrog Enterprises Inc. has ventured into the gaming industry with a handheld edu-tainment system, Leapster.
Steve Martin, of New York City, was initially hesitant about buying his daughter, Morgan, a game system at all. He said he wasn't sure whether there were enough games he was willing to let into his house.
"I am looking for things where we can play together, like golf and tennis where we aren't shooting and killing people," Martin said. "There's more stuff for boys, teenagers and adults than for kids."
"Dance Dance Revolution," a game in which players dance on a large game pad to keep up with directional cues given on-screen, sealed the deal. Morgan is getting a PlayStation 2 system for her 8th birthday this month, and she had added games to her Hanukkah list in anticipation.
Since 1994, the Entertainment Software Rating Board, a self-regulatory body set up by the gaming industry, has rated more than 10,000 video games. Use of the ESRB seal and rating is voluntary, though virtually all games do so.
According to the ESRB, 57 percent of all games rated in 2003 were "E," compared with a combined 42 percent for "T" and "M" games — teen and mature. Few of the games use "EC" for early childhood or "AO" for adults only.
"There are definitely a lot of titles that are great for parents," said David Tokheim, senior director of marketing intelligence for GamerMetrics and IGN.com, a leader in trend-tracking for the game industry.
Nonetheless, teen and mature games are bigger sellers.
Data analyzed by GamerMetrics and IGN.com show that 46 percent of all games sold in 2004 were rated "E," while "T" and "M" sales accounted for 54 percent of overall sales.
Although the ESRB considers "E-rated" titles suitable for children ages 6 and older, the games may still contain "minimal violence, some comic mischief and/or mild language." "T-rated" titles are considered suitable for ages 13 and older, while "M-rated" games are targeted at 17 and up.
According to Tokheim's team, which analyzes consumer trends, purchase plans and Web site input, the most popular "E-rated" games include Sony Computer Entertainment's "Gran Turismo 4," and Electronic Arts' "Need For Speed Underground 2" top the list.
Sports titles include "NBA Live 2005." Animated character games like Nintendo's "Mario Power Tennis" are also popular.
Nintendo characters like Mario, Luigi, Donkey Kong and the gang have been popping up on Nintendo game systems since the late 1980s and remain prominent franchises for Nintendo's GameCube, GameBoy Advance and the new Nintendo DS.
Games aimed at the younger set are smart business, Tolkheim said.
"The game industry should continue to milk proven franchises," Tolkheim said. "With new consoles come new opportunities to create brand-new titles. Many of the most successful games ever sold on PS2, Xbox or GC are 'E-rated."'
Local journalism is essential.
Give directly to The Spokesman-Review's Northwest Passages community forums series -- which helps to offset the costs of several reporter and editor positions at the newspaper -- by using the easy options below. Gifts processed in this system are not tax deductible, but are predominately used to help meet the local financial requirements needed to receive national matching-grant funds.
Subscribe now to get breaking news alerts in your email inbox
Get breaking news delivered to your inbox as it happens.
---