Sports
Kryptonite anyone?
Sun., Jan. 23, 2005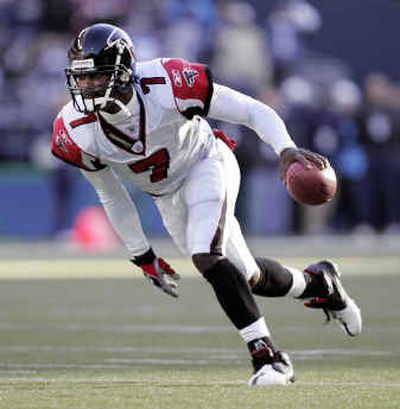 DETROIT — Philadelphia isn't necessarily impressed with the hair-raising Michael Vick Experience. It has its own masochistic homage to motion sickness, the NFC Championship Experience. For the price of an Eagles fan's sanity, you can get a ticket for a perilous ride that teases you with a steady upward climb. The farther the ascent, the closer the image of the Vince Lombardi Trophy seems. And just when it appears within reach, there's a precipitous freefall, complete with horrifying visions of DeShaun Foster busting endless tackles for a touchdown or the pedestrian Brad Johnson playing error-free at quarterback.
Why should they fear Vick when their recent history is frightening enough?
A loss today to the Falcons would give the Eagles a place in ignominy, the first NFL team to lose four straight conference championships.
"It's a freakish thing why we haven't been able to clear that final obstacle to get to the Super Bowl," said Eagles linebacker Ike Reese. "It beats looking at things the other way and not getting to the championship game at all. But something just happens to us at the wrong time. It's just one of those freaky things."
And now they have to beat the freakiest of players.
Defining Vick is almost as impossible as tackling him. He's packaged as the closest replica to a football Michael Jordan, but there was a predictability to His Royal Airness' greatness.
Vick's allure is that you don't know how he'll get you—by leg, by arm or by diversion.
"I like to keep everybody guessing," Vick said. "That's why my style of play is so different."
He's the biggest X-factor of Conference Championship Sunday. The other three starting quarterbacks could be less than brilliant and their teams could still persevere.
But if Vick stumbles, the Falcons fall.
Vick received one first-place vote for NFL most valuable player, denying the record-setting Peyton Manning the unanimous victory that many thought he deserved. The voter's decision was criticized, but Vick's importance to the Falcons goes deeper than Manning's to Indianapolis because he can beat you in so many ways.
And isn't that the definition of valuable?
Vick is on the mind of everyone in Philadelphia this weekend.
"Speed kills in this league," said Reese, a former Michigan State star, "and you've got wide-receiver speed in a quarterback."
"You've got to spy him," said middle linebacker Jeremiah Trotter.
"You've got to tackle him," said Eagles defensive coordinator Jim Johnson.
But first you have to catch him.
Vick is fun because he frightens the status quo. He makes players and coaches nervous. If he does the unthinkable and proves that a playmaking, primarily running quarterback can win a Super Bowl, it could ignite a seismic change in talent evaluation.
All of a sudden, Vince Young, the Texas QB whom Michigan defenders are still chasing three weeks after the Rose Bowl, becomes more attractive to NFL personnel directors.
The NFL seemingly changes its rules weekly to inflate passing numbers and pump up the offense, but there is no more exciting player in the game than Vick when the defense blitzes but can't tackle him.
"I always thought the key was winning and doing whatever's necessary to reach that goal," Vick said. "I've been used to hearing stuff about what I can't do or what I shouldn't do. But one thing quiets all of that—winning."
Vick quickly amends that declaration, understanding that it's more about winning championships, not just winning games.
First-year Falcons coach Jim Mora Jr. was smart enough to realize quickly that he was stifling Vick, forcing him to become a prototype West Coast-offense quarterback. The coaching staff's eyes were opened in a home loss to the Lions in the season's fifth week. The coaches wanted a more rhythmic, deliberate pace from somebody more comfortable with freelancing.
Vick was sacked six times in a 17-10 loss to the Lions. Now the Falcons are one victory from the Super Bowl.
"Calling Mike a special player is an understatement," Mora said. "He possesses the single-handed capability of taking over a game when the situation arises. You just don't see that in this game, which is the ultimate in team responsibility. But there aren't many players equipped with a rocket pack in his legs and a rocket launcher in his arm. You can't look away any time the ball is in his hands."
They're sweating in Philly, experiencing a queasiness that has come too frequently. They're excited by early forecasts of snow come late Sunday afternoon, believing that Mother Nature can contain what's beyond the control of mere mortals.
But Vick thrives on unpredictability.
Local journalism is essential.
Give directly to The Spokesman-Review's Northwest Passages community forums series -- which helps to offset the costs of several reporter and editor positions at the newspaper -- by using the easy options below. Gifts processed in this system are not tax deductible, but are predominately used to help meet the local financial requirements needed to receive national matching-grant funds.
Subscribe to the sports newsletter
Get the day's top sports headlines and breaking news delivered to your inbox by subscribing here.
---