Sports
Wild about Big Ben
Sun., Jan. 23, 2005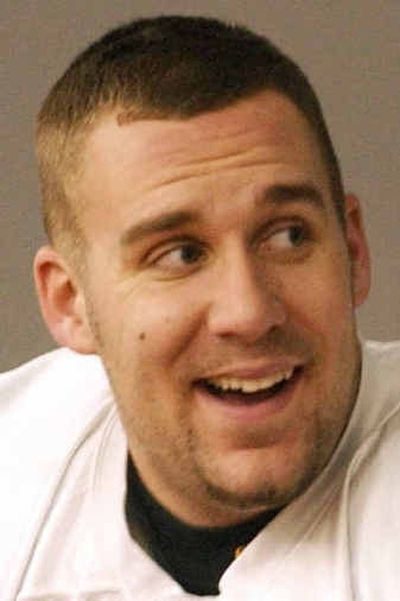 Marla Coppler's barbershop in Findlay, Ohio, is a shrine to her favorite hometown quarterback – Ben Roethlisberger.
A Roethlisberger clock is attached to the wall. Newspaper clippings detailing his breakout rookie season are taped to the mirrors. And a replica of his Pittsburgh Steelers jersey greets everyone who walks in.
Across town, Tony's Restaurant has its own black and gold display, and serves up the "Big Ben Burger," a monster sandwich of two half-pound patties complete with a Steelers toothpick flag.
All of this would have been considered treason a year ago in a town that sits in the territory of the Steelers' hated rival – the Cleveland Browns.
But Roethlisberger's success – he's won his first 14 starts and could become the first rookie quarterback to take his team to a Super Bowl with a victory Sunday over New England – has captivated his northwest Ohio hometown.
"Everyone on this side of the Pennsylvania line used to be a Browns fan," Dick Denman said as he got his hair trimmed this week. "I defy you to find one anymore."
There are some Browns fans still around. But even they've been caught up in the excitement, covertly buying Steelers gear.
"We give them a little hassle," said Ronnie Romero, a salesman at Finish Line, a sports store at the town's mall. "They always say they're supporting the hometown guy or they say it's for someone else."
Browns fan Fritz Wink, general manager of Buffalo Wild Wings, a restaurant where fans gather to watch the Steelers, admitted buying a Big Ben stocking cap last week.
"That's as far as I'll go," he said. "I'm a big Browns fan, but Ben's a good guy. I'm rooting for him, not the Steelers. At least that's the way I rationalize it."
Anything with Roethlisberger's name, face or No. 7 jersey is selling – magnets, bobblehead dolls, blankets, flags, mugs, toy cars, hats (pink ones too) and even a Steelers birdhouse.
Big Ben merchandise accounts for about three of four sales at SportsMania, clerk Rebecca Foltz said.
"I could write Steelers on a piece of paper and they'd buy it," she explained.
Blast from the grave
An ardent hockey fan from Ottawa who died this week used his obituary to denounce the NHL lockout.
Archie Bennitz, 84, instructed his son to criticize NHL commissioner Gary Bettman and union leader Bob Goodenow in his death notice.
Bennitz called Bettman and Goodenow "skunks for denying him the pleasure of watching the NHL on TV this year," the obituary in the Ottawa Citizen read. Bennitz also urged Bettman to step aside in favor of Wayne Gretzky.
David Bennitz said his father had become increasingly angry during his last month in the hospital as the lockout dragged on. Hockey was the only thing he watched on TV.
Don't get him riled
The Florida Marlins want $60 million in state money to finance a new ballpark, a request the head of the state senate regards as "blackmail."
Florida Senate President Tom Lee said "I don't negotiate with terrorists." A day later he thought better of the hyperbole and backed off the word "terrorists."
But he wasn't done in expressing his anger that the Marlins have talked to officials in Nevada about a possible move to Las Vegas.
"That was a threat and it offended me. I feel like they're trying to put a gun to our head and I think they ought to revisit that strategy."
Local journalism is essential.
Give directly to The Spokesman-Review's Northwest Passages community forums series -- which helps to offset the costs of several reporter and editor positions at the newspaper -- by using the easy options below. Gifts processed in this system are not tax deductible, but are predominately used to help meet the local financial requirements needed to receive national matching-grant funds.
Subscribe to the sports newsletter
Get the day's top sports headlines and breaking news delivered to your inbox by subscribing here.
---