Sports
Woods catches Lehman
Sun., Jan. 23, 2005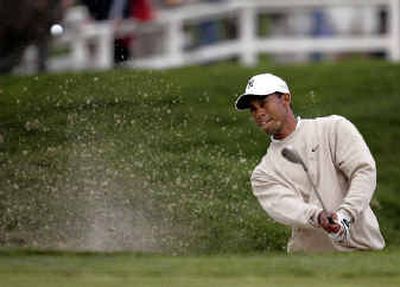 SAN DIEGO — From dawn to dusk, Tiger Woods managed to play just six holes Saturday in the fog-delayed Buick Invitational. That was enough to change his fortunes.
He waited 2 1/2 hours to play one hole in the morning, a two-putt birdie from the fringe to complete a second-round 63 and get within three shots of the lead. Then he waited six hours to start the third round, birdied his first two holes and caught Tom Lehman when the Ryder Cup captain faltered.
When darkness finally halted play at Torrey Pines, only one thing was certain.
"It's been a long day," Woods said. "And we've got another long one tomorrow."
And there's still a long way to go.
Woods turned a bogey into an unlikely birdie by holing a bunker shot on the par-3 11th. Lehman struggled from the onset, missing a 6-foot birdie on the first hole, then having to make a pair of 8-footers on the next two holes, one of them for par, the other for bogey.
Woods found the 14th fairway with his tee shot, and decided to finish the hole after the horn sounded to stop play.
"One less hole to worry about," he said.
Lehman never teed off and will return there this morning — assuming everyone can see.
Peter Lonard, who completed his 65 early Saturday to join Woods at 12 under through 36 holes, decided to play the 14th and made a mess of it, taking double to slip back to 11 under, along with Luke Donald.
Ernie Els was 2 under through five holes and begging rules officials to halt play, saying he couldn't see. He was at 10 under, along with Kevin Sutherland and Dudley Hart.
And don't forget about Vijay Singh.
Quietly marching along in the group behind Woods — the leaders teed off on the back nine for television — the 41-year-old Fijian birdied three of his last four holes and was at 8 under.
The third round is expected to resume at 7:30 a.m.
"I can't wait to grab some dinner and repeat the process tomorrow," Woods said.
PGA tournament director Mark Russell held out hope that the Buick Invitational could avoid its first Monday finish, although everything has to fall together perfectly. No more than a one-hour delay today can be tolerated. And players will not take a break after they finish the third round, heading straight to the next tee.
The leaders began the third round on No. 10. They will start the final round on No. 1.
It was chaotic, but by now, everyone is used to the soupy fog off the Pacific.
Nearly 60 players arrived Saturday morning to finish the second round. Some were on the practice range hitting soft lob wedges to about 70 yards, unable to see where the ball was landing.
After a 2 1/2 -hour delay, the second round resumed.
And when the third round began, no one played more than four holes until Torrey Pines was shrouded anew in fog.
Phil Mickelson was at 5 under after 36 holes, but quickly faded from contention. He hit his approach into 3 feet on his second hole, the par-3 11th, only to miss the putt. He followed that with several other mistakes and was 4 over on his round through 11 holes, 11 shots out of the lead.
Woods could not have asked for a better start.
From a fairway bunker on No. 10, his approach spun back 12 feet above the hole, and he curled that in for a birdie. And right when it looked like he had short-sided himself on the 11th, his bunker shot was picking up speed when it rammed into the pin and dropped for birdie.
Els also started quickly with a 3-foot birdie on No. 10 and an 18-footer for birdie on the second hole. The Big Easy might be playing better than anyone, giving himself birdie chances inside 18 feet on every hole he played on the South course. He missed a 10-footer on the 14th, then waited on the 15th tee until play was suspended.
Local journalism is essential.
Give directly to The Spokesman-Review's Northwest Passages community forums series -- which helps to offset the costs of several reporter and editor positions at the newspaper -- by using the easy options below. Gifts processed in this system are not tax deductible, but are predominately used to help meet the local financial requirements needed to receive national matching-grant funds.
Subscribe to the sports newsletter
Get the day's top sports headlines and breaking news delivered to your inbox by subscribing here.
---