News > Features
A brighter outlook
Fri., Jan. 28, 2005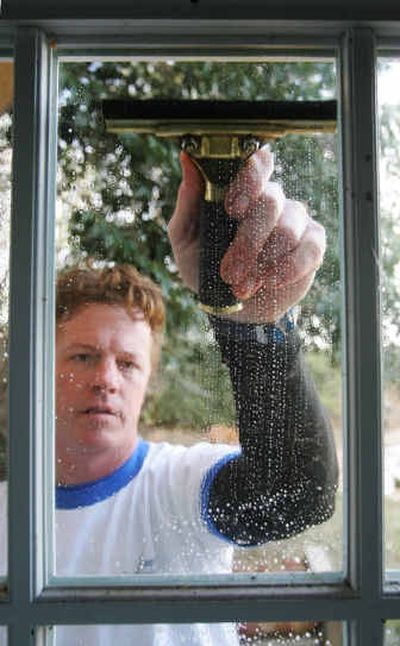 FORT WORTH, Texas — He greeted me at my front door, the one bearing the smudges of wet-nosed dogs. His gaze continued on upward to the cobwebs in my living room. He started talking about squeegees, blading and how I was going to see things differently after he was finished. My heart was pounding and my fingers trembled as I reached for my checkbook. At long last, I had decided to give myself over to a man who did windows.
It was no small leap of faith. Despite being overrun by mountains of housework at several times in my life, I have refused to call in the cavalry. I have two strong arms and two able legs; surely I can run the vacuum cleaner and push a mop. But my windows are different. I tried to keep the glass front door reasonably clean; I didn't have to use a ladder, and it was one big expanse of glass. Those little panes, seemed, well, more of a pain. Plus they were old; glass that I figured might not ever sparkle.
And then I met Sam Burkett. I learned he likes baseball and bluegrass music and plays the mandolin. I also learned he is a professional window washer. Expert Windows is his company; he drives a big white van that says so on its side. A friend had hired Sam to do her windows, and she told me what a difference it had made. "You wouldn't believe how much better my house looks," she whispered. "It's amazing."
But I equate window washing with maid duty. No way would I pay someone to wipe a little dirt off my windows. I own a ladder, three of them, and somewhere under my kitchen sink is a squeegee. I could do this, really.
Sam changed my mind. Not about my ability; he actually fixed my squeegee for me, thereby issuing a subtle challenge to do the dirty deed myself.
Actually, he changed my mind by explaining why he likes washing windows and the Zenlike feeling I would experience when my windows were truly clean. He then quoted a price that seemed like a bargain when I realized he would be washing the inside and outside of the windows. And that he would be the one moving the ladder through those prickly holly bushes under the windows, and that he would be the one knocking down the spider webs, not I, who don't have the heart to be a home wrecker, even if it is a spider.
And this is how I came to see the light, so to speak. I got sparkling windows just in time for a little dinner party I threw over the holidays. I still need to paint and rehang the shutters for my kitchen windows, but the glass is still so clean, I almost don't want to cover it up. On a sunny day, I feel as if my eyes have been Lasiked because I can see everything clearly. And at night, the windows literally glow. I feel as if I've started off the new year clutter-free in at least one part of my house.
Thanks, Sam. See you in three or four months. Or when I need a little sparkle in my life again.
Window washers see things clearly
So says a window sticker on Sam Burkett's van. And he loves his job. "Improving outlooks daily, that's what I aim to do," Burkett says. "It's a pretty dramatic change that clean windows can make. It's also kind of egoistic. I know people will keep thinking about me and the work that I do."
B.A. Autery, owner of Black Wolf Window Cleaning in Arlington, Texas, agrees. "I love seeing the customer's eyes after they walk into their house. They ask me where I've been all their life."
This is one way to find a window washer. If you see a truck on your street or your neighborhood, check out the work or knock on the door and ask the residents about the work. Both Burkett and Autery are independents and own their own companies. Word of mouth is key for them. "I have one street that I know I do almost every single home on that street," says Autery, proudly.
Look for companies that specialize in residential and ask for references.
DIY – or maybe not
You'd expect professional window washers to be leery of explaining the science of what they do, fearing they would be giving away trade secrets. Not to worry; even with a how-to list, most of us still won't do it on our own. Autery knows this for a fact.
"I've seen a garage or two with professional equipment in them, but the stuff had dust all over it," he says with a laugh.
And though Sam seemed impressed that I at least owned a squeegee, he pointed out that the rubber blade had deteriorated (and not from overuse).
The truth is, you can wash your own windows. The tools are out there, the cleaning solutions are out there and so is the knowledge. Both the "Star-Telegram" photographer and I watched Sam do a window. We both tried it ourselves and compared results. The windows were cleaner, but they still had smudges and streaks. We agreed that doing the outside panes was a real pain. We are not professional window washers.
Tools of the trade
A squeegee is crucial, and yet it remains a nonessential item in most homes' cleaning arsenals. You'll hear the terms handles and channels tossed around when talking to the pros. The channel is what holds the rubber blade in place. It can be loosened and trimmed with a hacksaw to replace or fit the blade. Use a razor to trim the blade.
You can pick up an 18-inch stainless-steel Ettore (the company that invented the squeegee in 1936) for about $7 at Lowe's. Add a 14-inch scrubber for about 11 bucks and a $25 12-foot extension pole and you're ready to start cleaning windows. An 8- or 10-inch squeegee is good for smaller windows.
A bucket for your water; a spray bottle comes in handy as well.
A scrubber is necessary to clean the glass; you can use a sponge.
Lint-free rags are crucial for wiping blades and excess water. Both Burkett and Autrey use surgical towels. Those ubiquitous microfiber cloths will work fine.
Ladders are good; the pros are skilled with the extension poles and swivel-head squeegees.
Razor blades, steel wool.
Patience, a good attitude.
Paying the pros
Again, the bang for the buck is a big factor, in our opinion. A good window washer will give you a ballpark price over the phone but will insist on seeing the job first before giving you a final price. There are many variables that can affect your cost, but a random phone check of several window washers found prices of $5-$9 per window for basic double-hung windows, front and back. Some included screen cleaning. Storm windows will cost you more, because you're having four sides washed, plus there's the labor of removing and rehanging the storm window after the job is completed. Expect to pay $18 to $25 per window. Professional cleaners also charge sales tax. Some offer a rain guarantee, meaning they'll redo your windows if it rains the next day and the windows look dirty.
Check your calendar
Aside from the sunny day/rainy day thing, there's no bad time to get your windows cleaned. It's a year-round job for the pros. Many people schedule cleanings before a big event, such as a party or open house, but should you decide to make this a regular service, you should count on a two- to three-times-per-year schedule. Areas such as kitchen windows will require little touch ups. This is where those microfiber cloths come in handy. Full-length glass doors — especially ones subject to dog noses or little sticky fingers — will need more frequent cleaning but are great places to perfect your technique.
Local journalism is essential.
Give directly to The Spokesman-Review's Northwest Passages community forums series -- which helps to offset the costs of several reporter and editor positions at the newspaper -- by using the easy options below. Gifts processed in this system are not tax deductible, but are predominately used to help meet the local financial requirements needed to receive national matching-grant funds.
Subscribe now to get breaking news alerts in your email inbox
Get breaking news delivered to your inbox as it happens.
---