A&E > Entertainment
Awful 'Alone' packs laughs
Fri., Jan. 28, 2005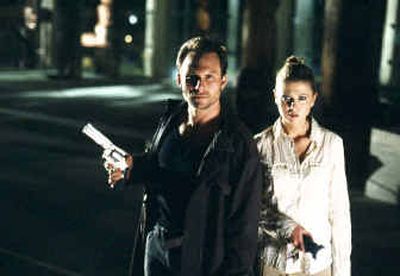 A woman I work with has an annual so-bad-it's-fun movie night, and I can't wait to tell her this year's stinker should be "Alone in the Dark."
The unintentional hilarity begins with boob-flashing party girl Tara Reid, cast as a brilliant archaeologist.
Reid – whose name should not be found in the same sentence as the words "brilliant" or "archaeologist" or, for that matter, "actress" – plays the sort of brilliant archaeologist who wears midriff-baring baby tees to her museum job and who doesn't know how to pronounce "Newfoundland." I'd like to see the producers spin off her character into an adventure/ archaeology series: "Indiana Jones and the Temple of Dumb."
The rest of this "28 Days Later"/"Alien" hybrid also worships at the temple of dumb. Christian Slater deserves props for not embarrassing himself as a "paranormal investigator" who announces, "I hunt and track down the strange and the unusual."
Wow! Not just the strange but also the unusual? And I bet he hunts and tracks down the odd and the weird and the unconventional, too. Slater also finds the hidden nuances in these three lines of dialogue: "Go, go!", "Go, go, go!" and, my favorite, "Go, go, go, go!"
Slater isn't awful like Reid is, but all of the actors, including Stephen Dorff as a brilliant something-or-other, lack the authority to be believable as people in positions of power. Watching them play dress-up is as convincing as it would be to watch a middle-school production of "On Golden Pond," which, come to think of it, still might not be as laughably bad as "Alone in the Dark."
Local journalism is essential.
Give directly to The Spokesman-Review's Northwest Passages community forums series -- which helps to offset the costs of several reporter and editor positions at the newspaper -- by using the easy options below. Gifts processed in this system are not tax deductible, but are predominately used to help meet the local financial requirements needed to receive national matching-grant funds.
Subscribe to the Spokane7 email newsletter
Get the day's top entertainment headlines delivered to your inbox every morning.
---