News > Spokane
Bald eagle shot near Sprague
Fri., Jan. 28, 2005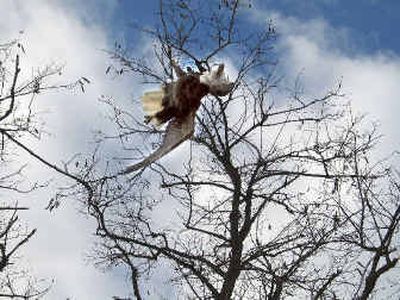 A mature bald eagle was found shot dead and hanging from a tree Monday in a farmer's field near Sprague, Wash., said Tom Buckley, with the U.S. Fish and Wildlife Service.
The eagle is now in an evidence locker in Spokane, and special agents from the Fish and Wildlife Service are investigating the crime, which is a federal offense.
The shooting likely took place while the eagle was perched in a tree about 35 feet high, Buckley said. The shock of the bullet caused the raptor to clamp down on the branch. Wildlife agents didn't know what kind of gun was used.
One of the bird's razor-sharp talons held on to the branch even after it died, and biologists needed to use poles and ladders to recover the carcass the following day.
"When they clamp onto something, they can lock them," Buckley said. "An adult could not pull those talons open without breaking them."
The bird was found just off state Highway 231, about a mile north of Sprague.
The Fish and Wildlife Service knows of six eagles that have been shot in northeast Washington since 2002. Two of the federally protected birds died from the shootings.
Eagles have made a strong comeback since the 1960s, and the Fish and Wildlife Service is poised to remove the bird from Endangered Species Act protection. The agency first proposed removal in 1999, but it continues to develop a management plan. Buckley said he expects to see the change take place by the end of the year.
Bald and golden eagles will continue to receive special federal protection even without Endangered Species Act listing.
The eagle's carcass is being held for evidence and will eventually be shipped to the Fish and Wildlife Service's National Eagle Repository near Denver, Buckley said. From there, it will be shipped to a member of a federally recognized Indian tribe for ceremonial use.
The waiting list for eagle parts and feathers is about three years. About 1,000 dead eagles are sent to the repository each year, according to the Fish and Wildlife Service. Many of the birds are killed as result of electrocution, vehicle collisions or unlawful shootings.
Barring crimes or accidents, bald eagles typically live 30 years or more in the wild. Their telltale white head and tail feathers appear only after the bird is 4 or 5 years old.
Local journalism is essential.
Give directly to The Spokesman-Review's Northwest Passages community forums series -- which helps to offset the costs of several reporter and editor positions at the newspaper -- by using the easy options below. Gifts processed in this system are not tax deductible, but are predominately used to help meet the local financial requirements needed to receive national matching-grant funds.
Subscribe now to get breaking news alerts in your email inbox
Get breaking news delivered to your inbox as it happens.
---