A&E > Entertainment
'Hide' from this lackluster ripoff
Fri., Jan. 28, 2005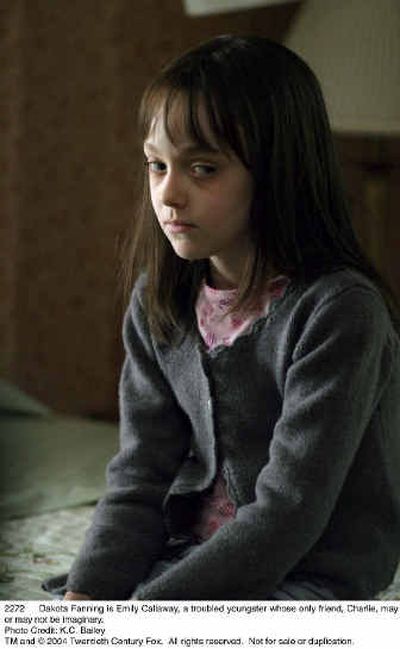 Mustn't say which Stephen King novel and movie "Hide and Seek" rips off, because that would give too much away.
And really, the scares are rare enough in this ho-hum, little-girl- and-her-ghost thriller. No sense ruining any of them with a silly old movie review.
Robert De Niro plays a New York psychologist whose daughter, Emily (Dakota Fanning), turns into Wednesday Addams when they find mommy's body in a tub of blood.
He decides they need to move to the country.
Let's just hope Danny doesn't live here, Mrs. Torrance.
Whoops.
Danny doesn't. But Emily meets Charlie, an imaginary friend who plays her favorite game, hide and seek. He also seems to know her troubles, and seems bent on blaming Daddy for them. Strange things happen, then bad things.
And before you can say "Heeeere's Johnny," (whoops again), the good doctor starts to wonder just what is going on.
Elisabeth Shue shows up as a baby-sitter who's a little too fond of the same low-cut dress. She's here to provide the little levity the movie manages..
Fanning, of "Uptown Girls," "Man on Fire" and "The Cat in the Hat," is a hollow-eyed horror here, a Goth girl in the making. Underneath the dark hair and dark clothes and morbid world view is a child trying to convince her father that the awful things that start to happen are traceable to Charlie. And Dad, a man of science, can't buy that.
De Niro and Fanning never click as father and daughter, giving the whole relationship, and the movie, a clinical, bloodless feel. Give us a reason to care.
Director John Polson, a reformed actor, seems more concerned with maintaining the slim mystery here than in delivering real frights. Whatever Oscar-winner De Niro and Oscar-nominee Shue took a shining to in the script, what came out was cut-rate King.
And while there's no shame in paying homage to the master by borrowing from the works of his heyday 25 years ago, you really do him no honor when you hide what you should be seeking – the fear.
Local journalism is essential.
Give directly to The Spokesman-Review's Northwest Passages community forums series -- which helps to offset the costs of several reporter and editor positions at the newspaper -- by using the easy options below. Gifts processed in this system are not tax deductible, but are predominately used to help meet the local financial requirements needed to receive national matching-grant funds.
Subscribe to the Spokane7 email newsletter
Get the day's top entertainment headlines delivered to your inbox every morning.
---