A&E > Entertainment
OTEP blows off steam Sunday
Fri., Jan. 28, 2005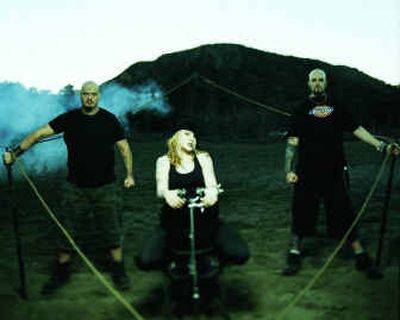 Otep is a one-word woman, first-class whiner and champion of the oppressed.
"I think a lot of what I write embraces the truth about life, in that life is difficult and life is hard," said Otep, who fronts the band of the same name. "Embracing the void and embracing that pain is important."
Not that her career has been cause for much personal anguish. The heavy metal diva's band had Sharon Osbourne's seal of approval just six months after forming in 2000. The blessing from the queen of heavy- metal production led to an Ozzfest gig and a deal with Capitol Records.
"I'm definitely grateful that I have this opportunity to make music and have a second record and headline the 'Alliance of Defiance' tour," she said, moments after waking up at 11 a.m. in Reno, Nev., the first tour stop. "I think there's a thousand other bands out there that write great ballads and love songs. They've got that covered. Embracing truth and being a voice for the voiceless is something I'm going to continue to try to do."
The tour, featuring support from American Head Charge, Candiria and The Autumn Offering, reaches Spokane on Sunday for a 7:30 p.m. show at the Big Easy Concert House. With Otep, drummer Doug Pellerin, guitarist Scotty CH, a Seattle native, and bassist eVIL j make OTEP.
Otep's also angry – very angry. She takes jabs at "all you weak emcees, all you hardcore wannabes" on her first full-length album, 2002's "Sevas Tra," and warns, "My war serpents rattle when it's time for battle." And that's only through the third track.
Then came last year's "House of Secrets."
"I think it's a much angrier album," Otep says. "I know going into (making the album) I was a much angrier person."
How does it get angrier than "Say what you need to save your soul, but don't" mess with me? For Otep, the answer is politics.
Her horse didn't win in November, but instead of swimming in post-election depression, Otep saw victory.
"To know that so many people had gone out to vote, regardless of what side, was a source of pride," she said. "For me, writing and art are my salvations, a way to manage my emotions and anger. We can't control what happens to us, but we can control how we react to it."
Local journalism is essential.
Give directly to The Spokesman-Review's Northwest Passages community forums series -- which helps to offset the costs of several reporter and editor positions at the newspaper -- by using the easy options below. Gifts processed in this system are not tax deductible, but are predominately used to help meet the local financial requirements needed to receive national matching-grant funds.
Subscribe to the Spokane7 email newsletter
Get the day's top entertainment headlines delivered to your inbox every morning.
---