Sports
M's chart new course after wreck
Sat., Jan. 29, 2005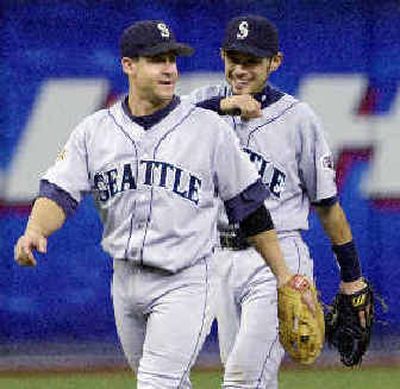 In January pronouncements around major league baseball, all teams are contenders – including the Seattle Mariners, who lost 99 games last year and finished fourth in the four-team American League West.
The spin that makes bad teams look good in the dead of winter is an annual event for some franchises. For the Mariners, it was something completely different this week. "We've had years that didn't finish as well as we'd like here over the last four, five seasons," Bret Boone said, "but winning 90 games every season can spoil you.
"What happened last year I can't explain. Last spring, I'd have told you it was impossible – we were too good a team to lose 99 games. But it happened."
And 2005?
Boone beamed.
"I'm as excited opening spring training as I've been in years," he said.
Boone wasn't alone. In a prespring press luncheon, the Mariners trotted out their front office, their new manager and a handful of players.
None of them predicted a pennant in Seattle in 2005.
All of them talked about contention.
"Coming off last season, there are legitimate questions about the rotation, but I look at what we have and see we have arms that have been successful," manager Mike Hargrove said.
"Our defense – on paper – is much improved with Adrian Beltre at third base, Pokey Reese at shortstop and Richie Sexson at first base. That will help the pitching. Our offense is much better, and run support helps the pitching."
There is a question about who the No. 4 or No. 5 starter will be, a few questions about the makeup of the bullpen and the bench, but Hargrove said he had an idea who would be where in his opening day nine-man lineup.
At first base, Sexson. At second base, Boone. At third, Beltre. At shortstop, Reese. In right field, Ichiro Suzuki. In center, Jeremy Reed. In left field, Randy Winn. The designated hitter? Raul Ibañez. The catcher: Miguel Olivo.
If that lineup took the field tonight, it would have two players in the same positions they started a year ago – Boone and Ichiro.
Clearly, these won't be (former manager) Bob Melvin's Mariners.
There will be health issues to be worked out during spring training and beyond.
Rafael Soriano will open the season on the disabled list, but his comeback from major arm surgery could mean a July 1 return to the Mariners bullpen.
Bucky Jacobsen, the popular first baseman-DH, will likely start the season at Triple-A Tacoma, where he'll continue to rehabilitate a knee that required September surgery.
"He's working out five days a week now," trainer Rick Griffin said, "and we'd like to get him in some spring games. I don't think he'll be ready opening day."
There are the questions that go beyond health and could as easily determine how Seattle's season goes.
Like center field. Is Reed ready?
"Jeremy is a good center fielder," general manager Bill Bavasi said. "If you start with Ken Griffey Jr. and Mike Cameron as 10s, Reed is a 7 or 8 now, but he has the potential to be like Jim Edmonds.
"His first step is almost always perfect, and he's good at going back on a ball so he can play more shallow. After what he did last year, he's due a shot at the job – and he'll get it."
What about behind the plate, where catcher Olivo had so much trouble on defense that after the season Seattle sent him to work in the instructional league?
"I want to be better. I've worked on blocking the ball in the dirt, on balance behind the plate," Olivo said. "You have to learn at the major league level if you want to improve."
How about an offense that scored fewer runs than any in the American League?
"We knew what we needed and we got it," Boone said. "We've now got three guys in the lineup capable of hitting 30 or more home runs, of driving in 100 runs. We addressed that issue."
What's left are the usual spring surprises, good and bad. The Mariners were asked to project a few of those.
One of them is 18-year-old pitcher Felix Hernandez, who has blown through hitters in Class A and Double-A the past two seasons. What's ahead for him?
"He's close, I'll leave it at that," Bavasi said. "We'd love to wait until next year to bring him up, but he may not let us."
Benny Looper, one of Bavasi's assistant GMs, dropped another name from the Seattle system – Australian outfielder Chris Snelling.
"Chris is healthy and back to being his old optimistic self. He's been hurt the past two or three years, but this winter he said he spent two months in the Australian outback," Looper said.
Hargrove said more than the personnel has changed in Seattle.
"When you're fifth in the league in hits and last in runs scored, it tells me too many guys were content just to get on base," Hargrove said.
"We're going to be aggressive this year. We may make some mistakes on the bases, but they'll be mistakes of aggression."
Local journalism is essential.
Give directly to The Spokesman-Review's Northwest Passages community forums series -- which helps to offset the costs of several reporter and editor positions at the newspaper -- by using the easy options below. Gifts processed in this system are not tax deductible, but are predominately used to help meet the local financial requirements needed to receive national matching-grant funds.
Subscribe to the sports newsletter
Get the day's top sports headlines and breaking news delivered to your inbox by subscribing here.
---