News > Features
Swank almost bought it making 'Million Dollar'
Sat., Jan. 29, 2005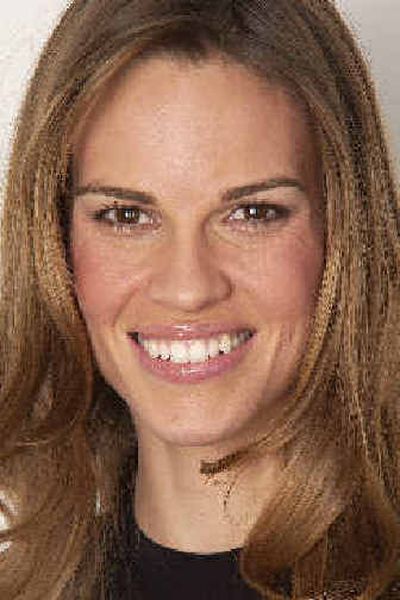 WHILE TRAINING FOR THE BOXING drama "Million Dollar Baby," Hilary Swank was nearly TKO'd – by a foot infection. Swank, nominated for a best-actress Oscar for her performance as an aspiring boxer in the Clint Eastwood-directed film, says a blister on her foot nearly led to her downfall.
After popping the blister, Swank continued her rigorous workouts. But she knew something was wrong.
"I couldn't believe the pain," she says in a "60 Minutes" interview to air Sunday. "It was unbelievable and I looked down, there were streaks going to my foot.
"So, I went to the doctor's that second, and he looked at me and he said, 'This is really serious. And if you would have waited two more hours, you would have been in the hospital for three weeks – and if it gets to your heart, that's it.'
"I didn't tell Clint," she says. "The producers don't know … because in the end, that's what happens to boxers: They get blisters, they get infected. They have injuries, and they keep pushing through it."
Garner mourning 'Elektra'
Jennifer Garner has declared her latest movie "Elektra" "awful," according to ex-boyfriend Michael Vartan.
"Jennifer called me and told me it was awful," says Vartan, who briefly dated his "Alias" television co-star in 2003. "She had to do it because of 'Daredevil.' It was in her contract."
Tamblyn tires of her creator
"Joan of Arcadia" star Amber Tamblyn says she's bored playing the teenage gal who talks to God on the CBS drama – so bored, she might walk away from it all.
"I like to be challenged," Tamblyn, 21, tells TV Guide. "Joan's life is tough. Her reactions are not as hard as they should be. I want to see her more challenged."
The show's executive producer, Stephen Nathan, says these "creative differences … are the norm."
Hannigan out of the game
Former "Buffy the Vampire Slayer" co-star Alyson Hannigan has left the upcoming ABC comedy "In the Game" over creative differences.
Hannigan had signed on to play the best friend of Jennifer Love Hewitt's character, a sports television producer who becomes an on-air star, but the role was downplayed as the series developed.
"She was unhappy and wanted off the show, so we allowed her to leave," said ABC Entertainment President Stephen McPherson.
You talkin' to me? I don't hear so well these days
Robert De Niro is in discussions with director Martin Scorsese about a sequel to their classic "Taxi Driver."
"I was talking with Martin Scorsese about doing what I guess you'd call a sequel to 'Taxi Driver,' where he is older," says De Niro, 61, who starred as crazed cabbie Travis Bickle in the gritty 1976 masterpiece.
His resume more recently has included the likes of "The Adventures of Rocky & Bullwinkle," "Analyze This" and "Meet the Fockers."
The birthday bunch
Actor-singer John Raitt is 88. Actor John Forsythe is 87. Actor-singer Noel Harrison is 71. Actor Tom Selleck is 60. Actress Ann Jillian is 55. Talk-show host Oprah Winfrey is 51. Actress Diane Delano ("The Ellen Show," "Northern Exposure") is 48. Country singer Irlene Mandrell is 48. Actress Judy Norton Taylor ("The Waltons") is 47. Actor Nicholas Turturro ("NYPD Blue") is 43. Director-actor Ed Burns is 37. Actor Sharif Atkins ("ER") is 30. Actress Sara Gilbert ("Roseanne") is 30. Actor Andrew Keegan ("Party of Five") is 26. Guitarist Jonny Lang is 24.
Local journalism is essential.
Give directly to The Spokesman-Review's Northwest Passages community forums series -- which helps to offset the costs of several reporter and editor positions at the newspaper -- by using the easy options below. Gifts processed in this system are not tax deductible, but are predominately used to help meet the local financial requirements needed to receive national matching-grant funds.
Subscribe now to get breaking news alerts in your email inbox
Get breaking news delivered to your inbox as it happens.
---