Sports
Trojans barely hold on
Sat., Jan. 29, 2005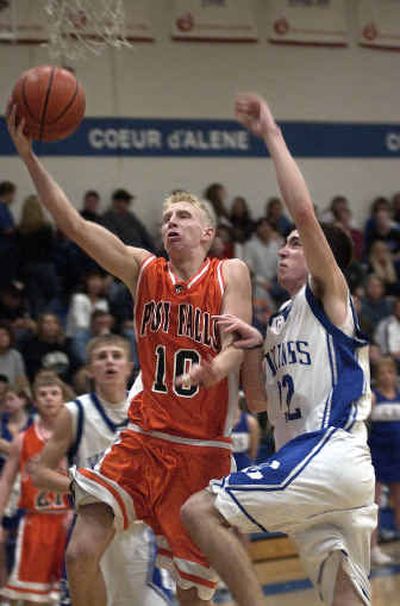 A funny thing happened to the Post Falls High boys basketball team on its way to what should have been a convincing victory, if not a runaway.
Oh, the Trojans prevailed despite watching the Coeur d'Alene Vikings crawl out of an 18-point hole to within one point with 29 seconds left.
PF missed all of its field-goal attempts in the fourth quarter Friday, but the Inland Empire League-leading Trojans held off the Vikings 63-59 at Elmer Jordan Court.
It didn't get much better for the Trojans afterward as they found themselves locked out of their locker room. All that did was delay the inevitable tongue lashing from coach Dave Stockwell.
"I'll be out in a moment after I chew (them out)," Stockwell told a reporter.
Stockwell figured he'd have a captive audience in the locker room since his team didn't listen to him during three timeouts he called in a helter-skelter fourth quarter.
Still, PF collected its ninth straight win after a 1-5 start and improved to 7-1 in league. Lewiston (8-6, 5-3), still on a roll after a 1-6 start, recorded a seventh consecutive win and moved into second alone with a 72-47 win over visiting Sandpoint. Moscow (12-4, 5-4) stopped a four-game losing skid with a 55-38 win at Lake City.
After a solid first half, PF came out after halftime with a 37-22 lead. The Trojans twice extended their biggest lead to 18 points, the last one coming at 47-29 when Zach Dienes made a fastbreak layup with 4 minutes to go in the third quarter.
Teammate Scott Stockwell hit two more 3-pointers in the quarter, the final one coming with 1:33 remaining that put the Trojans ahead 53-36.
But the Vikings (7-8, 3-4) went on an 8-0 spurt to cut the lead to less than 10 points at 53-44 when sophomore Nate Bligh hit one of his four 3-pointers with 21 seconds left. Two free throws by Nick Cuchessi allowed PF to take a 55-44 lead into the fourth period.
The Trojans missed all 10 of their shots from the field in the fourth quarter and went 0 for 7 from behind the 3-point stripe.
"I told them we didn't value our possessions down the (stretch)," Dave Stockwell said.
"We figured we could do anything we wanted. Obviously we couldn't. We can applaud ourselves for the good things we did and learn from the bad things we did."
Stockwell went so far as to say his team forced some shots in the fourth quarter, and it's rare for him to criticize his players for taking shots.
CdA kept chipping away until a 3-point attempt by Bligh near the top of the arc banked in with 29 seconds to go, pulling the Vikings within 60-59.
Forced to foul, CdA put Dienes, a reserve guard whose playing time has increased in recent games, on the free-throw line. He hit both ends of a one-and-one with 15 seconds to go.
A 3-point attempt by Matt Palmer, the most accurate Vikings shooter, hit off the front rim with 6 seconds remaining.
Kyle Turpin of the Trojans used his long, outstretched arm to yank down the rebound before being fouled. He made 1 of 2 foul shots to provide the contest's final margin.
CdA coach Kent Leiss thought his team made some critical turnovers and shot too quickly and as a result found itself in a hole it couldn't quite escape.
"I don't think we handled the adversity well in the second quarter. We started to hang our heads," Leiss said. "Missing layups and untimely turnovers have been a problem all year. I don't know what that"s from. At halftime we kind of regrouped, and we made a great run at them at the end."
Stockwell finished with a game-high 25 points and four assists. Turpin had nine rebounds.
Palmer led CdA with 20 points and Bligh added 14.
Both teams return to league play tonight when PF entertains Lake City and CdA travels to Sandpoint.
Local journalism is essential.
Give directly to The Spokesman-Review's Northwest Passages community forums series -- which helps to offset the costs of several reporter and editor positions at the newspaper -- by using the easy options below. Gifts processed in this system are not tax deductible, but are predominately used to help meet the local financial requirements needed to receive national matching-grant funds.
Subscribe to the sports newsletter
Get the day's top sports headlines and breaking news delivered to your inbox by subscribing here.
---