News > Spokane
Valley food bank resisting merger idea
Sat., Jan. 29, 2005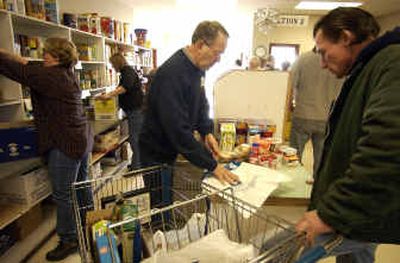 Spokane Valley Food Bank is trying to maintain its independence while being pressured to merge with Spokane Valley Community Center or leave the building.
Like a dozen other agencies, the food bank rents space at the center, which provides an innovative one-stop approach to social services.
According to Margaret Patterson, president of the food bank's board of directors, last fall board members were told the food bank's lease wouldn't be extended. Instead, several members of the community center's board asked the food bank to consider merging.
"We want to stay there. We really want to work things out," Patterson said, adding that after 33 years of operating independently, the food bank isn't comfortable merging.
Staying at the community center, located east of University on Broadway, enables the food bank to reach some of the nearly 70,000 clients who access services from the community center. If the food bank moves, clients will be forced to visit two locations.
Both agencies are award-winning and widely recognized for providing innovative services to low-income people in Spokane Valley.
On Thursday, letters were delivered to community center board members stating the food bank's position and asking for a meeting between both boards.
Additionally, information about the negotiations was sent to members of the Spokane Valley Ministerial Association, which includes pastors of churches that support the food bank.
The community center board president, Rick Hofmeister, declined to comment on the letter. However, Director Mollie Dalpae released a statement saying that no firm decision has been made by either organization.
"We thought that as a single entity we might create a better synergy that would ultimately benefit those that use the services of both the center and the food bank," the e-mail said.
Last fall, the center's board sent a letter listing potential benefits for merging that include enhanced fund-raising opportunities, potential to renovate and expand space and integration of activities, hours and services.
What was missing, Patterson said, was a clear benefit to the clients.
A major concern of the food bank is that the merger would eliminate half its 10 board members – people who regularly volunteer at the bank as a means of assessing client needs.
"You start working with them and you think you're only going to work a day or two and then you get hooked on the clients and what you do," Patterson said.
Patterson said several community center board members are making a good-faith effort to help out at the food bank and become familiar with its clients.
Another argument for maintaining separate management, Patterson said, is the efficiency of the agency, which has 350 volunteers who collected, sorted and distributed 903,000 pounds of food for 29,700 clients last year. It was accomplished with an overhead of $67,437.
Patterson said food bank director Barbara Bennett does an exemplary job of making daily decisions and involving the board in larger issues.
"It's working so efficiently. We feel that the quality and efficiency is very high," she said.
Patterson said the food bank is willing to increase its rent, which totaled $10,336 for 2004, in hopes of keeping both agencies under one roof.
"I think both groups do wonderful things. We're very hopeful and there's no other place we'd rather be."
Local journalism is essential.
Give directly to The Spokesman-Review's Northwest Passages community forums series -- which helps to offset the costs of several reporter and editor positions at the newspaper -- by using the easy options below. Gifts processed in this system are not tax deductible, but are predominately used to help meet the local financial requirements needed to receive national matching-grant funds.
Subscribe now to get breaking news alerts in your email inbox
Get breaking news delivered to your inbox as it happens.
---