Sports
Celtics beat Bulls again
Sun., Jan. 30, 2005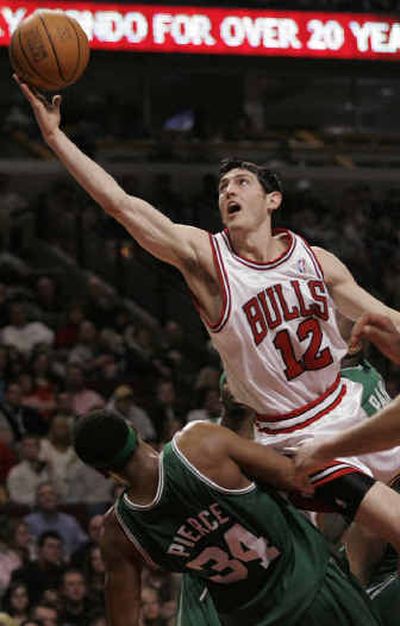 Ricky Davis provided the late spark for the Boston Celtics on a night when Paul Pierce was way off the mark.
Davis scored eight points in the final 5 minutes and Gary Payton hit the go-ahead 3-pointer to help the Celtics end the Chicago Bulls' five-game winning streak with a 101-97 victory Saturday night at Chicago.
"This may be the best game we've closed so far," said Davis, who finished with 24 points. "We got the stops when we needed it. These guys have been playing good. We knew they were capable of winning."
The loss gave the surprising Bulls a 13-3 record for January, with two of those losses to the Celtics in what has become a spirited and physical rivalry.
Boston got an emotional lift when backup center Kendrick Perkins was ejected after picking up a flagrant foul and two technicals in the third quarter following hard fouls on Chicago's Eddy Curry and Tyson Chandler. The Celtics trailed by 11 at the time.
"He really put some spark in this team when we down," Pierce said. "I think he really ignited the run. He gave a foul that when he got kicked out, it kind of emotionally gave us an edge."
Payton finished with 23 points. Pierce had 18 but shot just 2 of 12 from the field and needed a 13-for-17 showing from the free-throw line.
Chicago rookie Ben Gordon matched a career high with 31 points, 25 in the second half to supply the Bulls with an offensive punch.
76ers 93, Mavericks 89: At Dallas, John Salmons scored a season-high 19 points and Kyle Korver had 16 as Philadelphia beat Dallas without Allen Iverson.
Iverson, leading the NBA in scoring at 29 per game, missed his third straight game because of a strained left rotator cuff.
Erick Dampier had 14 points, a career-high 26 rebounds and a season-high seven blocked shots for Dallas.
Magic 103, Wizards 97: At Washington, Steve Francis scored 32 points, and Washington missed crucial free throws down the stretch for the second straight night, giving Orlando a victory and a sweep of back-to-back games. Gilbert Arenas led the Wizards with 37 points.
Nuggets 95, Pacers 88: At Indianapolis, Kenyon Martin scored 25 points and had five steals and Denver won its second straight under new coach George Karl, beating slumping Indiana.
It was the fourth straight loss for the Pacers and their first at home against the Nuggets in 10 years.
Spurs 93, Hornets 83: Tony Parker totaled 23 points and 10 assists, and San Antonio improved to 23-1 at home with a victory over New Orleans. Former Gonzaga star Dan Dickau led the Hornets with 16 points.
Grizzlies 84, Hawks 83: At Memphis, Tenn., Jason Williams scored 23 points and had eight assists, Mike Miller added 21 points, and Memphis hung on to beat travel-weary Atlanta. The Hawks were stranded in Atlanta overnight as icy conditions prevented them from flying out after Friday's loss to Miami. The team arrived at the FedExForum with a police escort about 90 minutes before tip-off – an hour later than originally scheduled.
Nets 99, Jazz 82: At Salt Lake City, Vince Carter made his first five shots on his way to 30 points and New Jersey defeated Utah. Jason Kidd scored 19 points and Nenad Krstic added 13 for New Jersey, which dressed only nine players on the last game of a five-game road trip.
Pistons 91, Knicks 61: At Auburn Hills, Mich., Richard Hamilton scored 18 points and Detroit held New York to its lowest point total of the season.
Clippers 96, Warriors 85: At Los Angeles, Elton Brand overcame early foul trouble to score 27 points and Los Angeles completed its first season sweep of Golden State.
Off the court
Detroit Pistons coach Larry Brown was fined $35,000 by the NBA for criticizing officials after a loss to Minnesota on Monday. Following Detroit's 86-83 loss, Brown complained that goaltending wasn't called when Minnesota's Eddie Griffin blocked a layup attempt by Carlos Arroyo with 25 seconds left. … Golden State Warriors forward Troy Murphy missed the game against the Los Angeles Clippers because of a hairline fracture in his left thumb. … Minnesota signed forward John Thomas to a contract for the remainder of the season. … The Atlanta Hawks placed guard Kenny Anderson on the injured list with a strained left calf. The team activated rookie guard Royal Ivey from the injured list to fill Anderson's roster spot. … Detroit guard Carlos Arroyo broke his nose late in the third quarter against New York. He is considered doubtful for games on Tuesday and Wednesday.
Local journalism is essential.
Give directly to The Spokesman-Review's Northwest Passages community forums series -- which helps to offset the costs of several reporter and editor positions at the newspaper -- by using the easy options below. Gifts processed in this system are not tax deductible, but are predominately used to help meet the local financial requirements needed to receive national matching-grant funds.
Subscribe to the sports newsletter
Get the day's top sports headlines and breaking news delivered to your inbox by subscribing here.
---