News > Business
Cold cache
Sun., Jan. 30, 2005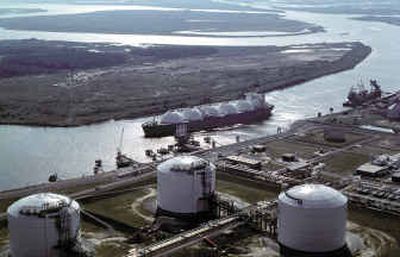 COVE POINT, Md. — Once or twice a week, a tanker unloads millions of gallons of frosty liquid at a terminal on the Chesapeake Bay, bringing to the United States a fuel that many economists believe will help temper energy prices in the coming decades. For years, liquefied natural gas (LNG) was too expensive. It really was not needed. Even today, there are safety and terrorism worries, exaggerated or not, about shipments of the fuel. But as growing demand for natural gas outstrips North America's conventional supplies, many experts view imports of LNG as the only way to head off decades of soaring prices for businesses and the tens of millions of households that rely on the fuel for heat and electricity.
While politicians talk of the need for greater U.S. energy independence, American consumers are expected to be relying increasingly on LNG imports from Algeria, Qatar, Russia and elsewhere.
If current trends continue, the United States "by far will be the largest consumer of LNG in the next decade," says Guy Caruso, head of the government's Energy Information Administration.
"If we don't have the capacity to bring in the amount of gas we need and domestic supply goes the way we think it will, the clear implication is higher prices," Caruso says.
Nowhere is the emerging global LNG market more evident than on the shores of Chesapeake Bay 70 miles south of Baltimore.
It was only two years ago that Dominion Resources Inc.'s LNG import terminal, in the shadow of the Cove Point lighthouse, was in mothballs. Its offshore docking platform, able to handle two LNG tankers at a time, sat idle — a monument to a business gone awry.
Now, the platform built in 1974 and shut down in 1981 unloads a tanker full of imported LNG on average every four days. The cold liquid is piped through a 1.2-mile underwater tunnel to four huge storage tanks. Delivered at minus-260 degrees Fahrenheit, the fuel is warmed and turned back into gas, then shipped over pipelines to mid-Atlantic customers. A larger tank is near completion and two more tanks are planned. Despite community opposition, more than 40 new LNG projects are proposed around the nation. About a dozen probably will be built, according to experts.
LNG imports still account for less than 3 percent of the 61 billion cubic feet of natural gas used every day in the United States. But LNG's share could grow tenfold in the next 20 years, some analysts predict.
Still, there are concerns about how the fuel is shipped and stored.
LNG cannot explode and is not flammable as a liquid.
But a government study by the Sandia National Laboratory concludes terrorists could blast a large hole into a double-hulled LNG vessel. That would release millions of gallons of fuel that would quickly turn to gas and ignite.
The fire would be so intense that it could cause major injury and burn buildings one-third of a mile away. Within seconds, the fire could give second-degree burns to people who are a mile away.
"The risks of a catastrophic accident … is a real one. Far too little is known about the vulnerability of LNG terminals and ships to terrorist attacks," says Philip Warburg, president of the Conservation Law Foundation. The group has lobbied against putting LNG terminals in populated areas.
Industry officials say there has never been a leak of LNG from a double-hull tanker and that protection of LNG shipments has improved since the attacks of Sept. 11, 2001.
Storage tanks, such as those at Cove Point, are designed so burning fuel would be confined within site boundaries, says Donovan, the Dominion spokesman.
Need isn't in dispute
There is little disagreement about the need to import more LNG.
Traditionally, U.S. demand for natural gas has been met almost entirely from pipeline-accessible fields in the United States and Canada. Experts, however, say wells in the Gulf of Mexico are in decline, Canada's production will fall off after 2015 and gas fields in the Rocky Mountain states and Alaska will not meet future demand.
By 2025, the United States is expected to need 31 trillion cubic feet of gas a year, a 38 percent increase, but North American supplies by then will be only 24 trillion cubic feet, 11 percent higher, the government says.
The government projects LNG will account for 20 percent of the gas used by 2025. Some private consulting firms and oil industry estimates put the LNG share as high as 30 percent by then.
"We have not been able to increase gas production for a decade," says energy consultant Daniel Yergin, chairman of Cambridge Energy Research Associates. "U.S. gas productive capacity, like oil, is now in permanent decline."
At the same time, he says, the world "is awash with gas," most of it far from eager markets, and awaiting LNG's emergence as "a second global energy business," rivaling oil.
Federal Reserve Chairman Alan Greenspan views LNG as a needed "safety valve" for a U.S. gas market that otherwise faces decades of tight supplies and volatile prices.
Departing Energy Secretary Spencer Abraham foresees trouble for gas users without more LNG. "If we don't have more LNG terminals … you're talking about huge increases in (gas) prices," Abraham says.
According to the American Gas Association, 61 percent of U.S. households, or about 63 million, use natural gas, mostly for heating; the number is growing. In many parts of the country, 90 percent of new homes are fueled by gas, according to the association, which represents gas utilities.
Donald Norman, an economist for the Manufacturers Alliance/MAPI, a private research group, says natural gas prices that have been in the range of $5 to $6 a thousand cubic feet in recent years are already pushing companies to relocate overseas.
If LNG supplies do not materialize as expected, these prices could become permanent or increase, forcing more U.S. businesses to flee abroad for cheaper fuel, Norman says.
Industry embracing LNG
Ironically, higher gas prices — two or three times what they were a few years ago — are why LNG is so popular. Even if gas prices retreat, they probably will be higher than the roughly $3.50 per thousand cubic feet needed to make LNG imports profitable, experts say.
No wonder that some of the energy industry's heaviest hitters have embraced LNG's development.
ExxonMobil Corp., which has invested heavily in gas projects in Qatar, has plans for 28 LNG vessels, including supertankers that can carry two-thirds more volume that today's fleet.
Shell is involved in several LNG import facility projects. ConocoPhillips is part owner of a large new LNG terminal proposed near Freeport, Texas, and is looking to build several more.
Energy companies are expected to pump more than $250 billion into the global LNG business, according to the International Energy Agency. A single LNG "train" — gas production, liquefaction and export facility, tankers and re-gasification plant — can require $4 billion to $6 billion, according to energy executives.
"It's billions of dollars of investment and the lead time is five to six years," says Darcel Hulse, president of Sempra LNG. The Sempra Energy subsidiary is spending $1.8 billion on two LNG import terminals and related pipelines in Baja California and in Louisiana.
Until recently, gas producers concerned about wide swings in prices have been reluctant to make such a commitment. Hulse said that is changing. Global suppliers "now are convinced … we're running out of natural gas and that there are good opportunities to market stranded gas" in the United States, he said.
How many LNG terminals will be built is anyone's guess.
"What will ultimately determine the number … will be the market and the demand for gas," says Mark Robinson, the Federal Energy Regulatory Commission's director of energy projects.
Local journalism is essential.
Give directly to The Spokesman-Review's Northwest Passages community forums series -- which helps to offset the costs of several reporter and editor positions at the newspaper -- by using the easy options below. Gifts processed in this system are not tax deductible, but are predominately used to help meet the local financial requirements needed to receive national matching-grant funds.
Subscribe now to get breaking news alerts in your email inbox
Get breaking news delivered to your inbox as it happens.
---