Sports
Titans end Knights' reign
Sun., Jan. 30, 2005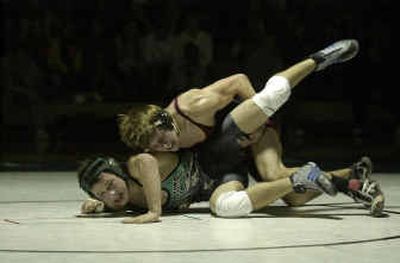 University High's wrestlers can attest to the fact that close counts in more than just horseshoes after ending East Valley's three-year stranglehold on the Greater Spokane League championship.
All of the anticipated drama between two powerful programs came to pass as promised in the GSL title match despite the disparity of the 36-19 final score.
"I thought there were a lot of great matches and great drama tonight," said victorious U-Hi coach Don Owen.
Until the Knights' Chris Helm stuck Nick Rose in the 10th of 14 matches, giving EV a split of the 10 and a 19-16 lead, there had been no pins and only two major decisions (wins by eight points or more).
But by that time, trailing by just three points and heading into four of their strongest weight classes, 103 through 125 pounds, the Titans were, in effect, assured their fourth GSL league championship and first since 2000.
"We were in deep trouble at that point," said EV coach Craig Hanson with a chuckle. "At that point we'd have had to pull off the upset of the decade, or whatever."
The Titans won all four to pull away. Mike Malsam and Cory Fish won by pin, Brian Owen by technical fall (a win by 15 points or more) and a 1-0 decision by Chase Fish, the last in a series of taut contests that swung victory their way.
Three successive wins between 152 and 171 pounds in the first half of Saturday night's contest at East Valley turned the tide. All three were either too close to call going in, or the Titans were underdogs.
At 152, a match between sons of the opposing coaches, U-Hi senior Tim Owen beat freshman Clete Hanson 5-2. He countered a takedown attempt and in kicking his legs over Hanson's body turned him to his back for all five points midway through the second round.
"Tyler Goss wasn't supposed to lose (in the previous match at 145) and I had to come out there and get a big one for us," said Owen. "Clete's a big thrower and beat two of our guys before so I kept getting on shot and tied up his body with me. It was the only way I could stop him."
In the next match, at 160, Nick Zumwalt got two escapes to tie the match and a takedown with 11 seconds left to stun Fred Arnold 4-2.
"He beat me at Tri-State," said Zumwalt. "He caught me in a standup and cradled me so I practiced all week not giving up angles. I knew if it came down to wrestling on our feet I could take him."
Then, at 171, Jon Sahlberg was awarded a takedown as time expired to beat Jordan Jolley 3-2. It was an ending similar to Jolley's 7-6 two-overtime win against Mt. Spokane earlier in the season.
"I felt pretty good about 145, but their guy (Bryce Fisher who won 7-3 over Goss) wrestled a great match," Don Owen said. "We needed my son to swing the momentum our way, then Zumwalt was just unbelievable. And Jon Sahlberg coming back to win with no time left was a gutty effort."
Craig Hanson said he felt in many instances his wrestlers were the aggressors against the Titans, but that U-Hi did a better job of scoring defensively.
"We were taking all the shots and doing a lot of performing, but they did a nice job of taking scores away," he said. "That's a good team."
University completed an unbeaten dual season to go along with this season's invitational tournament successes. In so doing, the Knights suffered their first league loss in four years.
Central Valley 40, Clarkston 31: In the match for third and fourth in the GSL, Central Valley (6-3) reprised last year's win over Clarkston (6-3). Garrett McCoy's 11-4 win over Alex Barham at 119 was critical as the Bears built a 37-22 lead through 11 matches. They secured the win on Tim Hansen's last-ditch takedown 9-7 at 189 pounds, the night's final match….Northeast A Tournament: Colfax, with four champions among 11 finalists scored 199 points and Newport, with six champions and 10 finalists dominated qualifying for next week's District A/B tourney. Colfax's Derek Hall was a repeat champion, at 135. Jeff Jordan and Justin Marshall, finalists last year, won titles at 125 and 130. And in a reversal of last year's outcome, Josh Campbell beat Kettle Falls's Cameron King, at 171 pounds. Newport, down from 2A last year, sent five state veterans into the finals, three of them champions. They were last year's fourth-place state finisher Jared Skiles at 160, Clinton Teeples at 152 and Kevin Jared at 145. … Northeast B Tournament: Wilbur-Creston/Keller compiled 201 points with three champions among seven finalists to beat Davenport (180) and Republic (178.5) in a close contest. Liberty's Bryce Williams, an NEA district champion and state finalist last year won at 119 pounds, as did defending state champion Mic Goad from Springdale at 275 and state third-placer Seth Schertenlieb of Republic at 145 and state runner-up Justus Caudell from WCK at 171.
Local journalism is essential.
Give directly to The Spokesman-Review's Northwest Passages community forums series -- which helps to offset the costs of several reporter and editor positions at the newspaper -- by using the easy options below. Gifts processed in this system are not tax deductible, but are predominately used to help meet the local financial requirements needed to receive national matching-grant funds.
Subscribe to the sports newsletter
Get the day's top sports headlines and breaking news delivered to your inbox by subscribing here.
---