News > Features
Dream come true
Mon., Jan. 31, 2005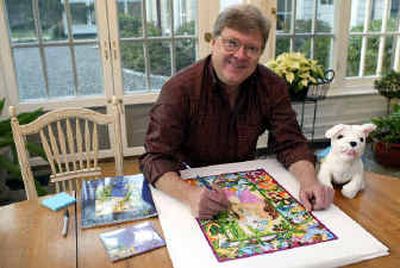 There's an unclaimed $1 million out there – somewhere.
The jackpot is actually 12 jewels hidden in very public places around the United States. Think diamonds. Think rubies. Think the rarest, most perfect Kashmir sapphire.
All you need to do to get any or all of them is to decipher clues in the book "A Treasure's Trove." The clues lead to a dozen 18-karat gold tokens.
Author Michael Stadther, who hid each of the tokens himself, promises that they are all in public places where they can be easily accessed without digging, moving or disturbing objects or structures.
Once a token is in hand, it can be redeemed for one of the jewels.
"A Treasure's Trove: A Fairy Tale About Real Treasure for Parents and Children of All Ages" is the realization of Stadther's 25-year-old dream to create a puzzle sandwiched between the pages of a classic, timeless fairy tale.
He was inspired by 1979's "Masquerade," for which author Kit Williams hid a necklace made of rare gems and gold that was found in the English countryside three years later.
"I studied fine arts and had a B.S. in math – I thought I could do this. But for me, one treasure wasn't enough. And the story had to outlast the treasure hunt," Stadther says. "Hopefully, 100 years from now, people will be looking for the 'jewels' in the story."
So far, no one has claimed the real treasure.
Stadther has received hundreds of e-mails since his self-published book was released in November. The messages come from everyone – 6-year-olds to an 88-year-old woman who says her mother is working on the puzzle. There are chat rooms on the Internet devoted to "A Treasure's Trove" and the book might get translated into Chinese.
When he does readings at schools, the 52-year-old Stadther is treated like a rock star with scores of kids charging at him, hoping to snare a clue.
"The kids go right for the puzzle and the treasure," he says. "I thought the treasure was for the parents and the story was for the kids, but the opposite happened. I hear from parents that they're so happy that there's a story the family can read together that's not dumbed down."
The story centers on 12 forest creatures who employ a pragmatic woodcarver, his half-elf, half-human wife and their winged pet, Pook, to save their mates who disappear after being crystallized by a falling dust.
Woodcarver Zac can't see the fairies because he won't free his mind, but Ana can, and she helps guide him. Pook, who bears an uncanny resemblance to Stadther's American bull terrier, Misty, shows the value of loyalty and love.
"It's a family book, it's a family project. … It's a love story as well. It's a novelette for kids," says Stadther.
In its first two months, nearly 100,000 copies of the hardcover and paperback versions, and the companion "100 Puzzles, Clues, Maps, Tantalizing Tales and Stories of Real Treasure," have been sold. The book debuted at No. 3 on The New York Times' list of best-selling children's paperbacks.
"We do think that it is the 'treasure hunt' theme that's selling this book," Barnes & Noble Booksellers' buyer Pat Brigandi said. "The jeweled pieces look incredible. Who wouldn't want to find a 6.36 Kashmir blue sapphire – even if it is the head of a spider?"
With many retailers sold out, Stadther is shipping directly to customers (through www.atreasurestrove.com) and is using the sun room at his suburban New York home as his warehouse.
The initial $2 million investment for his book project came from his banking software company, which he sold five years ago.
His biggest cost was creating the pricey jewels based on the 12 forest creatures. The gems mostly came from Jewelry Designs in Danbury, Conn., a partnership that happened by coincidence.
The author was shopping one day in Jewelry Designs for a gift for his wife and noticed a hummingbird brooch. He went to the back office to talk to owner Robert Underhill, who was intrigued by Stadther's book idea but didn't sign on at first.
"I wasn't certain it was all for real, but once I saw how much time and effort he put into it, you could see it was real," Underhill said. "I went ahead and made an ant."
That "ant" has 4 1/2 carats of pave diamonds for legs.
"A Treasure's Trove" has been a dream job for the company's artisans, Underhill said.
"It's the most fantastic thing we've been involved in," he said. "It's maybe the most fantastic project in jewelry."
The most challenging jewel was the beetle because it was "a grotesque character" that Underhill and his staff needed to somehow make beautiful.
They used black diamonds to encrust its head, a canary diamond for the eye and more diamonds on the insect's belly. Then there are the moveable parts: The jaws depress and the wings open to show a 10-carat blue tanzanite with surrounding diamonds and latticework.
But will readers ever find it?
Stadther, who acknowledges that he's not great at word puzzles, thinks so.
"It's not rocket science," he says. "It's all in front of you."
Local journalism is essential.
Give directly to The Spokesman-Review's Northwest Passages community forums series -- which helps to offset the costs of several reporter and editor positions at the newspaper -- by using the easy options below. Gifts processed in this system are not tax deductible, but are predominately used to help meet the local financial requirements needed to receive national matching-grant funds.
Subscribe now to get breaking news alerts in your email inbox
Get breaking news delivered to your inbox as it happens.
---