Sports
Nelson could return to M's
Mon., Jan. 31, 2005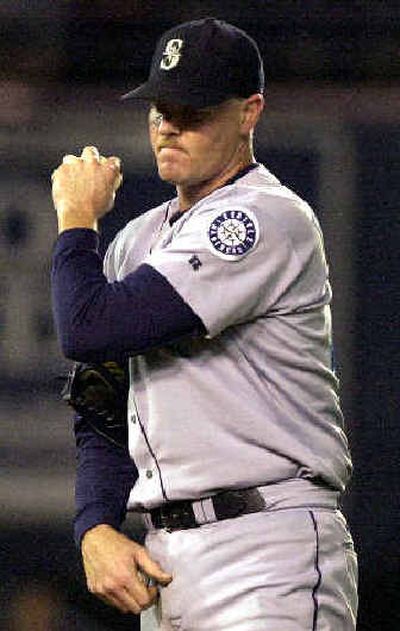 SEATTLE – Fences can be mended and hatchets can be buried.
Relief pitcher Jeff Nelson and the Seattle Mariners, a pairing that seemed forever ruined in 2003, may be getting together again. The mlb.com web site reported Sunday night that Nelson is close to agreement on a minor league contract with the Mariners.
It comes about 1½ years after Nelson, then with the Mariners, openly criticized the front office for not making any significant deals at the trade deadline to improve the club. Within days, the Mariners traded him to the New York Yankees for reliever Armando Benitez.
Despite their past differences, Nelson and the Mariners is a match that may fit both sides.
The Mariners are looking for more pitching as they head into spring training in less than three weeks. Their bullpen could be particularly vulnerable if closer Eddie Guardado, who missed half of last season with a rotator cuff injury, isn't ready.
Nelson, who missed much of last season with the Texas Rangers because of elbow and knee surgery, had talked with several teams but favored the Mariners. He lives in Issaquah.
"This is where I want to be, where I've always wanted to be," he told Jim Street, who covers the Mariners for mlb.com.
It would be Nelson's third stint with the Mariners.
He pitched for them from 1992-95 before being traded to the Yankees, then from 2001 until they traded him again to the Yankees just days after the July 31 trade deadline in 2003, when he criticized the front office.
"I was wrong in what I said," Nelson told mlb.com. "I didn't mean it the way it came out. Everybody gets in arguments with their family. A lot of times things are said out of context and you regret saying them later. I consider (the Mariners) part of my family and the whole situation has bothered me. Everything that happened in 2003 has been weighing on my mind."
He spoke Sunday with general manager Bill Bavasi and team president Chuck Armstrong, and hopes to talk with CEO Howard Lincoln.
"I know there has been a strain in the relationship, and I want to mend fences," Nelson said.
Nelson, 38, holds the M's record with 383 appearances. He has a 3.38 career earned run average in 14 seasons with the M's, Yankees and Rangers. He pitched in a career-low 29 games last year with the Rangers, going 1-2 with a 5.21 ERA.
Local journalism is essential.
Give directly to The Spokesman-Review's Northwest Passages community forums series -- which helps to offset the costs of several reporter and editor positions at the newspaper -- by using the easy options below. Gifts processed in this system are not tax deductible, but are predominately used to help meet the local financial requirements needed to receive national matching-grant funds.
Subscribe to the sports newsletter
Get the day's top sports headlines and breaking news delivered to your inbox by subscribing here.
---