Sports
Suns are exploding
Mon., Jan. 31, 2005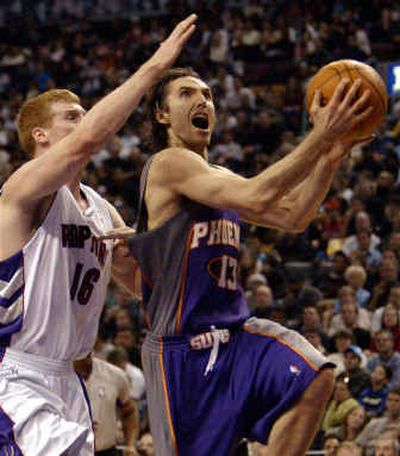 Amare Stoudemire and the Phoenix Suns used a record-setting point total in the third quarter to beat the Toronto Raptors.
Stoudemire scored 19 of his 27 points in the third quarter and the Suns won their fifth straight with a 123-105 road victory over Toronto on Sunday.
Phoenix outscored Toronto 46-26 in the third quarter, the most points scored against the Raptors in any quarter in their 10-year history.
"We are a high-powered offense. We tend to set records like that," Stoudemire said with a laugh.
The Suns, who tied San Antonio for the best record in the league at 36-10, have scored at least 121 points in four straight games.
Steve Nash had 19 points and 12 assists, and all five starters scored at least 17 points. The Canadian didn't play in the fourth quarter.
Phoenix has averaged 123 points in six games since Nash returned from a thigh injury.
Heat 104, Rockets 95: At Miami, with Dwyane Wade around, the Miami Heat can afford the occasional off-game from Shaquille O'Neal. Wade had 30 points, eight rebounds and six assists, leading a balanced attack that carried Miami to a victory over Houston. O'Neal only took 11 shots and finished with 15 points and five rebounds. Udonis Haslem hit his first seven shots from the floor and finished with 16 for Miami, as did Damon Jones. Eddie Jones added 11. Tracy McGrady had 28 points for Houston.
Kings 94, Timberwolves 84: At Minneapolis, Brad Miller had 27 points, 15 rebounds and plenty of help picking up the slack for two injured Kings stars en route to Sacramento's win over Minnesota. The Sacramento backcourt, Cuttino Mobley (23 points) and Mike Bibby (21 points), combined for 34 points over the final two quarters following a slow first half. Kevin Garnett had 21 points, 13 rebounds and seven assists for Minnesota.
Cavaliers 104, Bucks 87: At Cleveland, Drew Gooden scored a career-high 33 points – 27 in the second half – and Zydrunas Ilgauskas had 28 points and 18 rebounds as injury-plagued Cleveland defeated Milwaukee. Ilgauskas and Gooden took over in the second half, scoring 42 of Cleveland's 50 points and adding 16 rebounds after halftime. Michael Redd scored 23 points and Desmond Mason 17 for the Bucks, who were held to a season-low 10 points in the fourth quarter as Cleveland turned up its defensive pressure.
Lakers 101, Bobcats 90: At Los Angeles, Caron Butler and Chucky Atkins each scored 20 points, Chris Mihm had 16 points and 12 rebounds and Los Angeles beat Charlotte to end its first three-game losing streak of the season. Primoz Brezec had 15 points and 10 rebounds for the Bobcats.
Off the court
Cavaliers forward LeBron James missed the game against Milwaukee, the second straight contest he's sat out because of a sprained left ankle. "He's still sore," Cavs coach Paul Silas said before the Cavs hosted Milwaukee. "He doesn't want to take a chance nor do we." … Lakers coach Rudy Tomjanovich missed Los Angeles' game against Charlotte because of a stomach virus. Assistant coach Frank Hamblen guided the team against the Bobcats. … Phoenix signed guard William "Smush" Parker to a second 10-day contract.
Local journalism is essential.
Give directly to The Spokesman-Review's Northwest Passages community forums series -- which helps to offset the costs of several reporter and editor positions at the newspaper -- by using the easy options below. Gifts processed in this system are not tax deductible, but are predominately used to help meet the local financial requirements needed to receive national matching-grant funds.
Subscribe to the sports newsletter
Get the day's top sports headlines and breaking news delivered to your inbox by subscribing here.
---