News > Business
Week in Review
Sun., July 3, 2005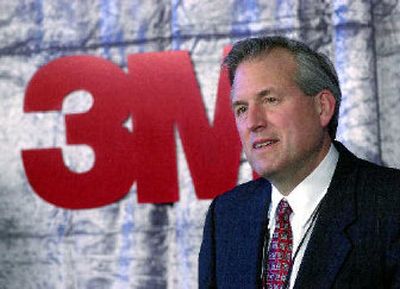 Kaiser Aluminum filed its long-awaited bankruptcy reorganization plan Wednesday. The plan, which still needs approval from creditors and the Bankruptcy Court, would wipe away Kaiser's debt and render its common stock worthless, but would salvage key parts of the company and keep hundreds of people employed in Spokane.
Tuesday
A building renovation in downtown Spokane may bring back the Magic Lantern, a beloved name in art-house cinema that operated in Spokane from 1973 to 1999. The former owner of the Magic Lantern is planning to operate two theaters on the ground floor of the historic Saranac Hotel building at 25 W. Main.
" The Supreme Court ruled that Hollywood and the music industry can file piracy lawsuits against technology companies caught encouraging customers to steal music and movies over the Internet. The court also ruled that cable companies may keep rival Internet providers from using their lines, a decision that will limit competition and consumers' choices.
" Prices for structural steel have fallen nearly 20 percent since January, after a sharp run-up in prices last year. The price drop, though, won't affect two of the area's largest construction projects — the Spokane Convention Center expansion and school-reconstruction projects at Spokane Public Schools — because they were bid some time ago.
Wednesday
An Alabama jury acquitted HealthSouth Corp. founder Richard Scrushy of all 36 counts in his corporate fraud trial.
Thursday
A $2.8 million federal grant will help the Coeur d'Alene Tribe bring wireless, high-speed Internet service to its entire North Idaho reservation this summer.
" Even in the face of high energy prices, the economy turned in a solid performance in the first quarter of 2005, suggesting the expansion should stay on firm footing. The gross domestic product, the broadest measure of economic standing, increased at an annual rate of 3.8 percent from January through March, according to revised figures released by the Commerce Department on Wednesday.
Friday
Boeing Co. on Thursday named 3M Co. Chief Executive W. James McNerney Jr. as its new CEO, turning to an outsider to help the aerospace company recover from recent ethical lapses and lead its high-stakes bid to regain the top spot in commercial airplane sales.
" The Federal Reserve, keeping a watchful eye on the impact of surging oil prices, raised a key interest rate by another quarter-point on Thursday. The action pushed the federal funds rate up to 3.25 percent. It marked the ninth increase in the interest that banks charge each other on overnight loans and left this benchmark rate at its highest level since September 2001. When the Fed started its campaign a year ago, the funds rate had been at a 46-year low of 1 percent.
Local journalism is essential.
Give directly to The Spokesman-Review's Northwest Passages community forums series -- which helps to offset the costs of several reporter and editor positions at the newspaper -- by using the easy options below. Gifts processed in this system are not tax deductible, but are predominately used to help meet the local financial requirements needed to receive national matching-grant funds.
Subscribe now to get breaking news alerts in your email inbox
Get breaking news delivered to your inbox as it happens.
---