News > Idaho
Chilling details emerge
Wed., July 6, 2005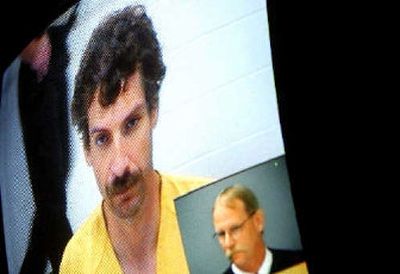 Shasta Groene was asleep in bed the night of May 15 when her mother woke her up and took her into the living room.
That's when she first encountered convicted rapist and accused child molester Joseph E. Duncan III, of Fargo, N.D., according to a probable cause hearing before a Kootenai County magistrate judge Tuesday morning.
According to court documents, Duncan, 42, allegedly carried 8-year-old Shasta and her 9-year-old brother Dylan into a pickup truck and drove them away from their home east of Coeur d'Alene in the Wolf Lodge area.
The probable cause hearing did not address whether Shasta and Dylan witnessed the brutal murder of their mother, brother and mother's boyfriend, or whether Duncan was the killer. The murder victims had been bound.
Over the next several weeks after their abduction, the children were repeatedly molested by Duncan, Shasta told Kootenai County Detective Dan Mattos, according to court records.
The evidence presented to Judge Scott Wayman established probable cause to charge Duncan with two counts of first-degree kidnapping. The maximum penalty for that crime in Idaho is death, or life in prison.
After leaving in the pickup, Duncan transferred the children into a stolen red 2005 Jeep Cherokee Laredo and took them to a campsite in Montana, according to minutes from the hearing.
On Monday, authorities announced they had found human remains that may be Dylan's in Montana. The remains were found off a remote Forest Service road in the Bitterroot Mountains. Investigators found the site based on information largely provided by Shasta.
Forensic DNA testing is being performed on the remains to confirm whether they are Dylan's. Results could be back by the end of the week, according to authorities.
Despite the grim prospect, family members are hoping for the best.
"At this point we're just praying it's not Dylan," said Wendy Price, the children's aunt.
The children's mother Brenda Groene, 40, her boyfriend, Mark McKenzie, 37, and their 13-year-old brother, Slade Groene, were found bound and bludgeoned to death in their home on May 16. Investigators have yet to reveal the murder weapon.
The probable cause hearing also did not address whether Duncan murdered Dylan.
But Shasta did tell Mattos that Duncan was the only individual who was involved in the abduction that night. She said she'd never seen him before.
Duncan had his first appearance in magistrate court on the kidnapping charges and a federal fugitive warrant Tuesday afternoon. Wayman ordered Duncan held without bail on the kidnapping charges, and set bail at $2 million on the fugitive warrant.
Eyes downcast, his lower lip trembling, Duncan listened as the charges were read, swallowing several times as if to maintain his composure.
The two kidnapping counts specifically charge Duncan with keeping the children secretly confined to rape, seriously injure or sexually molest them.
When Wayman asked if he understood the charges, Duncan quietly answered, "I believe I do, yes."
Whether Duncan faces murder or other charges will depend on the results of the investigation as it continues, said Chief Deputy Prosecutor Lansing Haynes.
"As more facts come to light, this office will make some decisions based on those facts," he said following the hearing.
Duncan was appointed a public defender during his court hearing, which took place in the Kootenai County Jail. That attorney, Lynn Nelson, declined to make any comments to the media.
The prosecutor's office has been in constant contact with investigators since Shasta was rescued in a Coeur d'Alene Denny's early Saturday. A waitress, restaurant manager and customers recognized the girl when she came into the restaurant with Duncan about 1:30 a.m.
After police were called, Duncan was arrested without incident, and Shasta was taken to Kootenai Medical Center. There she was reunited with her father, Steve Groene, who had waited nearly seven weeks for some word on his daughter's and son's whereabouts.
Groene was divorced from Brenda Groene, but had joint custody of their children.
Shasta is still at KMC, where she has enough gifts from well-wishers to fill an entire room, according to Kootenai County Sheriff's Capt. Ben Wolfinger.
"Shasta's doing very well," Wolfinger said Tuesday, adding that she's "very happy with her father close by."
Instead of showering her with more gifts, people who want to help can contribute to one of two bank accounts set up on behalf of the Groene family; at U.S. Bank's Coeur d'Alene branches or at Inland Northwest Bank in Post Falls or Coeur d'Alene.
Intense interest in Shasta's recovery and Duncan's arrest helped generate a renewed burst of calls to the Kootenai County Sheriff's Tip Line on Sunday and Monday. Monday alone, the Tip Line received more than 100 calls, Wolfinger said. The Tip Line numbers are (208) 446-2292 and (208) 446-2293.
The tips are helping investigators piece together a timeline of where the children and Duncan have been the last seven weeks.
Duncan disappeared after an April 5 court hearing in Becker County, Minn., where he's charged with sexually molesting a 6-year-old boy and attempting to molest the boy's friend.
He was released from custody after making the $15,000 bail.
The family of the murder victims, and Shasta and Dylan Groene, struggled Tuesday with the latest revelations from the probable cause hearing. Price, the children's aunt, expressed anger at the judge who allowed Duncan out on the $15,000 bond;
"This person should never have been out of jail."
Duncan rented the red Jeep on April 15 in Minnesota and never returned it. When he didn't meet with a probation officer, authorities started looking for him, said Lt. Tod Dahle of the Fargo Police Department.
Warrants were issued out of Becker County for failure to abide by the conditions of his release and failure to make a court appearance. Fargo police also got a misdemeanor warrant for failing to register his new address as a sex offender.
The FBI followed with a federal warrant for his arrest as a fugitive from justice.
But in the last two months, no one noticed the stolen Jeep with stolen Missouri plates carrying the high level sex offender, although a park ranger in Wyoming found a key tag for the Jeep.
"Police officers look for the unusual," Wolfinger said. "If he wasn't doing anything unusual, he wouldn't have drawn attention to himself."
Duncan spent 17 years in prison for raping a 14-year-old boy and is considered very likely to reoffend.
Local journalism is essential.
Give directly to The Spokesman-Review's Northwest Passages community forums series -- which helps to offset the costs of several reporter and editor positions at the newspaper -- by using the easy options below. Gifts processed in this system are not tax deductible, but are predominately used to help meet the local financial requirements needed to receive national matching-grant funds.
Subscribe to the Coronavirus newsletter
Get the day's latest Coronavirus news delivered to your inbox by subscribing to our newsletter.
---