News > Voices
Raising awareness
Thu., July 7, 2005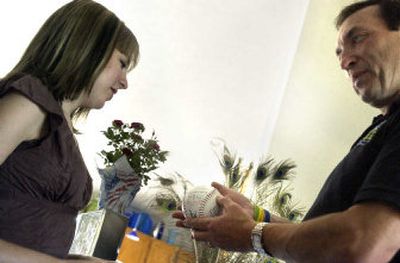 Call it a big softball tournament with a cause.
Instead of the usual fund-raising at summertime sporting events, the Krista L. Baker Memorial Softball Tournament's intent is to raise something else – awareness about organ, tissue, bone and cornea donations.
The tournament's special event day, which has grown steadily since its 2001 inauguration, is scheduled for July 16 at Dwight Merkel Field, 5901 N. Assembly St. More than 30 female teams, ages 8-17, from the Spokane Youth Sports Association will compete in the year-end competition that will begin July 15 and finish with championship-round games on July 17.
John Baker, event director, has devoted his life to educating people on the subject after his 20-year-old daughter, Krista, died of cystic fibrosis on Aug. 19, 2000. Krista, an honor student and 1998 Ferris High graduate, was waiting for a double lung transplant. Before dying, she donated her corneas, giving sight to two young men in Washington state.
Baker chose softball to promote his cause because his daughter was passionate about the game. She played in school as well as in SYSA for most of her life. Baker expects about 1,000 players and spectators will be at Merkel Field. He's also counting on many of them to stop by the Northwest Lions Eye Bank and LifeCenter Northwest hospitality tent and the Wishing Star hospitality tents on the Saturday of the event.
"The people who stop will have the opportunity to talk one-on-one and get some key questions answered," Baker said. "A 40-year-old mom with a 16-year-old's heart telling about her best Mother's Day ever … stories like that."
According to United Network of Organ Sharing ( www.unos.org), there are 88,848 organ candidates on a wait list in the United States. There have been 6,811 transplants since June 24. The organ donation pool is at 3,533 people.
Brooke Porter, a 19-year-old South Hill resident, has been in and out of hospitals much of her life. Like Baker's late daughter, Krista, Porter was diagnosed with cystic fibrosis, a genetic condition that can affect many different organs. Inflammation in the lungs is among one of the most common characteristics of cystic fibrosis.
Porter, the eldest of Cheryl and Jim Porter's four children, is awaiting a double-lung transplant.
Three years ago, she was given a liver transplant after waiting 4½ years. The surgery was performed in St. Louis, where she and her mother moved for five months awaiting a donor. They are prepared to return at a moment's notice. Brooke already has waited three years to receive healthy lungs. Her kidney also is damaged.
"She's my girl, I'd do anything for her," Cheryl Porter said, looking lovingly at her only daughter.
Brooke, who is studying photography at Spokane Falls Community College, said she's planning on going to the softball tournament and help any way she can.
"It'll be cool to meet other people who have gone through this," she said.
She may meet Terry Peterson, a 51-year-old Deer Park resident who suffered from dilated cardiomyopathy. He was told his bad heart was the result of the radiation the day he was born, which caused burns to his heart. Peterson received a heart from a 21-year-old donor on May 1, 2002.
Peterson, a football star at Montana Tech in the early '70s, also battled back from thyroid cancer before his heart transplant. Today, he is a healthy, robust at 5-foot-11, 260-pounder who enjoys weight lifting.
He said he'll be one of several organ recipients who will donate time in the Northwest Lions Eye Bank and LifeCenter Northwest hospitality tent during the tournament. He'll do anything to help get the word out.
"The general public, they don't really realize what it really is about," Peterson said. "They think getting cut up is a religious thing and they won't go to heaven."
Baker, who plans to be a donor, along with his wife, Ruthell, and their daughters Nicole, 27, and Amanda, 20, has heard what seems like all the myths. He directs people to www.livinglegacyregistry.org, where such myths are dispelled.
The Web site states there are 1,200 people in the Northwest region on donor wait list. Half the people listed nationwide for organ transplants will not receive one because of the shortage.
The tournament also will feature a home run derby challenge, which is open to the public. Proceeds will go toward scholarship funds for underprivileged girls who want to play SYSA softball. Root beer floats for $1 donations also will go toward the scholarships. Prizes for the top sluggers are being donated by Kimmel Athletic and Easton, Louisville Slugger and Mizuno equipment.
Local journalism is essential.
Give directly to The Spokesman-Review's Northwest Passages community forums series -- which helps to offset the costs of several reporter and editor positions at the newspaper -- by using the easy options below. Gifts processed in this system are not tax deductible, but are predominately used to help meet the local financial requirements needed to receive national matching-grant funds.
Subscribe now to get breaking news alerts in your email inbox
Get breaking news delivered to your inbox as it happens.
---