Sports
Royals shame Mariners
Thu., July 7, 2005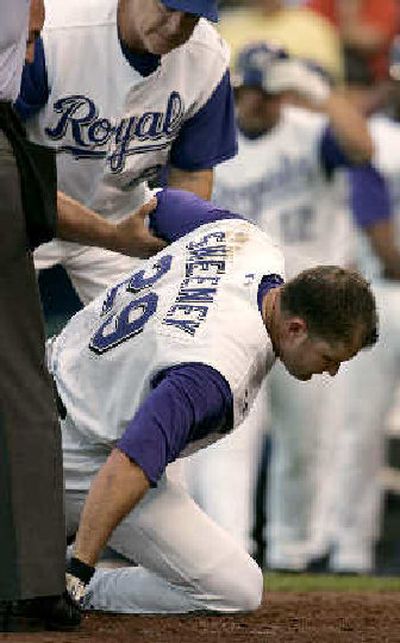 KANSAS CITY, Mo. – OK, maybe they were overconfident. Maybe they were looking ahead to the four-game series with the Angels.
Or maybe the Mariners were just outplayed the last two nights by the Kansas City Royals – a team that had 26 wins to its credit before taking two in a row from Seattle.
"They're major league players and they wouldn't be here if they weren't good," Pat Borders said after Seattle lost to Kansas City 5-1. "Last-place teams beat first-place teams – that's baseball – and if you don't come out with your best game, they'll kick your butt."
As the Mariners boarded a plane for Southern California, they considered the butts thoroughly kicked.
The Royals peppered Aaron Sele for 11 hits in six innings, and if many of them were infield rollers or opposite-field bloops, each one counted – and Sele was in trouble nearly every inning.
"Everything they hit hard, we caught," Seattle manager Mike Hargrove said. "Everything they hit soft, we couldn't get to. This game was like death by a thousand cuts. They scored one run in five different innings, and we couldn't answer."
Sele lost his second in a row, and despite all those hits, didn't feel he'd been pounded.
"They all count, whether they're hard or soft, and they had a lot of them," Sele said. "But I didn't feel like I was making bad pitches. I made a couple that got hammered – (Tony) Graffanino's home run – but all those singles just kept the pressure on.
"We got chances and it seemed they'd come up with a double play. We couldn't turn two, I give up that home run and walked home a run? I don't know if I've ever done that."
"Did that surprise me?" Hargrove asked, repeating a question. "I'm surprised any time a big-league pitcher forces home a run with a base on balls."
And now, here come the 52-32 Los Angeles Angels.
"We won the first night, and the last two nights, we felt we were going to come back, win and take the series," reliever Jeff Nelson said. "We didn't, and now we get three of the Angels' best four pitchers.
"You look at the Royals and look at us, and they've got a bunch of good young players who may really come on in a year or so, but right now, we should be the better team."
And the Angels series?
"We'd better play our best, because if we lose three or four games there we're going to be 20½ games out at the All-Star break," Nelson said. "This series wasn't good for our confidence but it's over. We'd better look at it one game at a time and go after them."
Seattle had 10 hits against the Royals but only one RBI, that coming when Ichiro Suzuki singled home Jose Lopez in the fifth inning. It wasn't just that the Mariners couldn't get the big hit – they had trouble staying on base.
Willie Bloomquist had his second three-hit game in as many nights, doubling three times, but in the first inning he was picked off second base with Raul Ibanez at the plate.
In the third inning, Chris Snelling walked in his first major league at-bat in more than two years, then was caught stealing.
After Ichiro singled home that lone run, he was caught stealing.
A pair of threats – in the sixth and eighth innings – saw the Mariners put two men on base with one out only to have Adrian Beltre, then Richie Sexson ground into double plays.
Shigetoshi Hasegawa said his teammates could do worse than take the Japanese approach on the field.
"In Japan, even the worst pitcher on the team goes to the mound saying 'I'm the best pitcher on the team,' " Hasegawa said. "You can't let frustration overwhelm you. You can't carry negatives into the game. The only way to fix that is not to think about it and do your job."
If the team doesn't do its jobs in the next four days, its season may end.
Oh, they'd still have to play the games – baseball requires that – but starting the second half 20 games out of the division lead would make contention a tough sell.
Which means they can't do in Anaheim what they did in Kansas City.
"We played an indifferent game," Hargrove said. "You don't win that way."
Notes
The Royals expect to activate left-handed pitcher Jeremy Affeldt of Medical Lake from the DL today or Friday.
Local journalism is essential.
Give directly to The Spokesman-Review's Northwest Passages community forums series -- which helps to offset the costs of several reporter and editor positions at the newspaper -- by using the easy options below. Gifts processed in this system are not tax deductible, but are predominately used to help meet the local financial requirements needed to receive national matching-grant funds.
Subscribe to the sports newsletter
Get the day's top sports headlines and breaking news delivered to your inbox by subscribing here.
---