Sports
Heavens! Seattle eases past Angels
Fri., July 8, 2005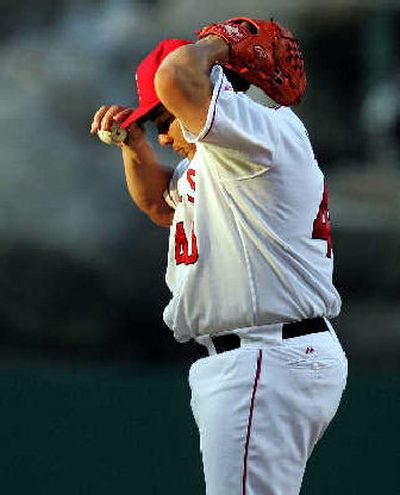 ANAHEIM, Calif. – For nine glorious innings on Thursday night, it was impossible to tell which team was running away with the American League West and which had let the season run away from it.
The Mariners, losers in 12 of their last 16 games, blindsided the division-leading Angels, who started the night 16 1/2 games ahead of them, in a 10-2 victory.
Two nights after Gil Meche left the entire Seattle organization puzzling about what went wrong, Joel Pineiro had everyone wondering what went right. Yet the right-hander's best performance of a problem-packed season was merely part of what may have been the Mariners' best game of the year.
On a night of superlatives, the Mariners jumped out to a big advantage early, and made their lead stand with Pineiro's six-hit complete game and brilliant defense led by second baseman Jose Lopez.
Twenty-four hours after making two costly errors in a 5-1 loss to Kansas City, Lopez showed he has the potential to be a worthy successor at the position by making two plays reminiscent of Bret Boone, his Gold Glove-winning predecessor, diving to rob Garret Anderson of hits in the second and fourth innings.
As to the offense, go figure.
After failing over and over to come up with big hits against the Royals' mediocre pitching in two losses, the Mariners broke loose against Bartolo Colon, Anaheim's ace and an All-Star.
They smashed the burly right-hander for four runs in the first and three more in the second to jump out 7-0, their biggest early-game lead of the year.
Not only that, but they did it after having two outs and no one on base.
In the first, Colon easily erased Ichiro Suzuki and Randy Winn on fly balls, but Raul Ibanez and Richie Sexson lined singles.
Colon essentially pitched around Adrian Beltre by bouncing in a 3-2 breaking ball to get to Jeremy Reed, a lot cooler these days with the bat than Beltre.
Reed stuck the strategy in the Angels' ear on a 0-1 pitch, pounding a 94-mph fastball out over the plate off the wall in left-center to clear the bases. It was the first three-run hit of Reed's career.
Willie Bloomquist got ahead 2-0, then belted a changeup into the left-center gap to bring home Reed for a 4-0 lead.
The double was the fifth for Bloomquist in eight at-bats over three games.
Pineiro made the jump-start stand in the bottom of the first, although Darin Erstad reached base on a rare catcher's interference call, scored an error on Miguel Olivo. The Mariners' starter recovered by getting Vladimir Guerrero to hit into a 6-4-3 double play, on which Bloomquist dug the ball out of the hole and threw to Lopez, who hung in to turn two with the rugged Erstad almost on top of him.
With two outs in the second – the first a nice diving stop by shortstop Maicer Izturis on Olivo – the Mariners came back at Colon for three more runs.
This time, Colon soiled his effort by walking Winn and Ibanez. Sexson followed by hitting a high bouncer to the left side that hit off of third baseman Dallas McPherson's glove, getting on with a single that left the bases full.
Beltre, on Colon's first pitch, then lashed a liner into the right-center gap for Seattle's second bases-clearing double of the night and a 7-0 lead.
Pineiro ran hard with his huge edge and got a huge helper from Lopez, diving to his backhand side to rob Anderson of a leadoff hit in the second.
With Pineiro challenging hitters with fastballs and a slider/changeup mix, Erstad managed to lead off the fourth with a double inside third for the Angels' first hit. He came around on Anderson's groundout, another ball Lopez kept from becoming a hit.
Bengie Molina singled with two outs, but Sexson saved any trouble by taking away a hit from Izturis with a leaping snag for the third out.
Local journalism is essential.
Give directly to The Spokesman-Review's Northwest Passages community forums series -- which helps to offset the costs of several reporter and editor positions at the newspaper -- by using the easy options below. Gifts processed in this system are not tax deductible, but are predominately used to help meet the local financial requirements needed to receive national matching-grant funds.
Subscribe to the sports newsletter
Get the day's top sports headlines and breaking news delivered to your inbox by subscribing here.
---