News > Spokane
Plan would re-create internment barracks
Fri., July 8, 2005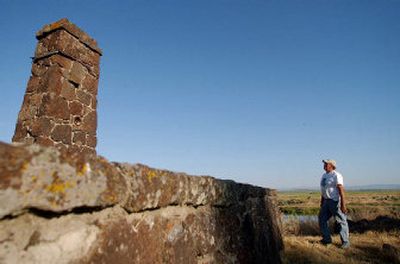 EDEN, Idaho – Hoping to give modern-day visitors a glimpse of life at a World War II internment camp, the National Park Service is proposing to re-create a block of barracks like those that housed the 13,000 Japanese-Americans detained at the compound between 1942 and 1945.
"We believe this was a significant chapter in American history," said Neil King, superintendent of the Minidoka Internment National Monument in Hagerman. "It's an American story. It's part of the historic fabric of this country."
Located about 100 miles southeast of Boise, the Minidoka Relocation Center was one of 10 internment camps created in the interior Western states that held 120,000 Americans of Japanese descent. After the Japanese attack on Pearl Harbor, the federal government ordered Japanese-American citizens to the camps in the name of national security. It was part of the largest forced relocation in U.S. history.
In the waning days of the Clinton administration in 2001, 73 of the original 33,000 acres of the camp were set aside as a national monument by presidential decree. The site contains building foundations, an entry guard station and a waiting room.
The Park Service is seeking public comment on improvement plans that range from minimal changes to the existing sparse visitor services to an ambitious 20-year project costing up to $8.5 million to acquire additional land and build new facilities.
The agency's preferred option is to reconstruct a block of historically accurate barracks, acquire 128 acres of additional land for parking and viewing scenery, create an interpretive center and change the designation from national monument to Minidoka National Historic Site. The cost is estimated at approximately $7 million.
Some area residents are concerned significant improvements will increase traffic to the site, which now gets about 4,000 visitors yearly. As many as 80,000 tourists are expected annually under the Park Service's preferred improvement plan.
In February, Idaho Gov. Dirk Kempthorne announced his support for plans to begin developing an interpretive center at the camp and said it's important that future generations remember the injustice committed to American citizens.
"There were no warrants, no trial, no due process," he said. "Only the suspicion some of these men and women may be the enemy."
King said the Park Service will accept public comments on the various proposals for managing the Minidoka camp site through Sept. 17, with a final decision expected later this fall.
Local journalism is essential.
Give directly to The Spokesman-Review's Northwest Passages community forums series -- which helps to offset the costs of several reporter and editor positions at the newspaper -- by using the easy options below. Gifts processed in this system are not tax deductible, but are predominately used to help meet the local financial requirements needed to receive national matching-grant funds.
Subscribe now to get breaking news alerts in your email inbox
Get breaking news delivered to your inbox as it happens.
---