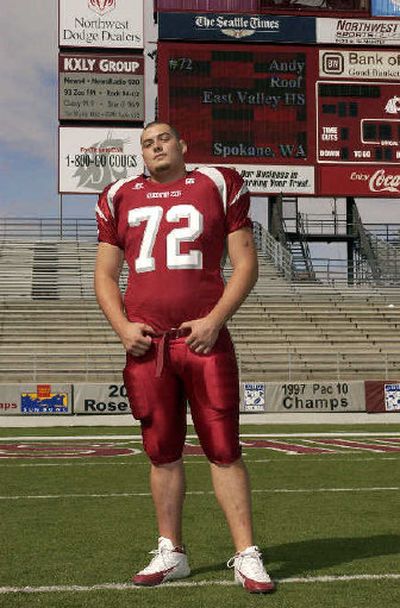 Andy Roof's long, hot summer in Pullman has a big payoff.
The highly touted lineman from East Valley High School is spending his first summer with the Washington State University football program, lifting weights, studying film and working out with Cougar upperclassmen.
After spending his first season in the Palouse as a redshirt freshman, Roof emerged from spring workouts as a solid backup at both tackle and guard. Depending on which list you check, Roof is listed No. 2 at left guard behind senior Norvell Holmes (according to the Cougars' spring prospectus) or No. 2 at right tackle behind junior Charles Harris (according to the spring depth chart).
"Andy has had a chance to learn a lot, and he's in a position to really contribute," East Valley coach Adam Fisher said. "He's worked really hard, and he's ready for this opportunity."
Roof said he's ready to play – wherever that may be.
"Coach Yarno told me to get as much time in at guard this summer," Roof said. "I'm not entirely sure what he has in mind, but I think he wants me to be a backup at guard as well as tackle."
The Cougars graduated both starting tackles from last year – All-Pac-10 first-team selection Calvin Armstrong and second-team pick Sam Lightbody – but are picked by several preseason publications to again contend for a bowl game.
While the offensive line has been reconfigured – with sophomore Bobby Byrd shifting from guard to starting left tackle – the line is expected to be solid in front of running back Jerome Harrison, who sizzled during spring drills.
"The thing that impresses me is that everyone is here this summer, working out," Roof said. "Everyone that is committed to making this program successful is right here, working out every day and making themselves better."
Making the transition from being a dominant high school player to being a raw recruit scrambling to learn the system has been easy, Roof said.
Coming in, Roof has a long list of accolades, including four years as a starter at East Valley, three years as an All-Greater Spokane League selection and national recognition as a college prospect and a prized recruit by WSU.
Roof did not join the program until the start of fall practices last year – and he's impressed by how far he's developed in the past year.
"Last year I would never have made it through a summer workout," Roof said with a laugh. "They would have had to drag me off. I'm still scrambling to make it to the end.
"I can't believe how much I've learned since I've been here. I learned so much from last year's seniors, Calvin and Sam. And the upperclassmen we have this year are just as dedicated to winning."
Roof said he loves his teammates and his position coach – even with the long hours of work in the weight room.
"Coach Yarno is great – I don't care what anyone says about him," he said. "He yells at you and all, sure, but he knows so much about what he's talking about.
"Besides, people don't get the chance to see him in our meetings and the way he teaches us.
"Besides, he's a really funny guy."
With a state-of-the-art weight facility to work in, Roof said he's made plenty of progress.
"My bench press has stayed about the same, but everywhere else I've gotten stronger. It all helps to make me more explosive off the line of scrimmage.
Roof added 10 pounds of muscles to his frame, weighing in at 315 pounds at the end of sprimg practices, although he shrunk an inch from the 6-4 he was listed at as an incoming freshman.
The bottom line: Roof is delighted to be a Cougar.
"Whenever I get tired and start to complain about all the hard work," he said, "I just remember that it's paying for my education. Remembering that makes it all worthwhile."
With a redshirt season, meaning he spent a year in the system while still preserving four years of eligibility, Roof did not dress for a single game last year.
That first chance to run through the tunnel into Martin Stadium dressed in his crimson and gray jersey will be Sept. 1, when Washington State opens the season against Idaho.
"I am so looking forward to that game," Roof said. "To play my first game against Idaho is so perfect," he said. "I've got tickets for my family, my friends.
"I'm going to be spending the next couple months trying to scam tickets from some of my teammates.
"I've been dreaming about running out on that field for a long, long time. To have my family and friends all there to share the moment with me is really special."
---