News > Features
Fight the good Fight
Mon., July 11, 2005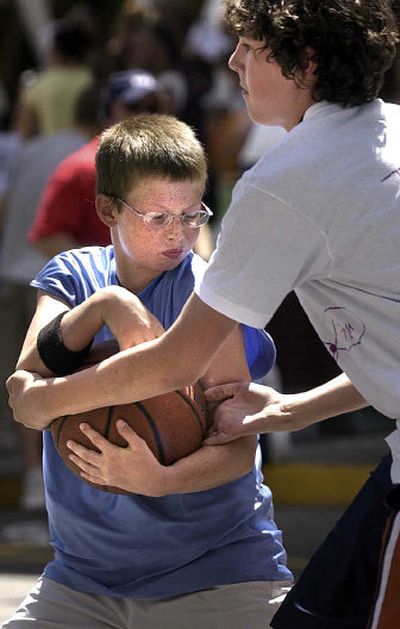 Has the sulking stopped?
Whether the result of a Hoopfest bracket championship that slipped away or even just last week's baseball, softball or soccer game, chances are there's a kid or two out there who's not too happy about losing a game.
And it seems no matter what the parents say, the sulking continues.
Hey, you played hard and made several good plays.
Yea, so.
You know, it doesn't matter if you win or lose.
Yes it does.
I remember losing games when I was kid. Usually it made me want to play harder the next time.
What's the point?
Sometimes, that's exactly what parents are wondering when there seems to be no end to the sad faces or the pouting from a failed attempt at something new.
But you can't blame the kids. After all, they're bombarded with messages from every direction – TV, radio, sports programs, their peers and even unknowingly their parents – that winning does count.
"We have a tendency to say, 'How'd you do? Did you win?' said Scott Melville, a professor of Health and Fitness at Eastern Washington University.
Melville said parents – and the athletes themselves – need to focus on setting individual performance goals and steer clear of the social comparisons that abound in sports and childhood.
"We all can get better," Melville said. "You need to ask yourself, 'Am I doing the best I can?' "
To that end, parents should first ask their kids, "Did you feel like you played well? Did you enjoy it?"
Tim Hunsaker, a football coach at Central Valley High, suggested parents ask their kids, not counting the outcome of the game, if they had fun playing. Most of the time they'll say they did, Hunsaker said.
Indeed, studies show that kids typically play sports because they want to be with their friends and have fun.
That's what drew 15-year-old Derek Johnson to Hoopfest. He played basketball with a friend at Chase Middle School and they formed a Hoopfest team. Last year, they lost all of their games. This year, they won one.
"I like having fun shooting around with my friends," Johnson said. "It's a lot of fun regardless of whether you win or lose. You get to enjoy playing outside and seeing all the people watching."
Sure, they'd like to win, who wouldn't? But even after their first Hoopfest game this year, a tough loss against a team at least a head taller than them, they weren't worrying about the loss.
"We just have to play harder," said Austin Agee, Johnson's teammate. "We can do better."
Not being the best or not being successful at something the first time can be difficult for many kids, especially when they hit third, fourth and fifth grades, when social comparisons really kick in, Melville said.
A lot of kids can get discouraged real easily, he said. That's when parents need to employ "The Yet Principle."
When a child complains he or she can't do something, the parent responds with "you can't do it — yet."
Then point out how much superstar athletes had to practice to get where they are or share how many times it took you to be able to ride a bike, Melville said.
If you're just starting out with sports for your kids, parents can help by making sure the first experiences are fairly successful.
"Make sure the balls and bat are big enough and the bikes are small enough," Melville said.
And keep in mind that different activities require different skills and personality traits. Some activities are more competitive and more aggressive than others. Some kids do better in individual sports while others thrive on team sports.
"You can't always expect kids are going to fall in love with certain activities," Melville said.
Local journalism is essential.
Give directly to The Spokesman-Review's Northwest Passages community forums series -- which helps to offset the costs of several reporter and editor positions at the newspaper -- by using the easy options below. Gifts processed in this system are not tax deductible, but are predominately used to help meet the local financial requirements needed to receive national matching-grant funds.
Subscribe now to get breaking news alerts in your email inbox
Get breaking news delivered to your inbox as it happens.
---