News > Nation/World
Memo cites troop-reduction plan
Mon., July 11, 2005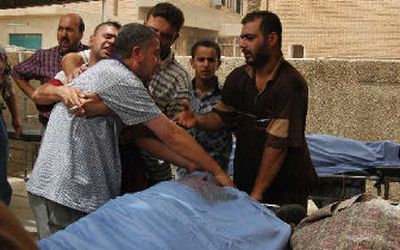 LONDON, July 10 – The United States and Britain are drawing up plans to withdraw the majority of their troops from Iraq by the middle of next year, according to a secret memo written for British Prime Minister Tony Blair by Defense Secretary John Reid.
The paper, which is marked "Secret – UK Eyes Only," said "emerging U.S. plans assume that 14 out of 18 provinces could be handed over to Iraqi control by early 2006," allowing a reduction in overall U.S.-led forces in Iraq to 66,000 troops. The troop level is now at about 160,000, including 138,000 American troops, according to a military spokesman in Baghdad.
Reid on Sunday did not dispute the authenticity of the document, but said that no decision on troop levels had been made. In Washington, a Pentagon spokesman said officials there had not seen the document.
The undated memo, which was reported in the newspaper The Mail on Sunday, stated that "current U.S. political military thinking is still evolving. But there is a strong U.S. military desire for significant force reductions to bring relief to overall U.S. commitment levels."
While top U.S. military commanders and Pentagon officials have been hoping to reduce troop levels in Iraq for some time, the British memo is apparently the first time such a significant reduction has been outlined under a specific timetable. President Bush has refused to set a withdrawal date, citing concerns that such a deadline would allow insurgents to wait out the U.S.-led occupation.
The memo, posted on the newspaper's Web site, notes a debate between U.S. officials at the Pentagon and military leaders in Iraq, saying that officials in Washington favor "a relatively bold reduction in force numbers," differing with battlefield commanders, "whose approach is more cautious."
Such debates contribute to contingency planning, according to U.S. officials, and there can be several different scenarios under consideration at the same time. A rapid reduction in troops would depend on the success of several political processes in Iraq and of the emerging Iraqi security forces.
While U.S. commanders have praised the development of the Iraqi army and police forces, training and equipping the units has taken longer than expected. None of the provinces in Iraq is solely protected by Iraqi forces, and significant decreases expected in U.S. troop strength have not materialized.
"At any given time, there are a number of plans, for all sorts of developments, good or bad," said Navy Lt. Cmdr. Joe Carpenter, a Pentagon spokesman. Carpenter declined to comment specifically about the British memo because Pentagon officials had not seen it. "The U.S. leadership for some time has been on record stating that our drawdown and eventual withdrawal is based on a conditions-based strategy."
Many analysts consider the tenacity of the Iraqi insurgency to be the major impediment to troop withdrawals, although U.S. officials have heralded recent successes in quelling violence.
Part of the overall reduction, said the memo, would be a drop in total British forces by mid-2006 from 8,500 to around 3,000. The change, the memo added, could save Britain half of its current cost of around $1.7 billion per year.
"None of this, however, represents a ministerially endorsed plan," the memo cautioned. "There is a good deal more military analysis to do which is under way."
Reid, in a statement Sunday following publication of the memo, said the British government had "made it absolutely plain that we will stay in Iraq for as long as is needed.
"No decisions on the future force posture of UK forces have been taken. But we have always said that it is our intention to hand over the lead in fighting terrorists to Iraqi Security Forces as their capability increases," Reid said. "We therefore continually produce papers outlining possible options and contingencies.
Local journalism is essential.
Give directly to The Spokesman-Review's Northwest Passages community forums series -- which helps to offset the costs of several reporter and editor positions at the newspaper -- by using the easy options below. Gifts processed in this system are not tax deductible, but are predominately used to help meet the local financial requirements needed to receive national matching-grant funds.
Subscribe now to get breaking news alerts in your email inbox
Get breaking news delivered to your inbox as it happens.
---